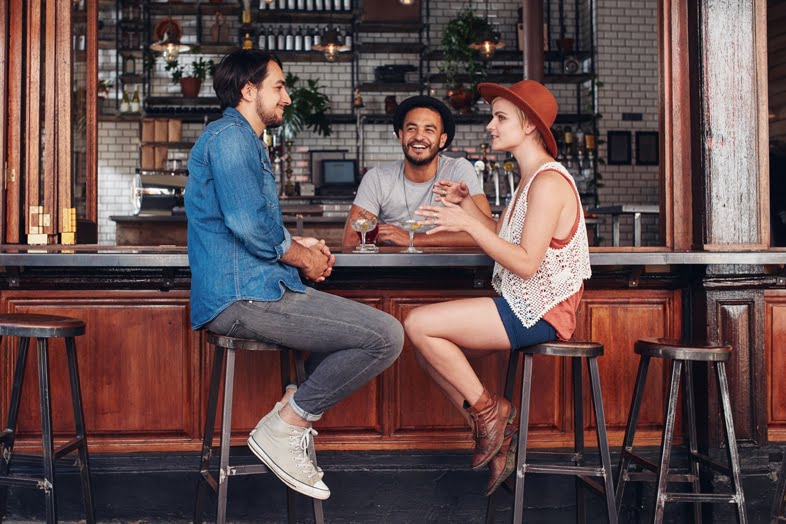 BODRUM BAR STREET AND TOP BARS OF BODRUM
Almost everyone who comes to Bodrum for a holiday have these questions in mind; "Which bars should I go to in Bodrum? At which bar can I listen to music I like? At which Bodrum bars I can listen to live music? What are the average prices at these bars?" etc. We put together this article to answer your questions related to Bodrum's bars.
Every tourist has heard of the Bodrum Bar Street though it is not the original name of the street. Originally named Cumhuriyet Street, Bodrum Bar Street hosts many great bars though there are other good quality bars outside this street as well. We wanted to tell you about these lovely bars in detail, enjoy…
BODRUM BAR STREET AND TOP BARS OF BODRUM
MANDALIN
One of the best venues in Bodrum Bar Street, even Bodrum, Mandalin is open all year round. They open at 22:00 and serve till 04:00. You can listen to the most famous artists of Turkish pop music at Mandalin. There is live music every night in the summer and certain nights in the winter. If you want to watch a concert at this venue that hosts around 250 events all year round, you should certainly make a reservation.
The concerts usually start around 23:30 and continue until the venue closes at 04:00. Though not always, they sometimes charge entrance fees at events. You can find all beers by Efes brand, a wide range of whiskey options and enjoy cocktails and wines by the sea.
Unfortunately, there aren't any appetizers at Mandalin, but they serve nuts and crisps. The venue stands out among Bodrum bars with its ambiance and location. We recommend you to watch a live concert at Mandalin during your holiday.
Phone : +90 549 226 48 48
Location : googlemaps
---
KULE ROCK CITY
Kule Rock City is another popular spot at Bodrum Bar Street. The venue is open all year round opens its doors at 18:00 and the fun continues until 05:00.
During winter, they only have live music once every fortnight. You can listen to good rock music and DJ performances everyday in the summer. DJ performances start around 22:00 and continues until they shut. You must make a reservation if you want to enjoy rock music at Kule Rock City as they are always busy in the summer.
You can taste all beers by Efes group and all whiskies by Mey group. At the bar that has many delicious cocktails, we suggest you try 'AMF'. This is a sweet-sour tequila cocktail that is not too strong, we think you will like it. Unfortunately, there aren't any appetizers, but they serve snacks such as crisps and popcorn. Kule Rock City is one of the most enjoyable venues of Bodrum Bar Street that rock music fans will like.
Phone : +90 555 824 88 34
Location : googlemaps
---
KARPUZ
One of the hotspots of Tequila Street in Bodrum, Karpuz is open all year round. The venue that opens at 22:00 is open until 04:00. At this bar that has a simple yet pretty concept, you can enjoy live music three nights a week and DJ performances on other nights. There is no entrance fee at the venue that mainly plays Turkish pop and Turkish rock music. You should make a reservation if you want a table close to the stage as it is very busy during summer.
If you go to Karpuz, we suggest you try Cezve or Karpuz cocktails. These sweet and rich cocktails are refreshing. Unfortunately, they don't sell beers other than Efes, Bomonti, Miller and Corona.
Phone : +90 549 316 33 13
Location : googlemaps
---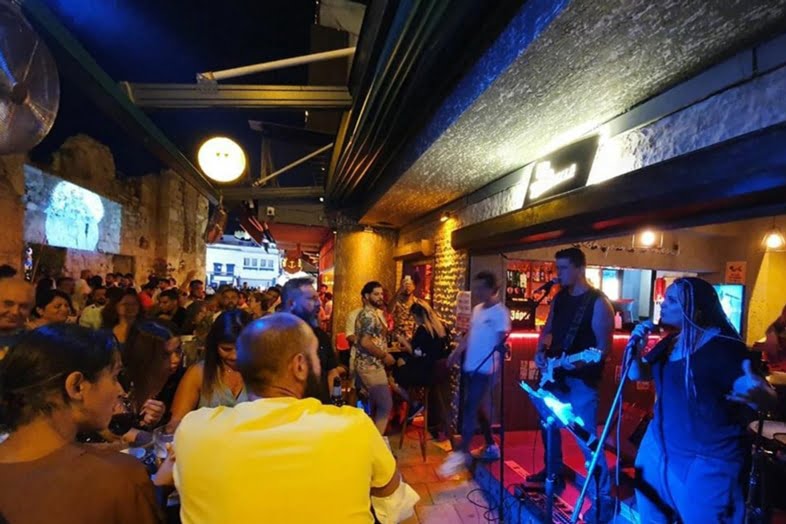 YOK DEVE
Yok Deve is another popular venue in Bodrum Bar Street. The bar which is open all year round opens its doors at 10:00 and serves until 05:00. Yok Deve is ideal to enjoy Turkish rock music. Have no doubt you will enjoy your evening which will last until the early hours of morning listening to Turkish rock music with live performances starting around 21:00-22:00.
The venue is very crowded in the summer, you should especially make a reservation on Saturdays. They offer all sorts of imported beers. The bar serves appetizers too, burgers, chips, beer platter and pizza are some of the options. The venue has it's own special cocktails, we suggest you to order one of the bartender's choices.
Yok Deve, gives importance to it's pricing guide. Whether you are a domestic tourist, a foreign tourist or a regular of the place, they always charge same price. And most importantly, they are very sensitive about keeping the venue peaceful for the customers. Especially they do not allow situations such as foreign tourists and female guests are being disturbed.
Phone : +90 533 336 21 93
Location : googlemaps
---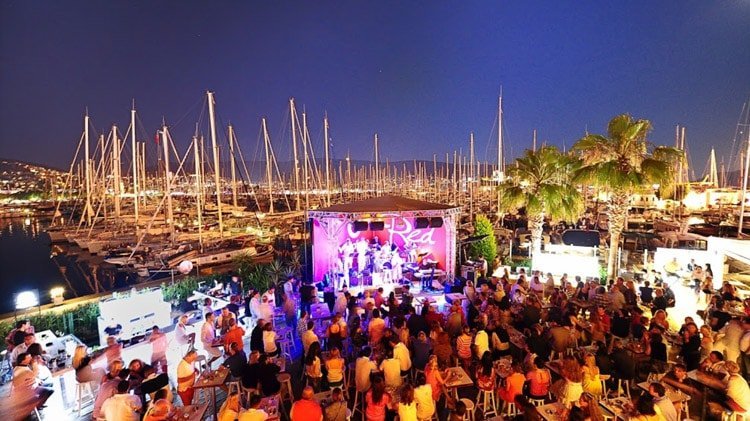 MARINA YACHT CLUB
With a heavenly view of Bodrum harbour and Bodrum Castle, Marina Yacht Club is one of Bodrum's most popular venues. You can listen to live performances from various performers here every single day of the year.
One of Bodrum's top quality venues, Marina Yatch Club also has a bar and a restaurant. The view and the restaurant are lovely, but we are here to talk about the bar. The bar starts getting crowded around 19:00 and the fun continues until 02:00. You should make reservations in the summer, whichever day of the week you are planning on going, and in the winter you should make reservations on the weekend, as you might not be able to get a spot.
You can find all sorts of local and imported beers and alcoholic beverages as well as popular cocktails. We should especially mention these two cocktails: Maserati and Sindirella. If you like drinking cocktails you must try these! They have appetizers at the bar. With pizza, burger and other appetizers, Marina Yacht Club appeals to the eye, ear and the stomach!
Phone : +90 252 316 12 28 – 29
Location : googlemaps
---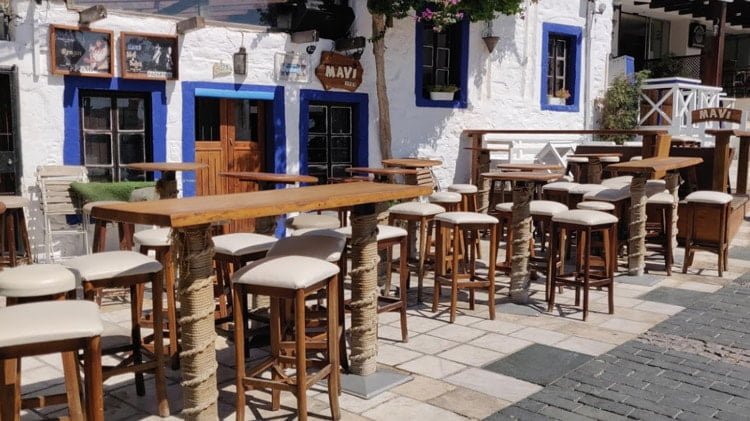 MAVI BAR
One of Bodrum's oldest and most favoured bars, Mavi Bar is open all year round. Its warm and intimate atmosphere along with the music charms its regular customers. They have live music every night and on weekends they have two groups performing one after the other. You can listen to all kinds of music here other than Arabesque, but the bar is generally recognized as a jazz bar.
Live music starts at 23:00 and goes on until 04:00. You should make reservations if you plan to go on the weekend, even at weekdays during the summer. You can find all kinds of beer at the bar. You should try bartender Mustafa's special cocktail: Mustafa's mood. The ingredients of this cocktail aren't fixed, he mixes up something depending on his mood.
They serve appetizers like chips and mixed fries but only until 23:00. They also have happy hour everyday at 22:00. Whatever you drink, the second one is on them. If you want to enjoy good music, atmosphere and chitchat and you don't like banging music, this is the right place for you.
Phone : +90 252 326 39 32
Location : googlemaps
---
KORFEZ BAR
Located at Bodrum Bar Street, Korfez Bar is open on Fridays and Saturdays in winter from 14:00 to 05:00. In the summer, the bar is open from 10:00 to 05:00 every day. There isn't live music at Korfez Bar, but they claim they have the best music. You can find popular songs from the 60's, 70's, 80's and 90's at Korfez where they mainly play rock music.
They have an 'oldies – goldies' day every Sunday where the music will take you to the past. You don't need to make reservations here unless it's a special day. The bar offers a wide range of beer and whiskey options and their special cocktail is 'Sandoz'. You must try this lovely cocktail made with Bodrum's tangerine. We specifically suggested this one, but they have many other cocktails with tangerine. They offer appetizers too. You will have a great time at this bar that's been around for 25 years.
Phone : +90 252 316 59 66
Location : googlemaps
---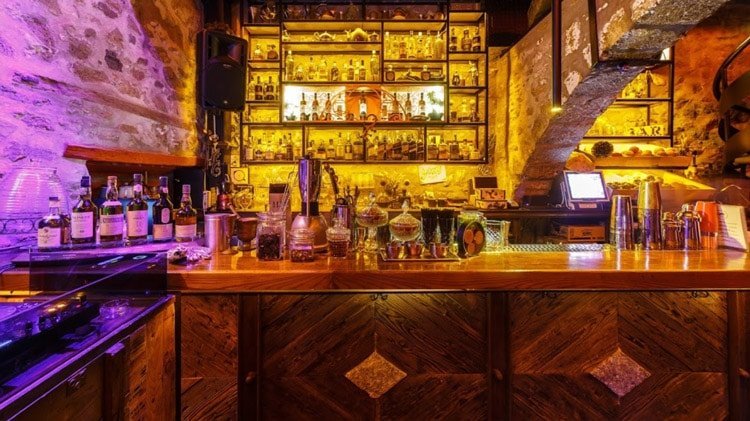 GEKKO
Gekko is one of the most prestigious bars in Bodrum. Their concept is 'Cocktail & Whiskey'. The owner and the manager of the bar is Ertan Engin. Delicious cocktails await you at Gekko since Ertan is an international cocktail specialist.
The venue opens at 21:00 and the fun continues till 05:00 along house music. This is a calm, intimate bar where you can chat with your friends while drinking lovely cocktails and whiskies. They don't have live music here but there are DJ performances by famous DJ's. Their bartender from Istanbul, 'Barmen Dede', is a master at his job.
At the bar that has many cocktail options, Ertan's suggestion is 'Huseyin'. Ertan points out that there are guests coming from nearby cities and from other clubs just to try this cocktail.
If you're a whiskey enthusiast, Gekko is one of the bars with the widest range of whiskey options in Bodrum. You shouldn't be concerned about the prices after such a good review, the prices here are pretty much same as the other bars.
If you want appetizers here, they serve pickled plum and okra as well as home-made dried fruit. If you are looking for a fun evening with calm, good music along with delicious cocktails and conversations with friends, Gekko is our suggestion for you.
Location : googlemaps
---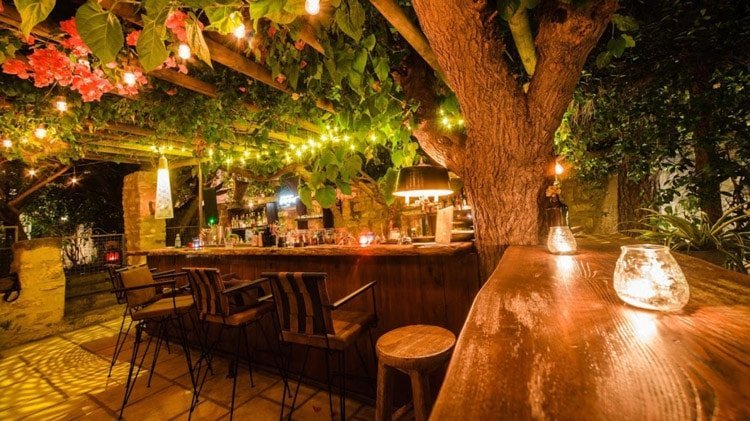 KÂTIP BODRUM
Katip Bodrum is a cocktail bar located at Ha La Bodrum's garden, one of the best boutique hotels in Bodrum. The venue has 'speakeasy' concept and is open from 7:00 pm to 12:00 am every day during summer season. In the winter they are only open for special gatherings of groups of 10 or more people and for concept parties or special events they organize.
Here you can listen quality soul, funk, disco, nu disco, 80's/90's rock tracks, chat with friends and have an enjoyable time. Ayca Aras, owner and manager of Katip Bodrum is a culinary arts graduate. You can taste special cocktails by her. They offer local beers, scotch and bourbon whiskey options as well.
They are picky on their wine options, serving only local Bodrum wines. You must try their house specialty, 'Itır Kokteyl'. Made with geranium and lemons from their garden, the cocktail is neither too sweet nor too sour, it's a silky cocktail with vodka.
Katip Bodrum has started to offer dishes as of 2021 season. It's delicious menu includes olive oil dishes and sea food mezes. You could have a very nice time at the 500-year-old Ottoman tower's garden, with the cats of the venue, don't forget to make a reservation!
They only accept guests with reservations. We highly recommend you to experience this speakeasy place.
Phone : +90 535 507 76 81
Location : googlemaps
---
CLUB GUMUSLUK
One of the first spots that come to mind in Gumusluk, Club Gumusluk opens around 09:30 and the fun goes on until 04:00. The venue is open all year round and hosts many great concerts. They charge entrance fees for concerts in the summer. These concerts usually take place from 22:00 to 24:00, but the fun doesn't end there, DJ performances and hit songs continue playing. If you are planning on going to a concert where popular Turkish pop and rock stars take stage, you must make a reservation!
You could taste beverages from Efes group, like in other bars. Most importantly, they have a rich cocktail menu. You should try 'Hasibe' and 'Toma' cocktails if you like strong drinks. They have appetizers here too. Club Gumusluk serves as a restaurant, bar and beach. We suggest this lovely venue for breakfast, lunch and dinner as well.
Phone : +90 252 394 34 01
Location : googlemaps
---
VELI BAR
Veli Bar in Bodrum Bars Steet is the oldest bar of Bodrum. This special venue is open all year round but closed on Sundays, Mondays and Tuesdays in the winter. The venue opens around 10:00 and serves till 04:00. Around 24:00, live music starts. Since Veli Bar is one of the most popular bars in Bodrum, you will need a reservation in advance, otherwise you might not get a table!
You can listen to all genres of Turkish music other than Arabesque. Usually Can-Ceyhun duo or Bate Bahadır Aksoy take stage at the bar but you could listen to other groups from time to time.
Like other bars in Bodrum, the beer options are limited at Veli bar, they only serve beers by Efes group (Efes, Miller, Corona, Becks, Amsterdam, Leffe, Bud, Erdinger, Bomonti). Unfortunately, they don't have appetizers but since the bar is located at the center, you will have many options for food if get hungry.
Here is the exciting part; at Veli Bar it is "happy hour" from 11:00 to 22:00; 50% discount on all alcoholic beverages. Veli Bar is always the right place for an enjoyable time with good music and friendly staff.
Phone : +90 252 316 15 84 – 0543 316 15 84
Location : googlemaps
---
You can track events taking place at all these Bodrum bars from our Events page or Instagram account. We listed our favorite Bodrum bars; you can find out which one is your favorite. If you think there are some bars missing on this list or if you want to add your own experience at these bars, please share your thoughts on the comments section at the end of the article.
Which do you think is the best bar in Bodrum?
Before finishing our article, we would like to invite you to our Facebook group called; Bodrum Travel Tips. This community's purpose is to share your Bodrum holiday experiences or ask other users for recommendations about Bodrum. Help the guests coming to Bodrum from both, abroad and domestically, by giving advices, suggesting places, sharing and providing information about places to visit.