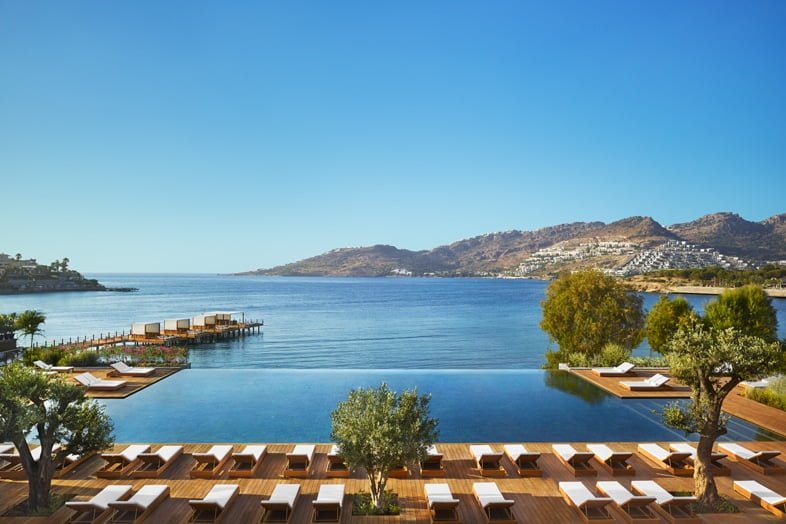 HOTEL REVIEW: THE BODRUM EDITION
I knew a lot about the hotel before I went to The Bodrum EDITION. I read a lot of reviews about the unique interpretation of luxury and the unmatched view of the hotel that opened with a collaboration of Ian Schrager and Marriot International. For those who don't know, Ian Schrager is considered as the Steve Jobs of hospitality industry. The Bodrum EDITION is built and modernized harmoniously with Bodrum's nature and houses.
It took us 40-45 minutes to get from Milas Airport to Tilkicik Bay where the hotel is located by VIP transfer. The hotel offers a VIP transfer service, but I like travelling with Ozan from the VIP transfer company I always use. Since he's a local, we chat about Bodrum along the way.
As I walked towards the entrance of The Bodrum EDITION, I was greeted by the staff in a friendly and warm manner as if I were a good friend of theirs. Their warm welcome reminds me the enthusiastic 'Hello' of The Fishermen of Halicarnassus and with the same enthusiasm I greet them 'Hello'. After being greeted in the same friendly way at the lobby, I think to myself; they must be going through some sort of training for this. There is a Chinese saying which I like very much: A man without a smiley face must not open a shop. With their friendly welcome, The Bodrum EDITION already has a place in my heart.
---
Comfort of the Rooms
As we walk into our room we realize we are in a luxurious hotel, but the sense of luxury isn't exaggerated; it is plain, chic and comfortable. The simple design and harmony of colors makes the room feel even more spacious than it already is.
The wardrobe at the entrance is big enough to fit all your belongings. Inside the wardrobe, there are two chic, white bathrobes as well as two sets of flip-flops with the name of the hotel on it that you can purchase for a reasonable price.
Mini bar is what I am most interested in the hotels. It wouldn't be fair to call The Bodrum EDITION's mini bar a 'mini bar', it is more like a 'mini grocery'. There are so many snacks, alcoholic and non-alcoholic beverages in it, which my wife had to keep telling me to stop eating for the next two days.
The LCD TV in the room is quite big but we don't normally watch TV on holidays. Our room is clean with a very spacious bathroom in which there is toilet and a section with a chic bathtub. This section within the bathroom is also simple yet large enough to move around comfortably. You can tell that the materials have been picked out with great care.
I was happy to wake up feeling energized in the mornings without a backache on our two-night holiday at The Bodrum EDITION. The beds might look plain but The Bodrum EDITION prioritizes comfort and simplicity.
As I open the glass doors of our balcony, the amazing view of the sea enraptures us. My wife and I agree to sip our wines against this amazing view in the evening. But not all rooms have a view of the sea, the rooms at the back have a garden view. If you plan on spending your evenings outside, I would suggest not to pay extra for the sea view.
There is a total of 108 accommodation options including rooms, suites and villas. 'Private Pool Suite' amongst suit rooms have a garden with a private pool. My wife and I wanted to pick the 'Yalıkavak Suite' while we were making our booking. With its view, large balcony and luxury of the room, it looked like our dream Bodrum house. Unfortunately, this room was over our budget, but our room had everything we needed and more.
---
The Bodrum EDITION Beach Club
At The Bodrum EDITION, you don't need to wait for a buggy to take you to the beach as you do in some luxury resorts, you can easily walk down. As you walk to the beach you also get a chance to explore the hotel. The common areas at the hotel have been well positioned, even if the hotel is crowded, the guests' comfort is not compromised. The Bodrum EDITION has an infinity pool where it looks as if the sea meats the pool, creating an amazing sight. We plan to spend most of our time here when we are not swimming in the sea.
The Bodrum EDITION has an amazing white sandy beach with a clear sea. The space between the sunbeds is wide, which my wife and I appreciate. There are cabanas on the jetty which look very nice but being on the sand is more appealing to me. I make a deal with my wife to go to the night club Discetto if she agrees to stay at the beach instead of the cabanas. There are also cabanas at the back of the beaches as well. Isolated from one another, these chic cabanas are ideal for groups.
The sea in this bay is so clear that we didn't realize how time went by when swimming. We got out and laid ourselves on the sunbeds to enjoy a cold beer. Our friendly waiting staff must have realized that we were exhausted, they served our beer so fast, we weren't even dry yet.
Beach Bar was one of the spots we enjoyed the most at The Bodrum EDITION. You can spend your time here enjoying drinks, snacks and nice music.
If you don't have the chance to stay at The Bodrum EDITION, you can visit the Beach Club as an outside guest. Don't you think the beach is where you most enjoy your time on holiday? Don't we all dream of laying in the beach all year long? This is why it is important for a hotel to have the perfect beach club, like The Bodrum EDITION.
As I was writing this review, I found out that the hotel is going to offer custom sunbeds allocated to each guest this year due to COVID-19; what an excellent idea.
---
Brava Restaurant
We had dinner at BRAVA Restaurant which we heard a lot about. We were greeted with the same warmth at this restaurant which is at the end of the beach, right by the sea. We took some suggestions from our waiter Cihan and ordered our food. I had 'Lomo Saltoda' while my wife had 'Octopus Tradito'. We both enjoyed our meal very much but the 'Octopus Tradito' my wife had was incredibly delicious, I almost ate half the plate while tasting!
Though I trust my wife's taste on wine, we drank 'Egeo Cabernet Sauvignon' which Cihan suggested. I would advise you to trust Cihan on your orders, he knows what he is doing! Unfortunately, Brava Restaurant is going to be shut in 2020 due to COVID-19, only Morena Restaurant will be open.
I suggest my wife to come here for our wedding anniversary but only with one condition; we won't go to the night club later at night. Not that I know how Discetto is, I just don't enjoy night clubs. Unfortunately, we will be going to Discetto tonight!
---
Discetto Night Club
My experience here was not as I feared it would be. The Bodrum EDITION has minimalized the idea of night club as well, it was a very nice venue. We had a great time at the joyous and chic atmosphere. Don't prejudiced like me and make sure you go there one night. We meet Hakan and Merve at Discetto, who plan on getting married next year. Very persistent on having an outdoor wedding, Merve chats with my wife for hours about a 'beach wedding'. I personally have never liked indoor weddings, so we support their idea. As I know The Bodrum EDITION organizes weddings, I suggest they have their wedding at Beach Club. Hakan and Merve lean towards the idea…
As we chat with Hakan and enjoy our drinks, Merve shares her wedding plans with my wife all night long. At one point I think about setting my wife free from the conversation, thinking that she may be bored, but I leave her to be as she seems happy.
Merve suggests we have lunch at Morena together; looks like the wedding planning isn't over! As I get ready to decline kindly, my wife jumps in and accepts. Our eyes meet and my wife and I leave the night club to enjoy the view from our bedroom while drinking wine as we have promised earlier.
---
Breakfast is Important
We hit the road for Kitchen Restaurant for breakfast on the second morning of our short holiday. As a breakfast lover, I can say I was pleased with the spread of Turkish breakfast. It pleases me when the breakfasts are nice at the hotels I stay at. It's enough for me to have a delicious, fresh, balanced breakfast rather than having a table overcrowded with plates.
I can't say our breakfast at The Bodrum EDITION wasn't missing anything, but everything was delicious and fresh. Overall, I was pleased how they modernized and simplified everything at the hotel, but I wasn't happy with how they modernized Turkish style scrambled eggs, 'menemen'. It tasted delicious but it was as if Ian Schrager had cooked it!
---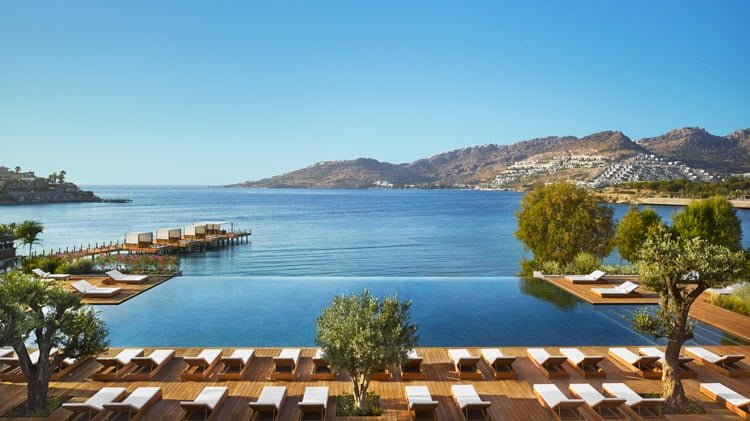 Relaxing at the Cabana
On our second day, I snap my wife's offer of a cabana and we settle down in one at the jetty. Since I don't like sunbathing, 'Cabanas are perfect for me', I think to myself. After briefly enjoying the beautiful bay, I start reading my book and enjoy the cabana. Thanks to my wife, I overcome my prejudice of cabanas, they are pleasant and comfortable.
What I most like at The BODRUM Edition is the sincerity and friendliness of the staff and the service they offer. The design, comfort and elegance of the hotel is nice too, but the service-friendliness is more valuable for me.
Even when we were isolated in our cabana the service staff didn't fail to notice us and the service was always punctual. As I read through the pages of my book Practical Utopia, my wife's cocktail 'Figure Out' attracts my attention. I order the same, but the waiting staff suggests a cocktail a bit stronger; 'Edition Cup 5'. The hotel has very good cocktails as we both enjoyed ours. Those who like whiskey will enjoy 'Edition Cup 5'. It's a bitter strong cocktail made with Beefeater Pink Gin, Aperol, Blackberry Ginger Ale.
What surprised us most was the homemade ice cream. As I saw everyone at the beach had an ice cream, I thought to myself; they must be handing out free ice creams. After asking the waiting staff I found out its homemade ice cream and being curious, we try it ourselves and it becomes obvious why everyone is having some. If they ever think of changing to another industry, they should switch to ice cream production. You must try their delicious ice creams.
My wife offers to leave the cabana, so we leave for the jetty as it is time for her to sunbathe. We go to the infinity pool. With the exceptional view infinity pool offers, I continue reading my book while my wife sunbathes.
I remember Hakan and Merve's invitation for lunch and as I am hoping that my wife has already forgotten about it, I get a text message from Hakan; "We booked a table for lunch, is 14:00 convenient for you?" Though it may not sound like it, we actually like the couple. Hakan is a dentist and Merve is a banker. I won't tell how they met; you probably have guessed already.
---
Morena Restaurant
The waiting staff greet us with a warm smile and show us to our table where Hakan and Merve are already waiting. We order our food as soon as we sit down, my wife goes for a Spanish dish she has been craving for a while, Merve joins her too. Hakan goes for the fish and I order 'BBQ Short Ribs' following the suggestion of our waiter. If you haven't tried it before, you must. It's not a specialty of Morena but it was incredibly delicious, kudos to Morena's kitchen. Morena had a nice and chic atmosphere and we all enjoyed our food, except for Hakan.
Merve has already asked for information from the hotel regarding her dream weeding at the beach. We find out that they'll make a decision after they set down technical details such as the number of guests, we hope they can have their wedding here. Morena is just as good as BRAVA but I enjoyed BRAVA much more. Even though the waiting staff have tried to please us all night, Cihan's attention at BRAVA was something else.
---
Final Word
On the way back to the airport with Ozan after this short trip, my wife and I catch each other's eyes. There is one thing we both regret; not spending more time at the balcony of our room. We couldn't sip our wines watching the sunset from our balcony as much as we'd like to.
I ask to myself; to whom can I recommend The BODRUM Edition? If you find luxury in gold-embedded beds and tables, patios with lion statues or buggies that will take you to the beach from your room, then The BODRUM Edition is not the place for you. The BODRUM Edition shows that simplicity, comfort and friendly service is the real luxury.
The BODRUM Edition might not be the ideal hotel for families with children as there aren't many activities for kids but it is for people who want a calm, quiet and peaceful holiday. 'Simplicity is the real luxury' is the hotels service motto.
If you are planning a holiday at The BODRUM EDITION, reservation options can be found at this link —-> The Bodrum Edition