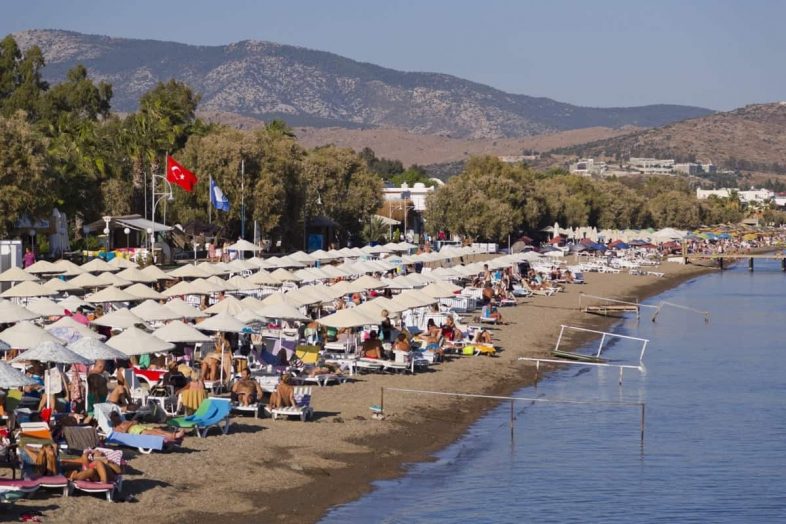 Best Bodrum Public Beaches
Life on the planet is thought to begin in the water, and perhaps that is why most people are very passionate about the sea. Thousands of people waiting to reach the sea throughout the year get to Bodrum which is famous for its wonderful sea and beaches as soon as the summer arrives. Of course, the magnificent beaches of Bodrum play a crucial role to make it a world-renowned and very popular holiday destination. Bodrum, which is a peninsula, has a lot of beaches all over it and having so many beaches makes it easy for everyone to find exactly what they are looking for.
Both those who want to read their book while sunbathing on a quiet beach, and those who want to blend crazy beach parties and sea-sand and sun trio with fun can find the atmosphere they are looking for in Bodrum beaches. Many luxury hotels have their own beaches, you can either make a choice by reading our article Bodrum Hotel Reccomendations or continue reading to discover Bodrum.
---
ICMELER PUBLIC BEACH
Our first Bodrum beach is Icmeler, which is very close to the center of Bodrum. This is actually a bay which has many hotels. The place we can define as Icmeler beach is the Sailing Club operated by Bodrum Municipality. It takes about 10 minutes to reach the Sailing Club with the minibuses departing from Bodrum bus station.
There are facilities such as sun loungers and showers at the beach which is almost packed full throughout the season. Since the Sailing Club, which also has a café, is a municipal enterprise, its prices are very reasonable compared to many other places and it is no wonder that the beach is very crowded when the beauty of the sea, the facilities it offers and the reasonable prices are combined. If you are going to the Sailing Club, our advice is to go as early as possible, because if you arrive at noon, you may have a hard time finding sunbeds.
Speaking of Icmeler, we must also add that there is another small bay very close to the Sailing Club and there are no facilities here, so it can be defined as a deserted bay. In the summer, a few campers install tents and those who want to hang out in a quiet, calm environment and of course know the existence of this bay go here. If you prefer to go to this small bay, you should not forget to take water and food with you because, as we said, there are no facilities in the bay and the nearest grocery store is also quite remote.
---
GUMBET PUBLIC BEACH
Our second Bodrum beach is Gumbet, which is also very close to Bodrum centre. Also one of the most popular entertainment centres in Bodrum, Gumbet has a very long beach and there are many hotels, cafes and bars on this beach. During the summer, there are minibuses from Bodrum bus station to Gumbet every five minutes and it takes about 10 minutes to reach Gumbet so it's easy to reach there. You can access our article which covers Gumbet in detail through this link.
The fact that Gumbet has a sandy beach and seabed plays an important role in its popularity for swimming and sunbathing. Its sea can be described as shallow, therefore it's a very suitable beach especially for families with children. All of the businesses on the beach have sun loungers and umbrellas, and when you sit and eat something in these places, there is no extra charge for these facilities on offer. We must also mention that Gumbet is called "little England" as it is frequented mostly by the British tourists.
---
BITEZ PUBLIC BEACH
One of the most beautiful Bodrum beaches is Bitez beach. Bitez, which is 8 kilometres from the centre of Bodrum, is also reached by a 15- minute journey by minibuses departing from the bus station. There is no entrance fee to Bitez beach and there are many businesses on this beach. Bitez is a beach especially preferred by tourists, there is also the possibility to surf here as Bitez is a popular surfing spot. It is possible to rent surfing equipment on the beach, so if you want to surf, you do not need to take equipment with you. Our article, Places to See in Bodrum Bitez will provide an answer to all your questions about Bitez, through this link.
The surroundings of the beach are also impressive with their natural beauty. You do not have to pay extra for sun loungers and umbrellas when you eat or drink something at beach restaurants. You can start the day with a great breakfast by going to the places on the beach of Bitez, then you can enjoy the sea, sand and sun, do surfing and other water sports, in short, have a great time.
---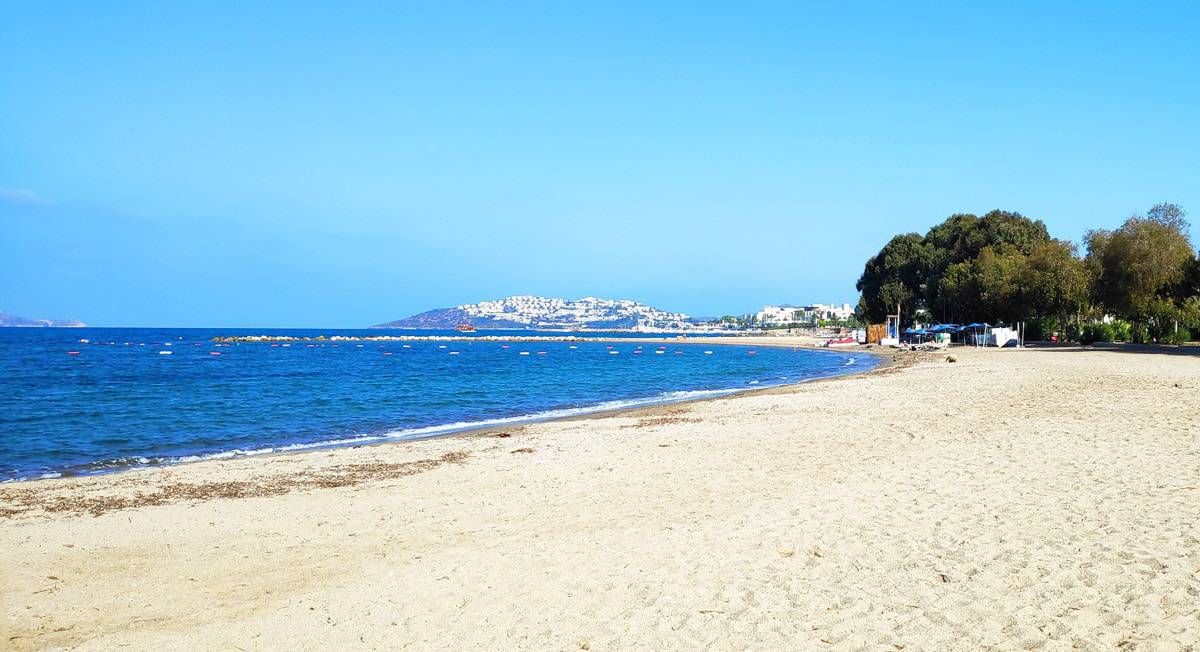 TURGUTREIS PUBLIC BEACH
Turgutreis beach is a beach that most holiday makers miss. As you can imagine, Turgutreis beach, which has a beautiful and long sandy beach, gets crowded during the holiday season. Although the sea of ​​Turgutreis beach, which is mostly frequented by foreign tourists, is wavy, you can still enjoy it. Even though the sea is a little wavy for families with children, the sandy beach offers ample space for children to play and there is a small park just behind the beach for them.
In addition to the long public beach to the right side of the marina, there is another small but calmer beach on the left. You can also choose this beach, which you will see on the way to Sevket Sabanci Park. Although Turgutreis is not frequented much by local holidaymakers, it is a popular location among foreign tourists.
---
CAMEL PUBLIC BEACH
Camel Beach, which is considered as the best beach of Bodrum by many, is located in Ortakent and reached by the minibuses departing from the bus station. It is possible to get Camel rides on the beach, which is where the name Camel Beach comes from. Camel Beach is 2 kilometres long, meaning it is one of the longest beaches of Bodrum and it is a highly organized beach.
It is also possible to sail and do other water sports on this Blue Flag beach. One of Bodrum's indispensable activities is boat tours and all tour boats stop by Camel Beach, so you can see this beach by participating in a boat tour. The sea of ​​the Camel Beach is shallow, so it is also a suitable address for families with children.
---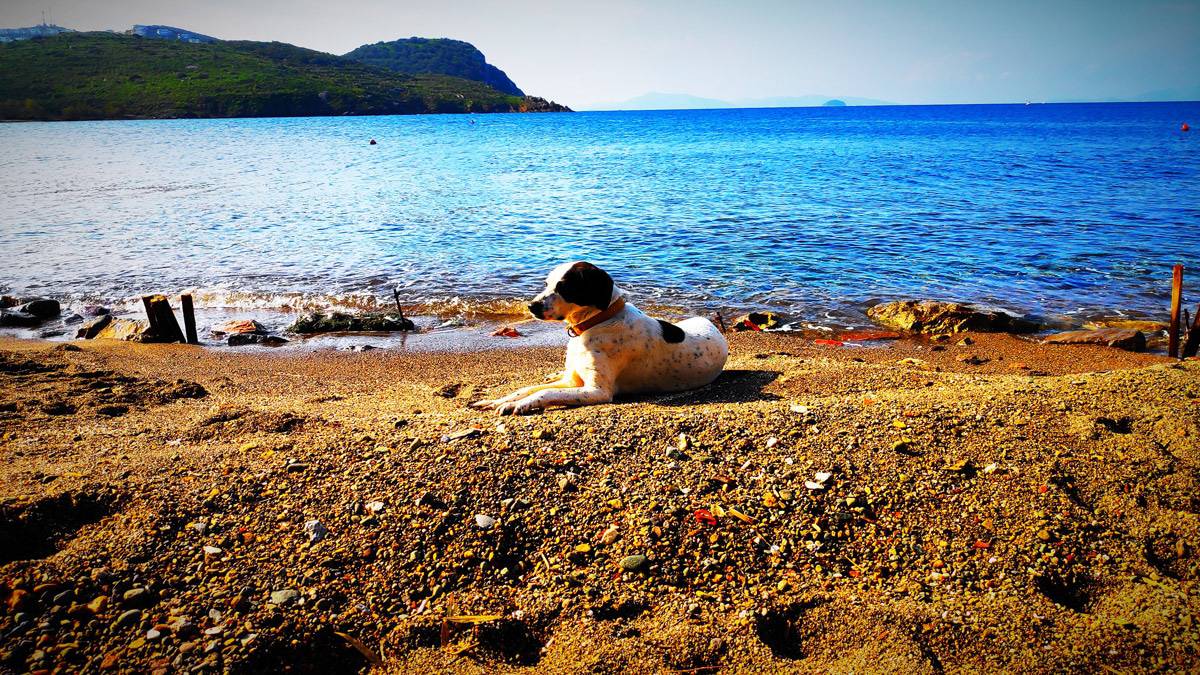 GUMUSLUK PUBLIC BEACH
The right part of Gümüşlük beach is used completely as a public beach, there are many businesses here, and especially Club Gumusluk is always crowded. To sunbathe on the sun loungers of this venue, it is enough to eat and drink in the place. However, it is necessary to go early in order to find empty sunbeds and the prices are a bit higher compared to other places. Gumusluk is also a rich location for fish restaurants, we also recommend you to read our article What to Eat in Bodrum about the food you should definitely taste in these restaurants.
---
AKYARLAR PUBLIC BEACH
Akyarlar is about 20 km from the centre of Bodrum and takes about 40 minutes by public buses that depart from the bus station. There are two different beaches in Akyarlar, the first one is located in the central. With its crowded and lively atmosphere, this beach is more suitable for those who want to hang out in a crowded environment. Akyarlar Public Beach is also suitable for surfing and sailing, so if you are planning to surf or sail, you can turn your route here.
The second option is the Karaincir beach. This is a bay suitable for those who wish to rest in a quiet environment. There are some venues on the beach and most of them charge an entrance fee for the facilities such as sun loungers, food and beverages. So it is more like a pledge to spend a certain amount upon entrance. Karaincir's sea is magnificent. More magnificent, however, is its sunset view which is exactly why you shouldn't leave Karaincir without witnessing the sunset.
---
KADIKALESI PUBLIC BEACH
Located between Turgutreis and Gumusluk, Kadikalesi can be considered one of Bodrum's most beautiful and quiet beaches. Surrounded by citrus groves, Kadikalesi is ideal for those who wish to be one with the nature, and have a peaceful experience while enjoying the sea, the sand and the sun.
Open to the sea, Kadikalesi is usually windy but on the days of no wind, the sea is very calm. The fact that it is windy makes this bay an attractive choice especially on the very hot day where the breeze takes off the edge of the heat. The bay with the beautiful view also has some restaurants and it can be reached by the minibuses departing from Bodrum bus station.
---
GUNDOGAN PUBLIC BEACH
Gundogan public beach is one of the most beautiful beaches in Bodrum. Consisting of natural sand, this public beach is one of the most popular beaches of holidaymakers. The fact that the sea is always calm is one of the first reasons for it to be so popular, another reason is that there are many restaurants right behind the beach.
There are also many establishments that provide paid services along the beach, it is enough to have something to eat at these businesses. It's worth mentioning that these establishments, where you will benefit from facilities such as showers, toilets, restaurants and sunbeds, get very crowded in the high season.
You can find public buses that operate from the centre of Bodrum and all the neighbourhoods to the front of the Gundogan public beach. You can reach Gundogan public beach, which is 22 kilometres away from Bodrum centre, in an average of half an hour. The beauty of the beach and the sea makes Gundogan public beach always crowded, so it is best to get there early.
We hope that we were able to give you an idea about Bodrum beaches. However, you should also not leave Bodrum without seeing the unique bays that you can reach with private boat tours. After having a look at our Boat Trips in Bodrum, we strongly recommend you to join a tour and see these unique bays.
We hope you will have the opportunity to have a good time on these Bodrum beaches soon. When you go to Bodrum beaches to spend time, please take care to keep our beaches clean. Do not leave your garbage on the Bodrum beaches for the staff to clean, especially don't bury your cigarettes in the sand of these beautiful beaches. There may not be a trash bin in some of the Bodrum beaches, but you can put out your cigarettes in an empty water bottle and throw it in a trash bin that will appear before you leave the beach.
We sincerely ask you to try and keep our beaches, seas and environment clean.
Before finishing our article, we would like to invite you to our Facebook group called; Bodrum Travel Tips. This community's purpose is to share your Bodrum holiday experiences or ask other users for recommendations about Bodrum. Help the guests coming to Bodrum from both, abroad and domestically, by giving advices, suggesting places, sharing and providing information about places to visit.
We wish you all an enjoyable holiday.