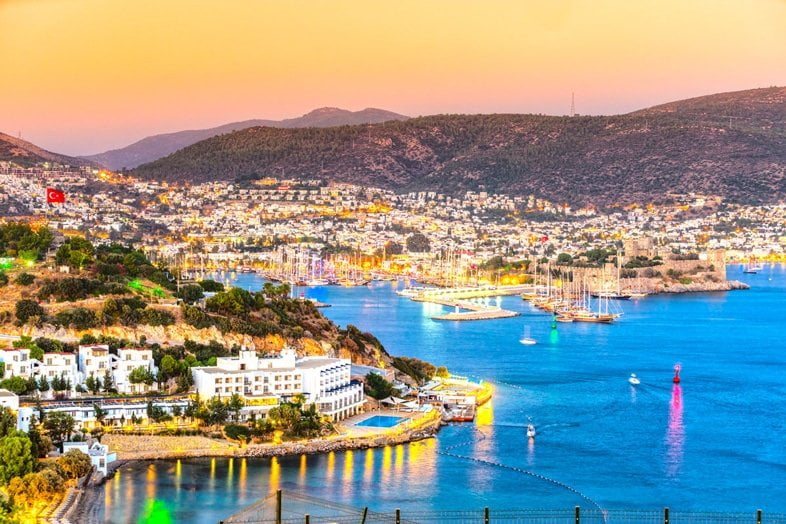 BODRUM TRAVEL GUIDE, PLACES TO VISIT IN BODRUM
Bodrum is Turkey's most important tourism centre known all over the world. Although the Bodrum district of Muğla is usually referred to with sea, sand and sun themed summer holidays, it actually has thousands of years of history and contains an important historical value, so Bodrum is very rich in terms of places to visit.
In addition, the cuisine of the district, which we can define as an Aegean town, is also very rich. Bodrum is one of the important destinations not only for sea, sand and sun-themed holidays, but also for gastronomy and cultural tourism. Unfortunately, most of the visitors coming to the district leave without fully discovering Bodrum. However, there are many things to do and of course to see in Bodrum.
This is exactly why we have prepared our Bodrum Travel Guide for places to visit in Bodrum, which by we hope to ensure that you do not miss anything when you come to Bodrum.
---
HOW TO GET TO BODRUM?
There is an international airport in Bodrum, Milas – Bodrum Airport. The distance from the airport to Bodrum is 36 kilometres and it takes 35-40 minutes to drive from the airport to the centre of Bodrum. There are direct flights to Bodrum from many cities of Turkey and the world. It is also possible to go to the district by road, there are buses going to Bodrum from almost every city in Turkey.
In addition to these, ferry services are also organized from Datca, the popular district of Muğla, to Bodrum in summer months. As it is very close to many Greek islands you can reach Bodrum by ferry from some Greek islands, especially Kos. There are different transportation options in Bodrum, too. Our Bodrum Transportation Guide article has been carefully prepared to answer your questions.
---
WHEN TO GO TO BODRUM?
If you think that Bodrum is beautiful only in the summer months, you would be wrong because the district is very pleasant throughout the year, which you will agree with when you read our Bodrum Weather Guide article. When you ask those who live in Bodrum and those who come here often about the best time to see Bodrum's attractions, the most popular answer you'll get will be the spring. The district is magnificent in the full sense of the word in spring and autumn.
As we mentioned at the beginning of our article, there are many historical places in the district and it can be tiring to visit these places on days when the weather is very hot, so if your purpose of coming to Bodrum is to fully explore this district with thousands of years of history, it is best to choose the spring or autumn months. For sea-sand and sun-themed holidays, of course, the summer months are the most suitable period.
---
PLACES TO VISIT IN BODRUM
Among the most important elements that make the district attractive are the places to visit. For this very reason, it is best to program the duration of your Bodrum trips in such a way that you can visit all of these places. If you are interested in historical places, we recommend you to read our Bodrum Historical Places article. Considering that you have a short holiday, we wanted to list the places you should see first…
---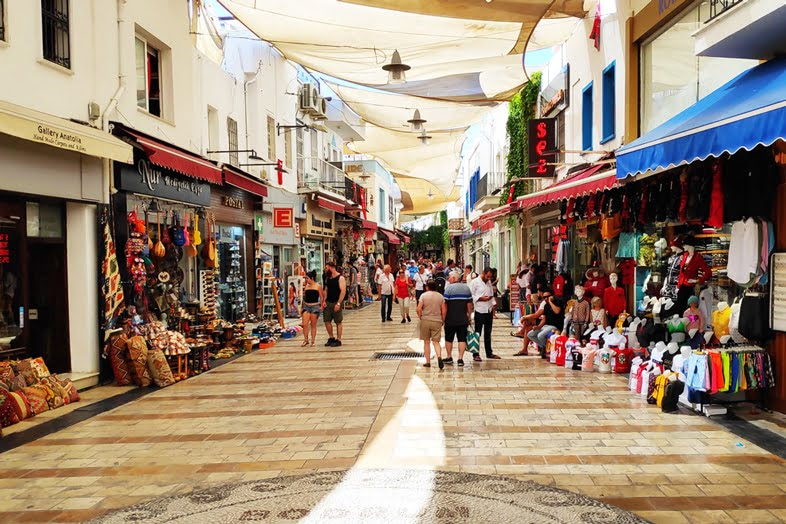 BODRUM BAR STREET
If you walk a few minutes down from the Bodrum minibus terminal, you will find yourself in the heart of Bodrum. Street to your left goes to the famous Bodrum Bar Street, and the one on the right goes to Neyzen Tevfik Caddesi, where there are quality fish restaurants and different venues, and then to the marina.
Our recommendation is to first turn left and discover the liveliest street of Bodrum, and its its souvenir shops and then move to the Bar Street, which is full of entertainment venues. Although this street is the first to come to mind to visit in Bodrum, do not neglect to enter the back streets. You can visit different shops and quality venues, explore Tekilacılar Sokağı (Tequila Shops Street), which is a side street in Bars Street. Tekilacılar Street is just as pleasant during the day even though it has a different atmosphere in the evenings.
If you are going to spend most of your holiday in the centre, you should read our Bodrum Centre Guide article where we detailed everywhere step by step.
---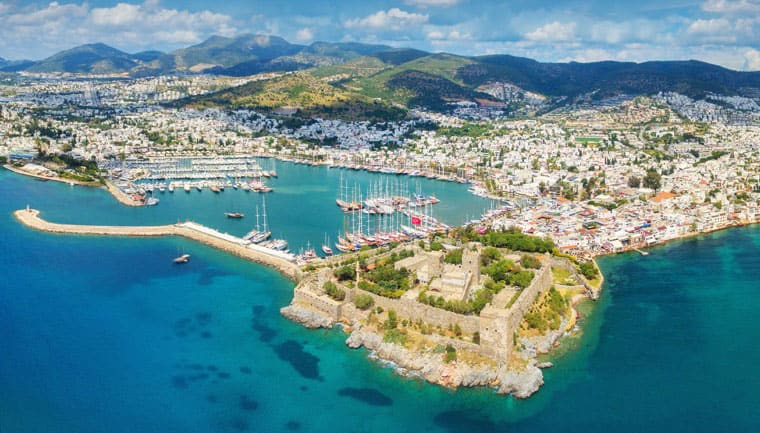 BODRUM CASTLE
The first place in the list of places to visit in Bodrum is of course Bodrum Castle, which is the symbol of the district. Built by the Knights of Saint John between 1406 and 1523, the castle is almost completely preserved. There are sections such as the English Tower, the French Tower and the dungeons in the castle.
The Bodrum Underwater Archaeology Museum inside the castle is considered one of the few museums in the world in its field. Let's not forget that you will need to spare a day to visit the centre of the town and every corner of the castle. You should definitely read our Bodrum Castle article, which briefly tells the history and importance of Bodrum Castle.
---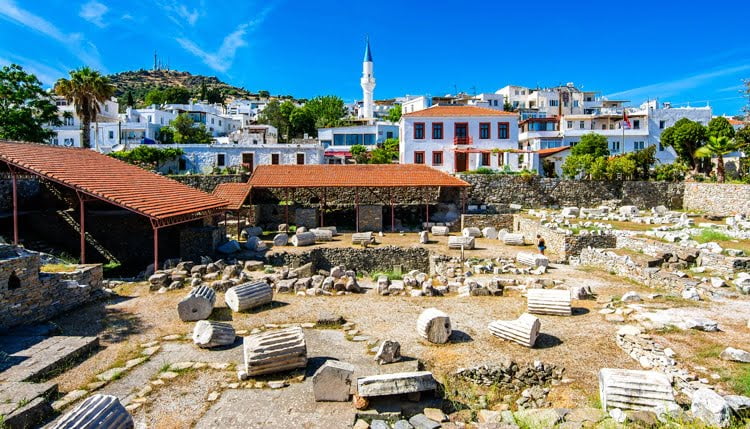 HALICARNASSUS MAUSOLEUM
The Mausoleum of Halicarnassus, which is overlooked by most people who come to the district, is actually one of the most important historical places that Bodrum hosts, as it is considered among the seven wonders of the ancient world. Therefore, it is one of the most important places to visit in Bodrum. The mausoleum is on Turgutreis Street, which is very close to Bodrum bus station, and can be visited every day, except Mondays.
The mausoleum was built in memory of King Mausolos by his sister Artemisia, who was his wife at the same time. Many parts of the mausoleum, which was one of the largest tombs at the time it was built, are unfortunately exhibited in the British Museum in England. But of course, this does not change the fact that you should leave Bodrum without seeing the Mausoleum of Halicarnassus, one of the seven wonders of the ancient world. Our Halicarnassus Mausoleum article will give you detailed information about this mausoleum.
---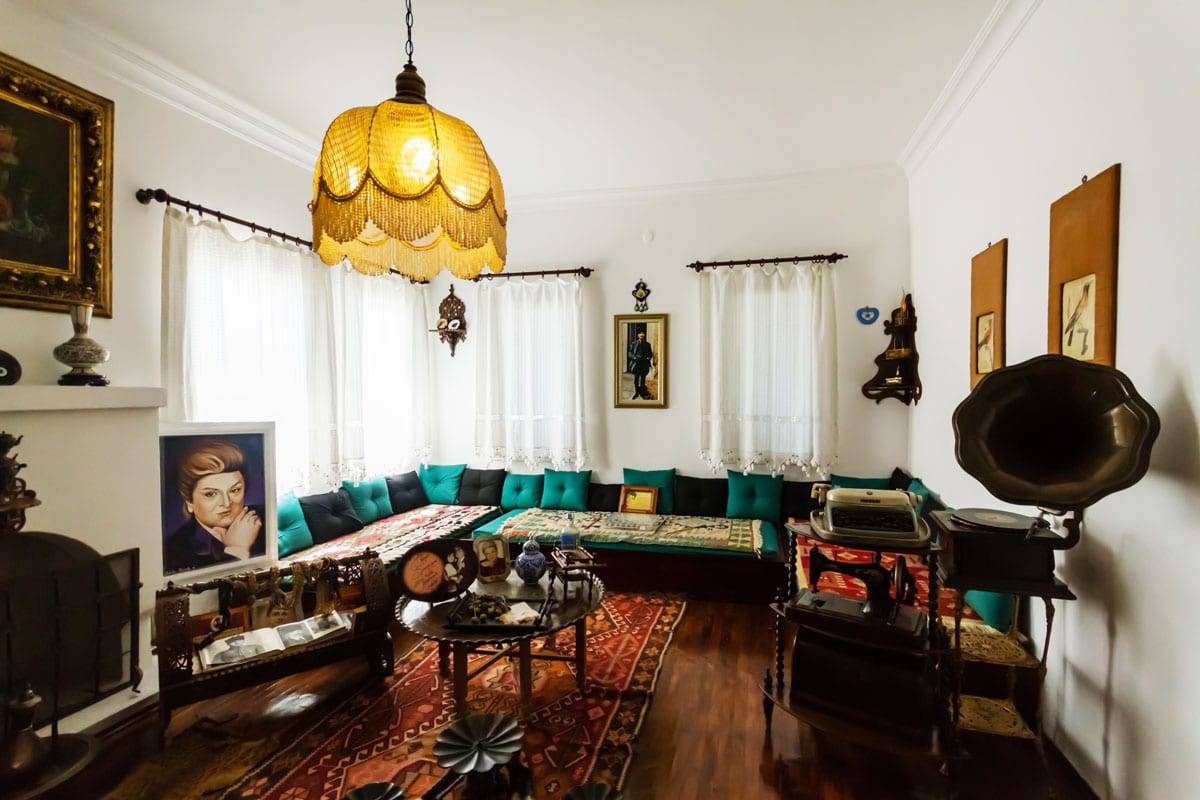 ZEKI MUREN ART MUSEUM
The fact that the "Sun of Art" Zeki Müren settled here played a major role in the popularization of Bodrum. The house where the legendary artist lived in Bodrum was converted into a museum shortly after his death and became one of the most visited spots in Bodrum. Items such as Zeki Müren's clothes and awards are exhibited in the museum. It is also possible to see the artist's car in the garden. Zeki Müren Art Museum is also in the Kumbahçe District in Bodrum city centre. You can reach the museum by taking a pleasant walk through the Bar Street. This museum is closed on Mondays.
---
BODRUM MARITIME MUSEUM
The museum, which was opened in 2011, exhibits faithful models of the "Bodrum type" boats, which have an important place in the economic, social and cultural life of the region. In the special section on the upper floor of the museum, "Hasan Güleşçi Seashells Collection ", created by Hasan Güleşçi, is presented to visitors since December 23, 2011. The collection, which was collected them from various parts of the world over a period of approximately 40 years, is very valuable and rich (about 6,000 seashells belonging to 168 families).".
In the "Cevat Sakir Kabaagacli Collection" section, Kabaagacli's life is exhibited, starting with his family tree, his infancy, his life with special photographs selected from his family album, historical documents, his writings, paintings and personal belongings. You should definitely take some time to visit this beautiful museum located in the centre of Bodrum. Also yo might like our Fisherman of Halicarnassus atricle…
---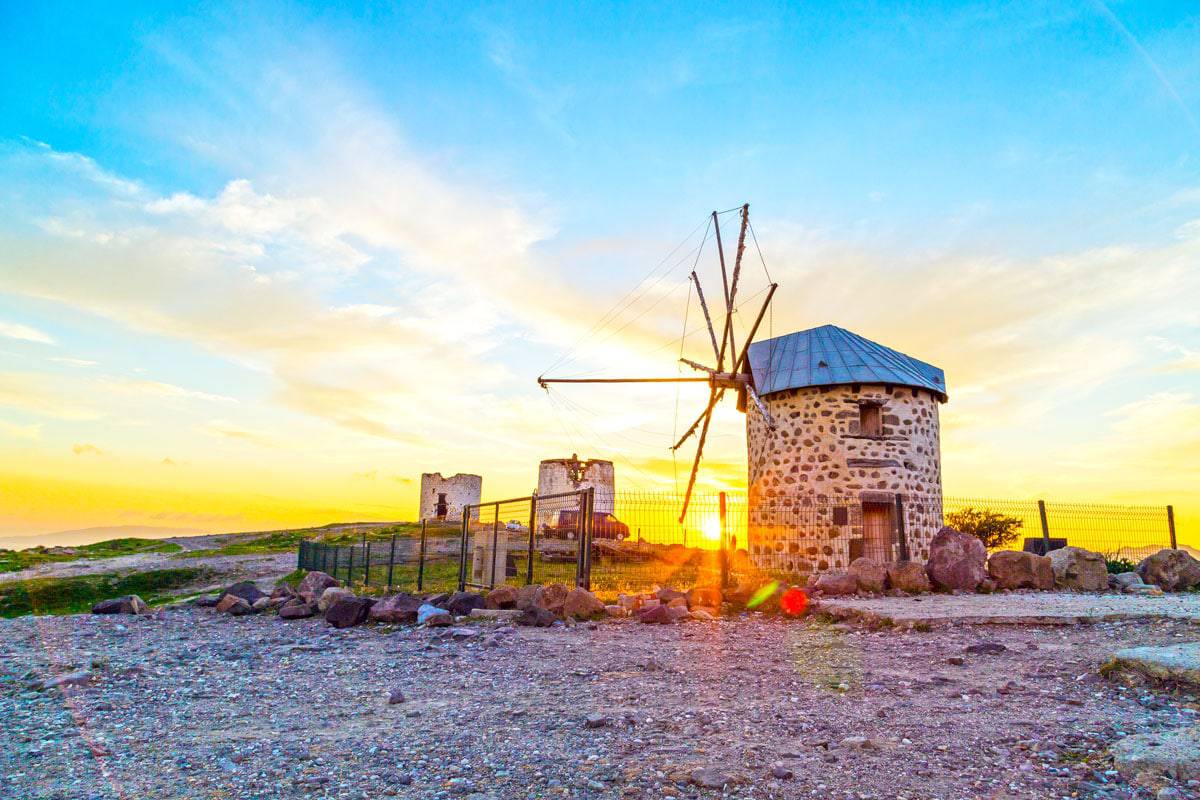 HISTORICAL WINDMILLS
Windmills, one of the symbols of Bodrum, are located on Bardakçı Hill. Bodrum is one of the most romantic places to visit. By climbing the hill, you can see the historical windmills and take lots of photos. It is very pleasant to watch the sunset from here, but don't forget to take your drinks with you to make this romantic atmosphere even more beautiful as there are no shops near the windmills. One side of the hill overlooks Bodrum centre and the other side overlooks Gumbet, the view here is incredibly beautiful. You may also like our Places to See at Bardakci Bay article…
---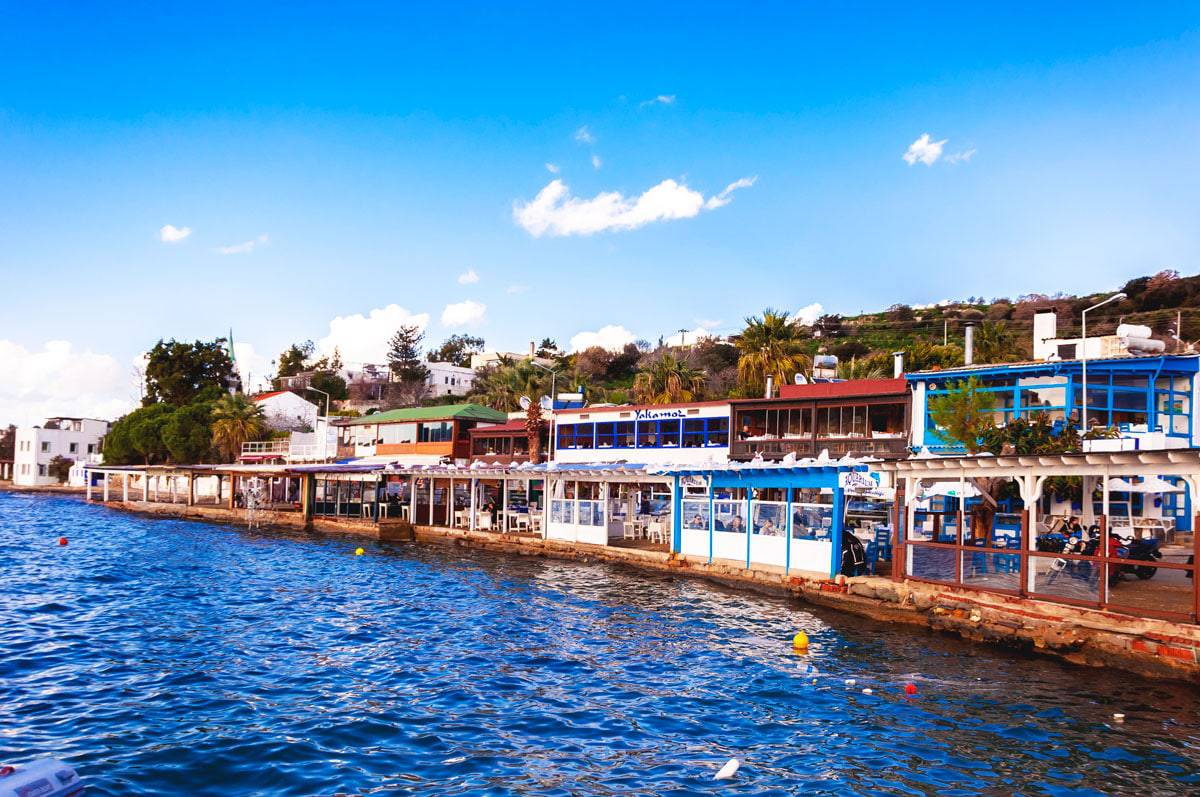 PLACES TO VISIT IN GUMUSLUK
Among the places to visit in Bodrum, Gumusluk has a different place for almost everyone. There are many fish restaurants on the coast of Gumusluk, one of the most popular villages of the district, and it is a wonderful experience to enjoy raki and fish in these restaurants.
We recommend that you read our article on Bodrum Fish Restaurants before going to fish restaurants in Gumusluk. There are also a few bars in the village and there is a historical church called Eklisia where art events are held. Minibuses depart from Bodrum centre to Gumusluk and the journey takes about 45 minutes. Among the places to visit in Bodrum, Gumusluk is a location you should not miss, definitely take a day off to spend your time in Gumusluk during your holiday. You can also get more detailed information about the town by reading our Gumusluk Travel Guide article.
---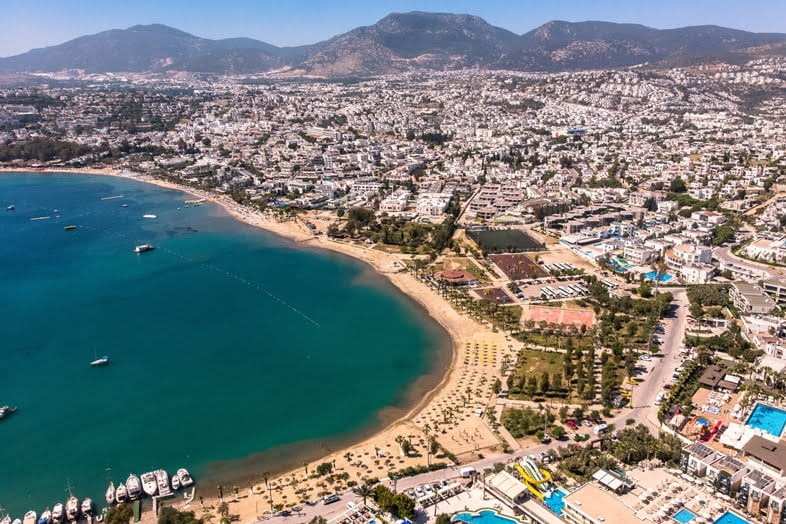 PLACES TO VISIT IN GUMBET
Gumbet, which is 10 minutes away from Bodrum centre by car, is also known as "little England" because Gumbet is flooded by the British in the summer months. Gumbet, which also has a street of bars, has countless entertainment venues for all tastes. There are nightclubs such as Pasha, Sebastian and Posh Club on the bar street that stretch both to the right and to the left, as well as disco-like venues, such as X Bar, mostly preferred by the British.
Gumbet, which also has a long coastline, is a perfect option for those who like crazy entertainment after swimming in the sea, eating and drinking at the beach venues. We should also add, the sea of ​​the last part of the Gumbet beach is very shallow, making it recommendable for families with children. We recommend you to read our Gumbet Travel Guide article before going to Gumbet.
---
PLACES TO VISIT IN YALIKAVAK
Yalikavak, one of the most preferred resorts of Bodrum, is very popular thanks to Yalikavak Marina, which is among the most modern and luxurious marinas of our country. Its beaches, luxury hotels, entertainment venues, clean sea and of course famous windmills attract thousands of people every year.
Yalıkavak Marina is home to many shops and restaurants, as well as hosting luxury yachts throughout the year. If you are planning to spend your summer vacation in Yalikavak, you can find all the information about the town in our Yalıkavak Travel Guide article.
---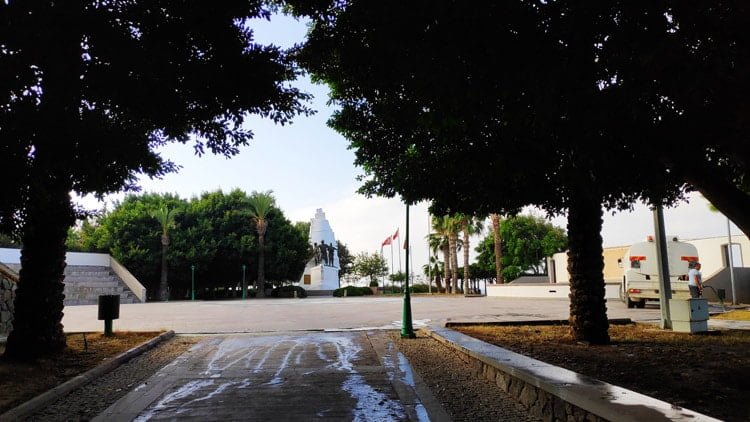 PLACES TO VISIT IN TURGUTREIS
Turgutreis, which is a town as developed as the centre of Bodrum, maybe even more than its centre, is also one of the crowded spots of the district in winter. The presence of one of the most modern marinas of our country in Turgutreis, which attracts tourists during the summer months as well as the resident population, plays an important role in making the town much more popular.
There is a beautiful park in the town that you cannot see even in big cities; Sevket Sabanci Park. You will not be able to say no to breakfast or a dinner at Mavi Park Restaurant in the park, which is located right next to the sea and the park is on the coastline with a beautiful walking and cycling path. If you are planning to spend your holiday in this popular resort, do not pass without reading our Turgutreis Travel Guide article.
---
WHAT TO EAT IN BODRUM?
Experienced travellers taste local delicacies wherever they go, and Bodrum is very rich in terms of local delicacies. We think that there is no one who has not heard of the legendary tastes of Aegean cuisine, and Bodrum is a place where you can taste the best examples of Aegean cuisine. There are many eating and drinking places in the district and local foods are also served in these places. It is also needless to say that Bodrum's breakfast places have levelled up in terms of breakfast.
If your preference is to go to the tavern (meyhane), the taverns street in the city centre is just for you. As the name suggests, there are many taverns on Meyhaneler Sokagi, and these places offer delicious tastes, especially local fish and seafood. Seafood such as fish, octopus, squid and cuttlefish are served fresh. Speaking of cuttle fish, we suggest you try the cuttle fish with ink, which the locals of Bodrum call "garali subye".
Bodrum cuisine is also famous for its herbs. Many magnificent herbs such as wild radish, mustard greens, sea beans, wild asparagus, sorrel are indispensable for Bodrum tables. These herbs are generally consumed as salads, and you can taste appetizers made from these herbs in taverns. Don't miss the stuffed zucchini flower, which is the unique dish of Aegean cuisine. We briefly mentioned what to eat in Bodrum in our Bodrum travel guide, but if you haven't read it yet, we recommend you to read our What to Eat in Bodrum article.
---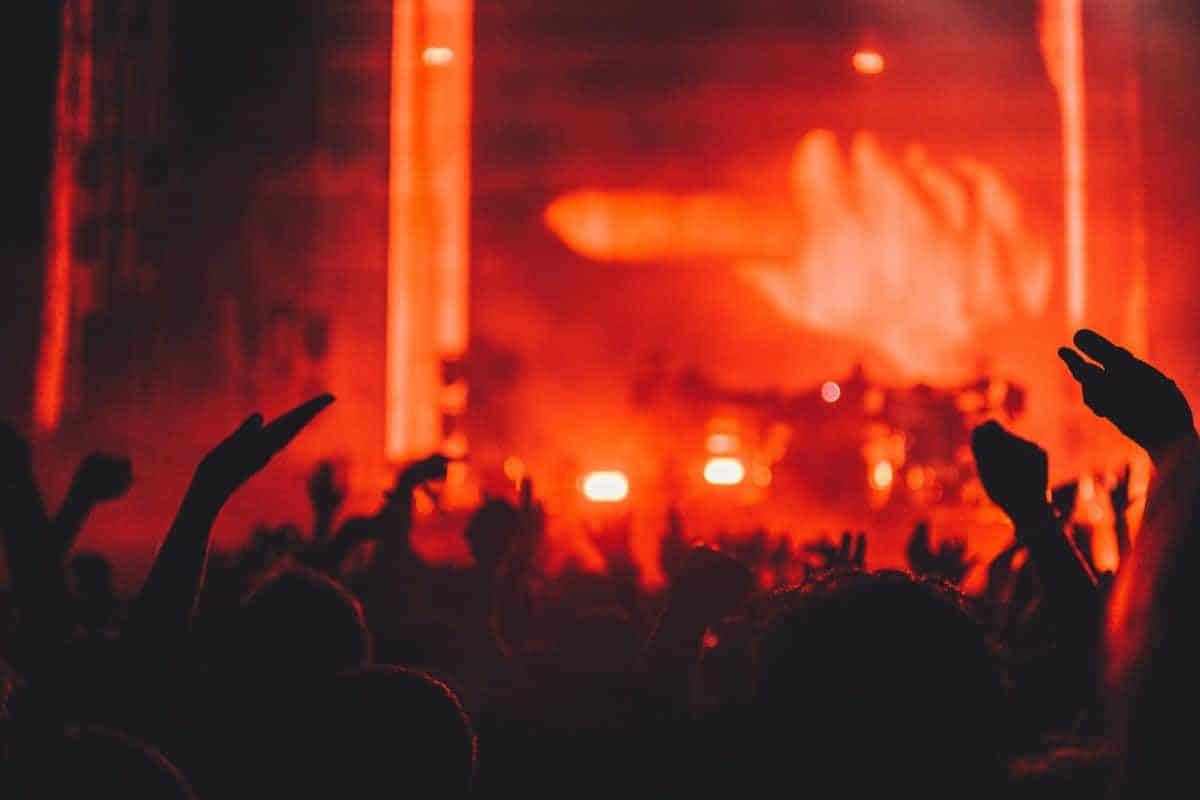 HOW IS THE NIGHTLIFE IN BODRUM?
If Bodrum is a world-renowned holiday destination that attracts tens of thousands of local and foreign tourists every year, one of the most important reasons for this is the legendary nightlife of the district. The bar street in the city centre you can find bars, discos, live music venues, in short, everything you expect for nightlife. Our Best Bars of Bodrum article will be a very good guide for you.
Bodrum has a lot to offer in terms of places to visit, especially entertainment venues are a subject of a separate article. The first choice of rock music lovers is Korfez Bar, which has been serving at the same place and even with the same staff for years. In the summer months, Kule Rock City, very close to Korfez Bar, is almost too crowded to go inside.
The first place that comes to mind when it comes to live music is Mavi Bar, which has been serving in the same place for years. You can watch great live music performances in Mavi Bar, which is a small and shabby place. You may have thought of Halikarnas Disco, but Halikarnas Disco is no more, so if you are looking for disco-style entertainment, it is more reasonable to go to Gumbet, where the disco entertainment continues until the morning in many places.
---
VISIT BODRUM WITH A PROFESSIONAL TOUR: IBEX ADVENTURE CLUB
Ibex Adventure Club organizes many tours in and around Bodrum. So much so that after joining a tour with Ibex Adventure Club, even those who claim to know Bodrum well will realize they do not know it well enough.
In the pleasant tours organized by Deniz Kılıç, the founder of Ibex Adventure Club, and led by their experienced guides, you will discover not only popular places, but also an unknown Bodrum.
Our advice to you is to call Ibex Adventure Club and register for a Bodrum tour plan before you schedule your Bodrum holiday, as you may have difficulty finding a place during the holiday season. But don't worry, Ibex Adventure Club organizes tours for 12 months of the year.
You can use the contact information below to get more information from Ibex Adventure Club.
Ibex Adventure Club
www.ibextravel.com.tr
www.instagram.com/ibexadventureclub
Phone : +90 252 317 00 06
---
Bodrum is definitely one of the best destinations for those who want to experience a holiday and travel experience to the fullest, and it invites you to visit with all these features.
We hope our article on places to visit in Bodrum has provided you with an idea before visiting Bodrum. Bodrum is not only rich in historical places to visit, but also rich in entertainment venues and, of course, beautiful beaches. If you want to explore these beaches, we invite you to read our article Bodrum's Most Beautiful Beaches.
Before finishing our article, we would like to invite you to our Facebook group called; Bodrum Travel Tips. This community's purpose is to share your Bodrum holiday experiences or ask other users for recommendations about Bodrum. Help the guests coming to Bodrum from both, abroad and domestically, by giving advices, suggesting places, sharing and providing information about places to visit.
We wish you a happy holiday…