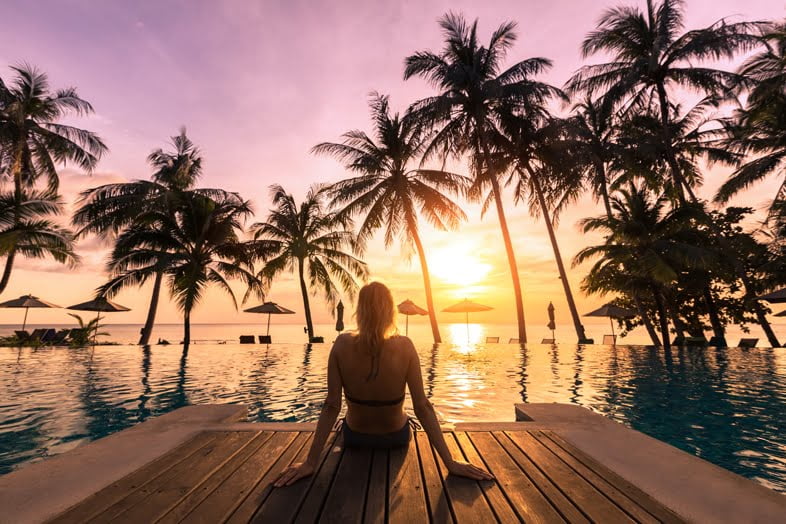 MOST LUXURIOUS BODRUM HOTELS
The dictionary meaning of luxury, which is a word of French origin, is something that is expensive and not necessary. However, the concept of luxury varies from person to person. According to some, a quiet hotel is luxury, while for others being able to watch magnificent Bodrum view from their hotel room or endless hotel amenities.
Although the dictionary meaning of the word luxury is 'needs other than necessity', luxury is a pleasure, a person's aesthetic understanding, a way of enjoying life. A luxurious room that everyone likes may not seem that aesthetic to you, or a neatly prepared table in a luxury restaurant may never make you feel comfortable.
LUXURIOUS HOTELS IN BODRUM
This understanding extends to vacation too, everyone's understanding of vacation is different. Bodrum luxury hotels also offer different services such as a private pool a couple of steps from your room, the unique Bodrum view which you cannot take your eyes off, or a special service concept that spreads comfort throughout the facility.
We hope that the hotel that fits your understanding of luxury hotel can be found in our Most Luxurious Bodrum Hotels article. If you are looking for a luxurious but more economical hotel, we invite you to read our article on Bodrum's Best Boutique Hotels.
---
SIMPLICITY IS THE REAL LUXURY
THE BODRUM EDITION
Located just 3 kilometres from Yalikavak Marina, The Bodrum EDITION is a hotel that combines luxury with comfort. Instead of exaggerated details, they prioritized comfort and peace to offer a luxury service. The hotel, which has 108 rooms, suites and villas, offers accommodation options with private pools, gardens, balconies and most importantly, panoramic sea views.
In addition, the 'infinity pool' is an area where you can spend time with pleasure. The facility, which has a pier with private resting areas and a magnificent Beach Club, can be preferred even for its private sandy beach. The full-scale SPA includes a sauna, Turkish bath and 8 massage rooms.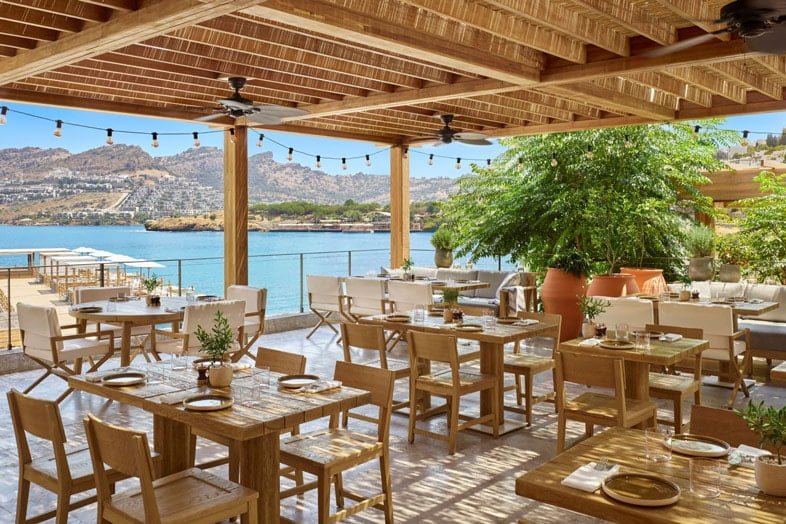 There are three signature restaurants in the food and beverage section, which has made a name for itself. Brava Restaurant serves Latin American cuisine, while you can taste the unique flavours of Mediterranean cuisine at Morena Restaurant. They also blended international flavours in the International Restaurant. If you stay at The Bodrum EDITION, we definitely recommend you to experience Brava restaurant. Needless to say, the breakfast menus are both delicious and the presentation is simple but satisfying.
The hotel also has a night club which we like very much, Discetto. You can spend a great night at Discetto without having to think about where to go for night entertainment. Here, you can enjoy a nice atmosphere and delicious cocktails prepared by the experienced bar tenders. Discetto night has a nice ambiance to relax and enjoy your drinks while chatting away, an experience which should not be missed.
Another feature of the hotel which we most like is its hospitality and friendly service. All staff offer their service with a smile to ensure a great holiday for their guests, which is a detail not to be dismissed. Also you should read our Hotel Review: The Bodrum Edition article.
If you are planning a holiday in The Bodrum Edition, which provides service with a simple elegance among Bodrum luxury hotels, you can find the most suitable reservation options thorough this link —> The Bodrum EDITION
---
HIDDEN PARADISE
LE MERIDIEN BODRUM BEACH RESORT
It would be impossible to compile Bodrum luxury hotels and not mention Le Meridien Bodrum Beach Resort. Located in the most privileged bay of the Bodrum Peninsula, Le Meridien Bodrum Beach Resort is like a paradise hidden in 83 thousand square meters of landscaped gardens. It offers its guests an exceptionally luxurious experience with its rooms, suites, residences and villas with breath-taking panoramic views.
You will love the elegant 650-meter sandy beach of the hotel, which is only 15 minutes away from the airport. Turkey's leader in holistic and health services, Vitalica Wellness, offers a series of holistic beauty treatments and unforgettable experiences within the premises to ensure you feel revitalized. You can take a step towards the privileged world of Vitalica Wellness to experience a unique experience to enlightenment, purification, nourishment and health. For more detailed information about Vitalica Wellnes, you can visit https://vitalicawellness.com.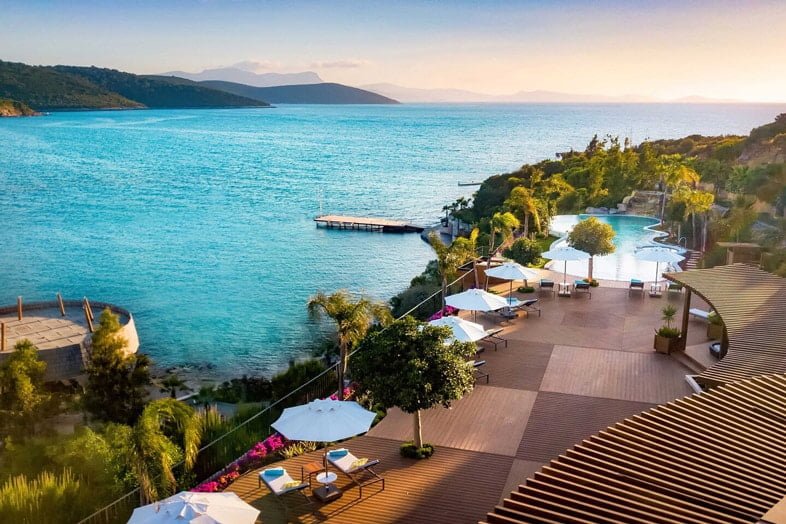 Luxury and elegance are evident at the living spaces equipped with the most up-to-date technology systems and in the finest details of the hotel's interior design. The comfort and style accompanied by the feeling of space and light will provide you with an amazing experience of luxury which is beyond dreams.
Le Meridien Bodrum Beach Resort has five restaurants and four bars; You can taste authentic Mediterranean flavours at Bodrum Blue Mediterranean Restaurant and Aegean special appetizers and variety of fresh herbs at Bodrum Blue Seafood Restaurant. Stella Restaurant offers dry aged meats according to your taste with its panoramic view overlooking the bay while Toro Pan-Asian Restaurant brings you the Asian Pacific cuisine.
You can pamper yourself with special cocktails and delicious drinks by the sea at the Beach Bar and Peninsula Bar. Those who wish to spend a quiet day sipping their drinks while enjoying the view of the peninsula from the comfort of their room can, of course, benefit from the 24-hour room service.
You can find the most convenient reservation options of Le Meridien Bodrum Beach Resort, one of the most comprehensive among Bodrum luxury hotels, through this link —> Le Meridien Bodrum Beach Resort.
---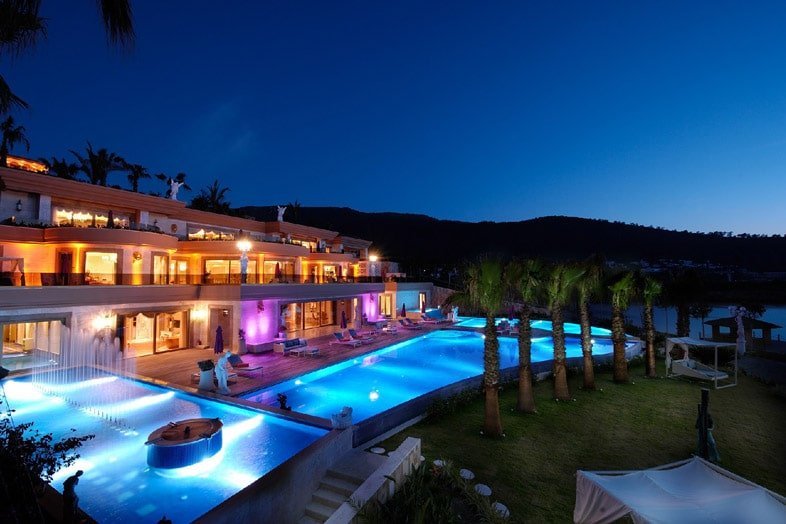 ULTRA LUXURY HOLIDAY
BE PREMIUM BODRUM
The facility is on the Milas – Bodrum highway, 22 km from the airport and 8 km from Bodrum. We can say that the hotel, which is popular among Bodrum luxury hotels, is the most preferred by foreign tourists. In addition to Turkish, the facility also provides services in Russian, German, English and Arabic languages.
Among eleven different accommodation options, luxury villa accommodation options are dazzling. Among these accommodation options, you can choose accommodation with sea or garden view. In all villa type accommodation options; there is a private pool in Deluxe Room, Premium Suite, Grand Suite and Maldivian Suite.
There are eight restaurants in Be Premium Bodrum. In addition to Turkish cuisine, there are eight different restaurants in the facility where you can taste the flavours of Italian, Asian and Lebanese cuisines. Boreas Restaurant; International cuisine, Lotus Restaurant; Asian cuisine, La Scala Restaurant; Italian cuisine, Taj Mahal Ashrama Restaurant; Indian cuisine, Persepolis Restaurant; Middle Eastern cuisine, Nepenthes Restaurant; Turkish cuisine and kebab varieties, Thetis Premium Restaurant; Mediterranean cuisine and breakfast, while Notias Restaurant offers tastes from three different cuisines of the world prepared by Michelin-starred chef consultants. In addition, there are eight bars at different locations within the facility.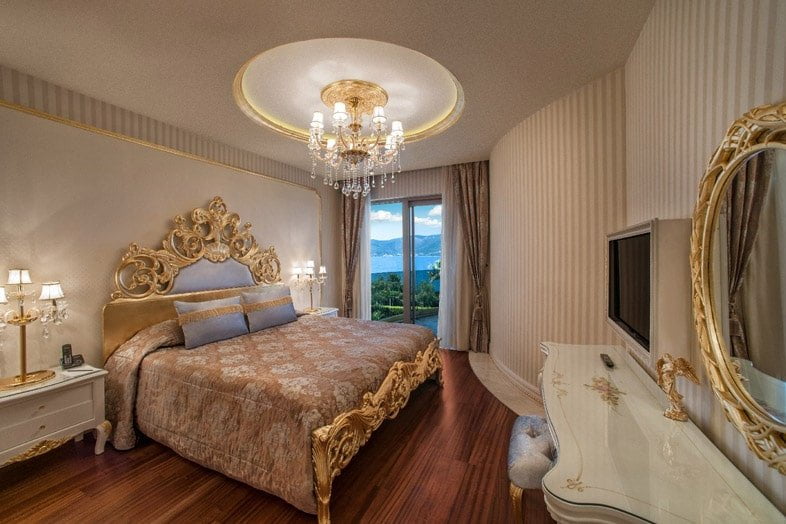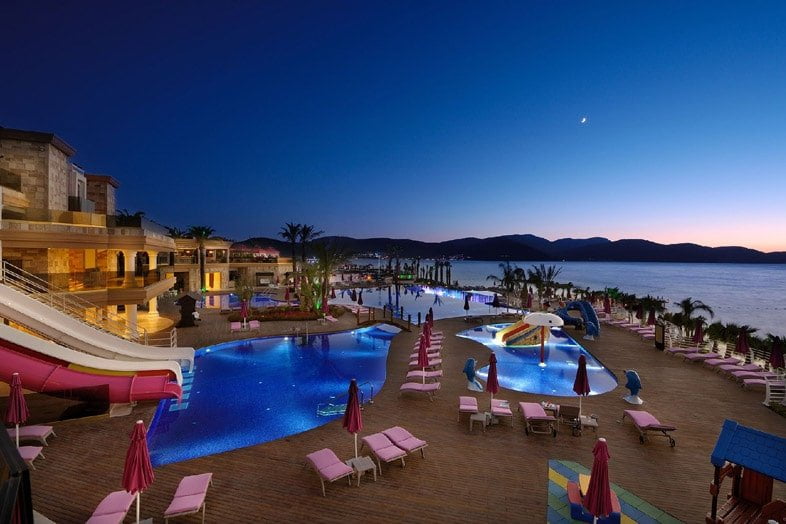 Located right by the sea, the hotel has a 370-meter-long beach and five piers. Be Premium Bodrum, which has three indoor and six outdoor pools, as well as a pool with slides and children's pool options for children. There are also many different activities for children. Be Premium Bodrum is a child-friendly facility which offers different game clubs for all ages, fun water slides, competitions and mini disco to name a few.
In addition, there are different options that you would look for in a luxury hotel, such as a comprehensive SPA, Turkish bath and fitness centre. The hotel, which definitely deserves to be categorized as a luxury hotel, deserves to be picked for its sea, beach and most importantly, friendly staff. There is no way we can fit all of the hotel's amenities here. Should you want to get more information, we recommend you to browse Be Premium website for a short exploration.
Couples who are planning their wedding can also choose it as a honeymoon hotel. You should definitely take a look at Be Premium Bodrum Hotel's special packages for honeymooners.
You can find the most suitable reservation options for Premium Bodrum, one of the most notable among Bodrum luxury hotels, through this link —> Be Premium Bodrum
---
A LUXURY HOLIDAY ISLAND
XANADU ISLAND
Xanadu Island Hotel, which is built on a peninsula surrounded by the deep blue sea of ​​Bodrum, promises its guests a holiday focused on comfort and entertainment. Located in Akyarlar, the facility is 30 kilometres from Bodrum centre and 50 kilometres from the airport. Among the luxury hotels in Bodrum, Xanadu Island brings many pleasant advantages with its location and being built on a peninsula.
With its 222 rooms, high class All- Inclusive concept, and extraordinary holiday concept that combines luxury with comfort, it offers its guests an unforgettable holiday experience in its suites and villas, each of which has a sea view. You may find it difficult to choose between the room options facing three different directions. Xanadu Island will be an ideal facility for those looking for a high-class holiday with villa accommodation options among 11 different accommodation options.
While the restaurants that serve both world cuisine, Aegean cuisine and Italian cuisine dishes offer you a delicious holiday, their bars in five different concepts promise hours of pleasure. There is also a Disco Bar in the facility. Don't worry about where to go next for an evening meal, and choose the Disco Bar to have fun.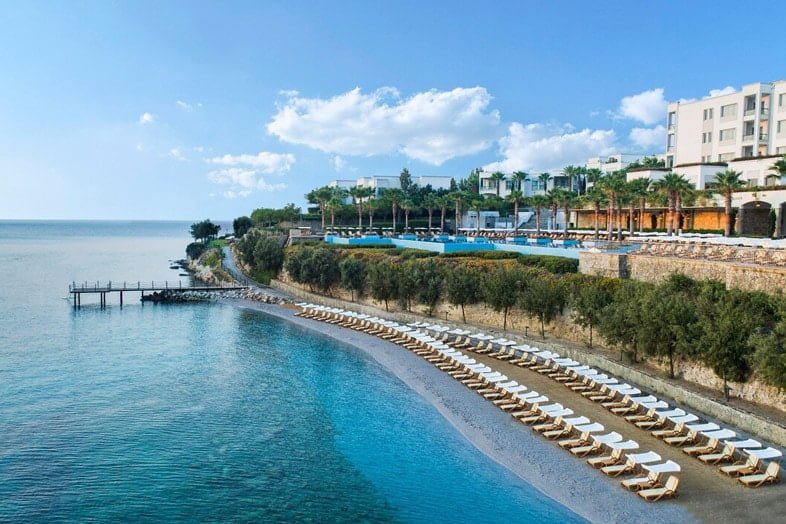 The facility, which is located by the sea, has a 125-meter-long sand and pebble beach. There are two piers and two swimming pools in the facility. The clarity of the sea is the most important factor that will attract you. On the other hand, two outdoor, one indoor and one children's pool are among the alternatives you can choose to cool off.
Xanadu Island, provides the opportunity to do activities such as fitness, football, tennis, table tennis, billiards, bowling and darts in multi-purpose fields, sports centres and game halls; also offers you a fun-filled holiday by offering water sports such as banana, pedalo, jet ski and canoe.
Xanadu Island cares about the happiness of its little guests as much as adults. In addition to the playground, children's pool with slides and indoor playground, both you and your children will have a luxurious holiday experience with fun activities prepared by the professional children's club team for guests between the ages of 4 and 12.
Xanadu Island is also known for its SPA service. Ayurvedic, European and Asian massages; body cures with authentic Middle Eastern scrub; water therapies and unique skin care will relax both your body and soul during your holiday.
Whether you are looking for a luxury family hotel or a honeymoon hotel, Xanadu Island is sure to provide you with an unforgettable holiday experience. You can reach the most suitable reservation options of Xanadu Island, which has a special place among Bodrum luxury hotels, thorough this link —> Xanadu Island
---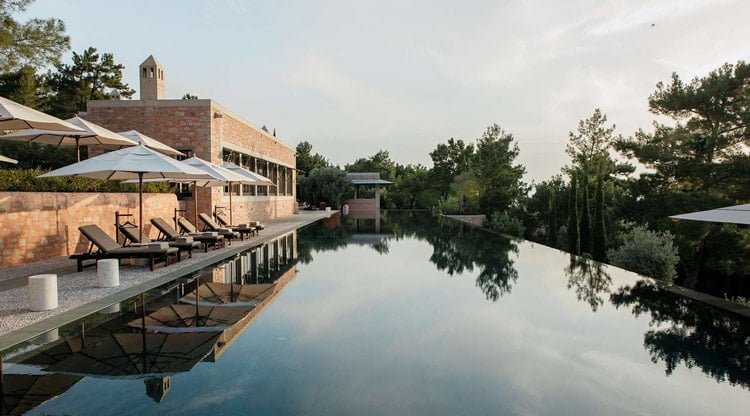 CALM LUXURY
AMANRUYA BODRUM
As we said at the beginning of our article, the concept of luxury varies from one person to another. Here is a hotel in greenery that brings together peace and comfort; Amanruya Resort. The hotel, which has a special place among Bodrum luxury hotels, is located in Golturkbuku. Each room of the facility, which consists of 36 stone villas, has a separate pool under the olive trees. In Amanruya, which has a uniquely simple design, you can have your breakfast by your own pool under the olive trees.
Part of the Aman global hotel chain, Amanruya's Bodrum facility started service in 2011. The hotel is open throughout the year and we believe those who's perception of luxury is peace and quiet will love this hotel. The hotel, which adopts a VIP service, is surrounded in greenery. Apart from the private pools of the villas, there is also a large communal pool.
All single-storey detached villas have their own pool, 200 square meters of garden and separate entrances. You can have your breakfast by your own pool under the olive trees. The fact that all villas are isolated from each other and positioned in a way to ensure that none of them face each other will give you the feeling of having a holiday in your own villa.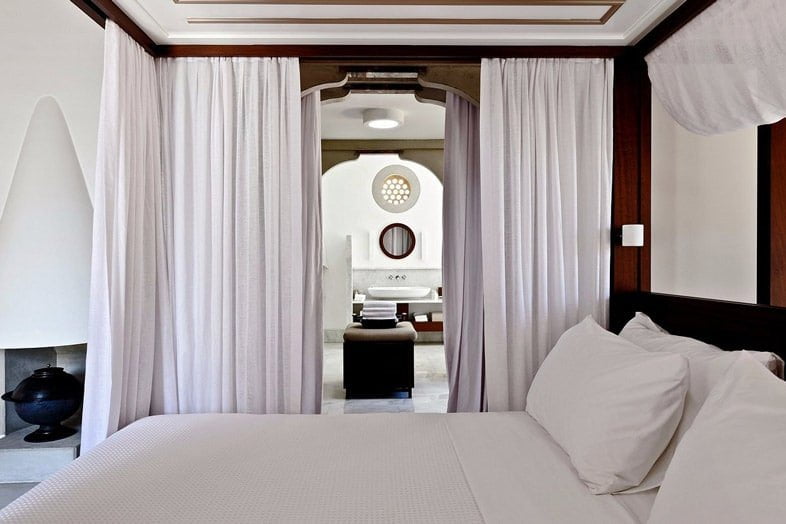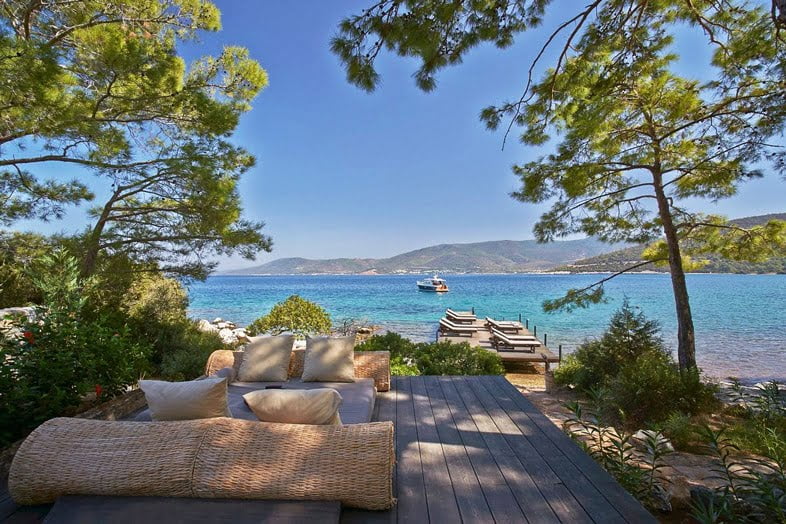 Amanruya also offers amenities such as a private yoga studio, a tennis court and bicycles to provide a holiday with healthy and peaceful activities.
When you go down to the beach with the buggies, a green environment will welcome you. Whether you are on the beach or elsewhere in the hotel, you will feel that you are in a very special place.
The architecture, service concept and restaurant of this hotel, which is intertwined with nature, will definitely please everyone who wants a special holiday. This hotel may not be very suitable for families with children as there are no children's activities.
You can find the most suitable reservation options of Amanruya Bodrum, which has a special place among Bodrum luxury hotels, thorough this link —> Amanruya Bodrum
---
DESIGNED FOR A LUXURIOUS HOLIDAY
TITANIC DELUXE BODRUM
Located in Güvercinlik on the Milas – Bodrum road, the hotel is built on an area of ​​80,000 square meters on the Pina Peninsula. Among the luxury hotels in Bodrum, it is safe to say that it is not possible to have a holiday in Titanic Deluxe Bodrum and leave unsatisfied.
There are three different villa options within 11 different luxury room concepts. These villas offer many luxury amenities. If you want a pool of your own, these villa options will be ideal for you.
The facility has a 350-meter-long sandy beach. Private sun decks of the hotel, which is right by the sea, will meet your expectations of luxury. The sand on the beach looks so beautiful that you don't even need a sunbed!
It wouldn't be possible to fit all the activities here but the long list of free amenities includes; a SPA (some of which is charged extra), fitness centre, mini football field, aqua park, Turkish bath, steam room, tennis court, and water bikes! Especially families with children or those who like to have fun like children will love Titanic Deluxe Bodrum. Tini Kids Club, a special club for children aged 1 – 12, provides service to kids without the parents' attendance. It is managed by professional staff who can speak different languages ​​and are experts in their fields.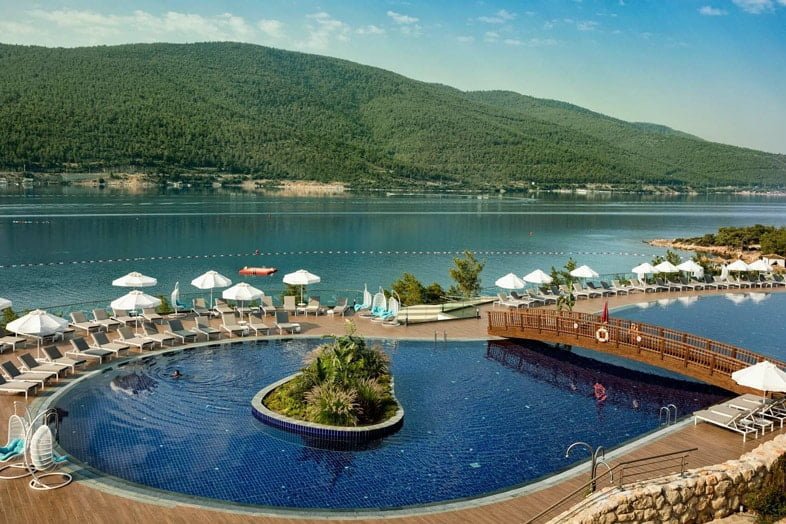 At Titanic Deluxe Bodrum, entertainment continues with a different excitement during the day and with a different enthusiasm at night. In the evenings, live DJs performances, concerts, beach parties, dance shows, events, activities will make your holiday unforgettable.
During the day, you have the opportunity to enjoy water and beach sports and many fun activities. Activities such as pool activities, yoga, Pilates, aerobics, water gymnastics, beach volleyball, water polo, mini football, fitness, tennis lessons, diving courses, boccia, non-motorized water sports will enable all ages to have a full holiday in Titanic Deluxe Bodrum.
As for the food and beverages; open buffet breakfast, lunch and dinner are served free at the facility, all soft drinks, local alcoholic and non-alcoholic beverages within the brands determined by the management are also free of charge for 24 hours. Next to the open buffet restaurant, there are five A La Carte restaurants for a fee. If you like seafood, Italian cuisine, Far Eastern cuisine or steaks, these restaurants run by expert chefs will win your appreciation.
Our Bodrum Luxury Hotels article would be incomplete without Titanic Deluxe Bodrum. If you are planning a holiday in this child-friendly property with a fascinating view, you can find the most suitable reservation options through this link —> Titanic Deluxe Bodrum
---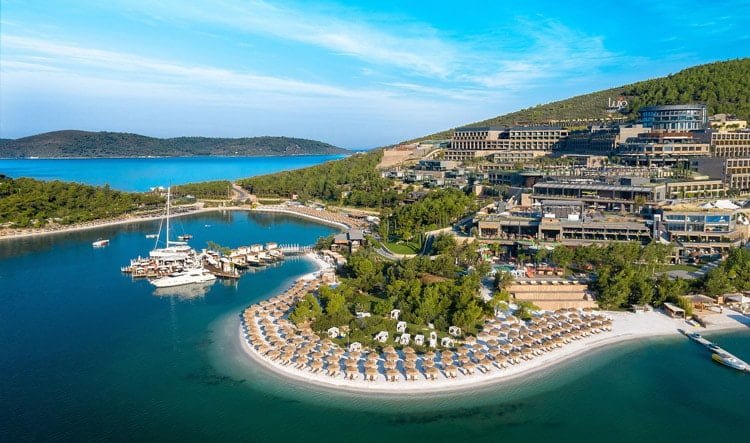 A LUXURIOUS ENTERTAINMENT WORLD
LUJO HOTEL
Lujo Hotel is a huge ultra-luxury resort at the seafront in Güvercinlik. It is located 15 minutes from the airport and 30 minutes from the centre of Bodrum. Among the luxury hotels in Bodrum, Lujo Hotel is a facility with a different concept, entertainment and sense of luxury.
With more than 20 different and comfortable room options, Lujo invites its guests to luxury. While large families prefer one of four different villa types with private swimming pools, Forest Rooms will win the hearts of romantic couples with its unprecedented architecture. With 80% of its rooms with a full sea view, Lujo's luxuries are not limited to its rooms; it also offers advantages such as specially heated swimming pools for the spring months, Aqua Park for children and Kijo Club, where guests aged 1-17 can spend time both having fun and learning.
With an all-inclusive A La Carte system, Lujo Hotel offers its guests a selection of Turkish, Mediterranean, Asian and Italian cuisines in 9 different gourmet restaurants with magnificent sea views. In addition, unique cocktails prepared by talented bartenders in 14 different bars and aged whiskeys at Pablo Esco Bar await guests.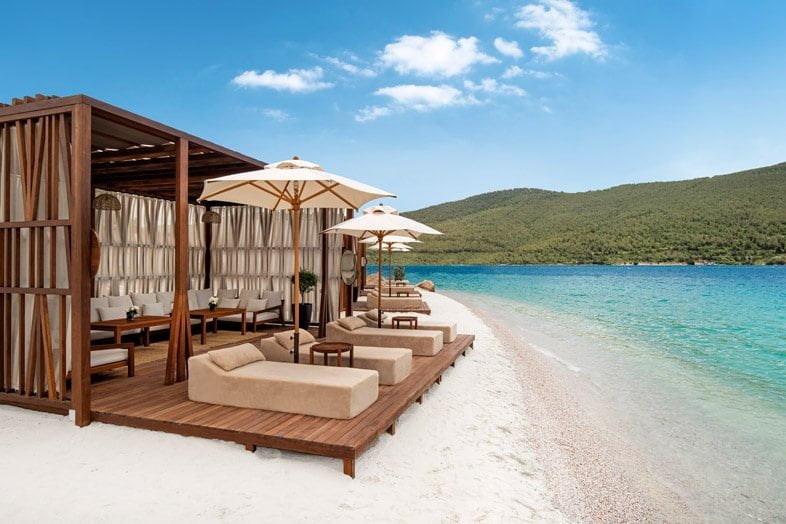 The hotel's beach is one kilometre long; Escape Beach is the choice of those who seek silence, while Joy Beach attracts families who want to build sand castles with their children. Those looking for a beach party will find themselves at Indigo Beach Club. There is a beach for every taste at Lujo Hotel.
In addition, Lujo Hotel has six different pool options, including an Aquapark and a children's pool. A comprehensive SPA, yoga sessions, water sports, fitness, and beauty salon are just a few of the amenities and activities to mention, but the list gets longer.
Lujo's luxury travel and transfer options also attract all the attention! You can visit dazzling beauties such as Pamukkale, Ephesus, Ölüdeniz (with paragliding) and Demre Myra and Kekova with brand new seaplane tours from Lujo, or you can choose yacht tours, jet transfer and VIP transfer options.
It is quite difficult to describe Lujo Hotel in two or three paragraphs, so you better visit Lujo Hotel's website to explore it properly.
You can find the most convenient reservation options of Lujo Hotel, one of the first that comes to mind when Bodrum luxury hotels are mentioned, through this link —-> Lujo Hotel
---
SWISS LUXURY
SWISSOTEL RESORT BODRUM
Swissotel Resort Bodrum serves its customers with 66 special rooms in Turgutreis. The facility stands out of Bodrum luxury hotels with its Swiss take on luxury service. The hotel, which has a premium location in Turgutreis beach, will satisfy those seeking an energetic and comfortable holiday.
Both the luxury hotel rooms with a sea or forest view and the comfort of the interior will make you feel that you are in a special resort. Although there is a kids club at the resort, we should add that there aren't many activities for families with children. The beach of the resort, which has both an outdoor and an indoor pool, is worth seeing. However, the sea at Turgutreis can be rolling from time to time.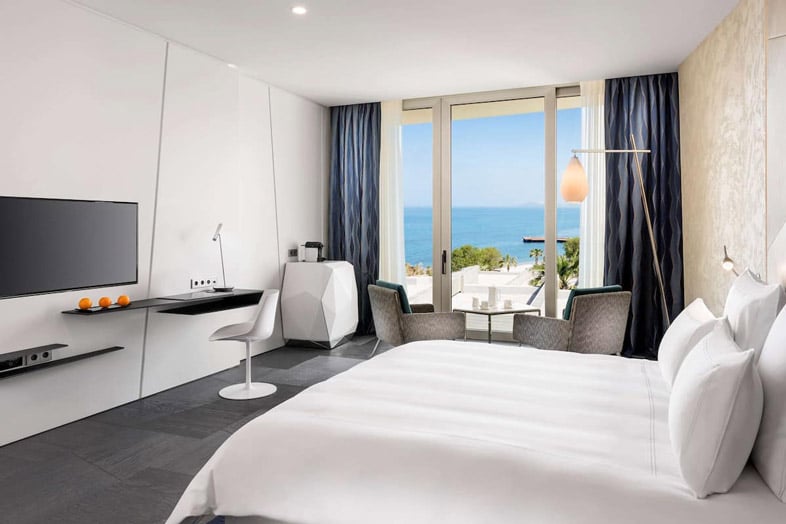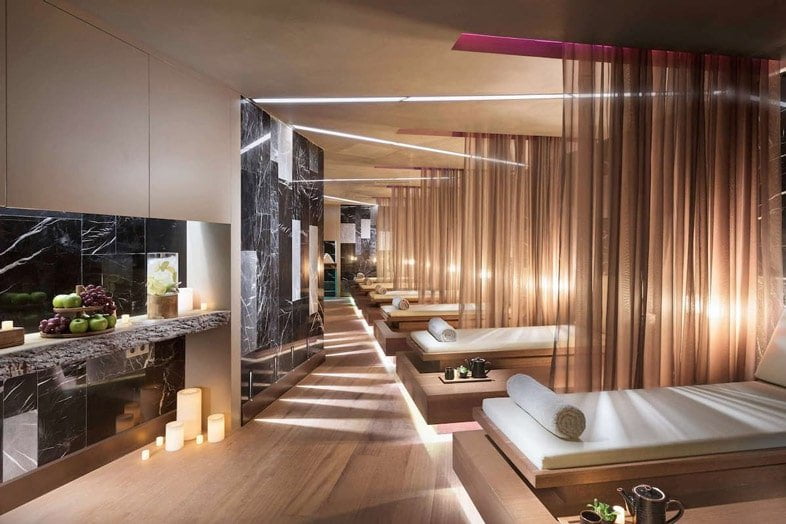 SPA, gym, room, sauna and Turkish bath are the highlights of the resort. Swissotel Resort Bodrum has three restaurants and two bars; Cafe Swiss restaurant serves favourite flavours of international and Turkish cuisine in its indoor and outdoor sections. Located at the pier, The Beach Restaurant hosts the guests who cannot tear themselves from the sea. Trattoria La Scarpetta offers elegant dinners with 360-degree views of Bodrum, while The Roof Bar offers delicious cocktails for entertaining nights.
If you are planning a holiday at Swissotel Resort, one of our Bodrum luxury places, please visit Swissotel Resort Bodrum for most suitable offers.
---
SPACIOUS LUXURY
MANDARIN ORIENTAL BODRUM
Mandarin Oriental Bodrum is perhaps one of the first hotels that comes to mind amongst Bodrum luxury hotels. Located in Göltürkbükü, the resort is 28 kilometres from the airport and 24 kilometres from the centre of Bodrum. Everything has been considered for your comfort in the rooms with both garden and sea views, down to the smallest detail. As soon as you enter your room, you can smell luxury and comfort.
Mandarin Oriental Bodrum is one of the resorts which offer the largest and spacious accommodation among Bodrum luxury hotels. You have accommodation options in the forms of rooms that partly opens to a private garden or an infinity pool, fully equipped apartments with private kitchens, suites and villas, all with terraces or balconies. The rooms, airy suites and magnificent villas, which attract attention with their spaciousness as well as their elegance, offer you a perfect holiday where luxury and comfort come together.
A comfortable and clean sandy beach will greet you at the resort, which every holiday lover desires. We'll skip listing the facilities of the resort as the list is endless! Let's say that whatever you are looking for in a luxury hotel, there is more. Let's also make a note for families with children; The facility has a children's pool and a children's club as well as special children's menus.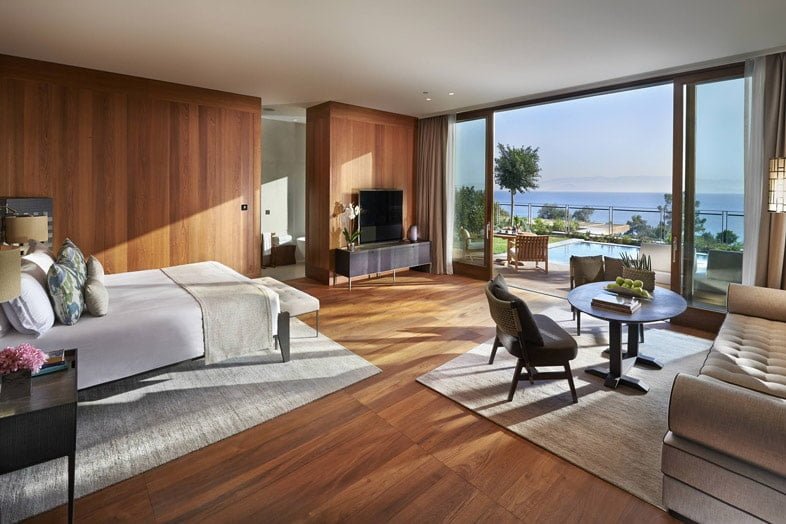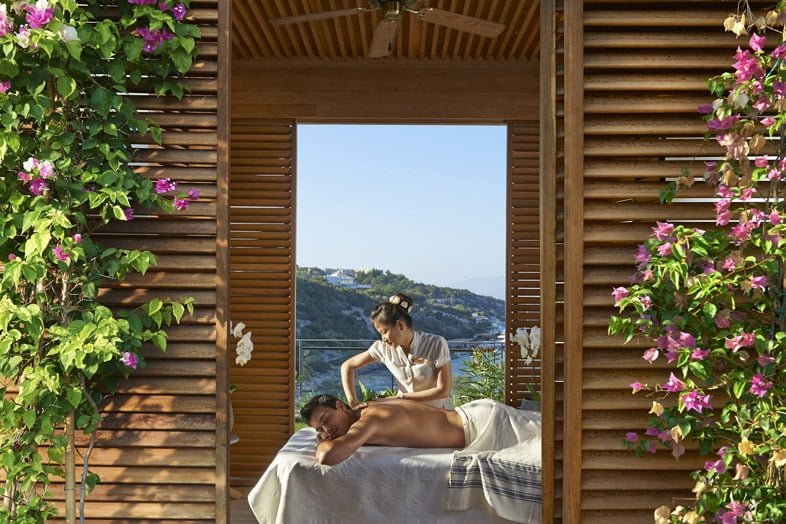 Talking about food, the variety and taste of the open buffet breakfast will undoubtedly enchant everyone. Serving with eight different restaurants, Mandarin Oriental Bodrum is determined not to let you out of the resort for a moment. Because you should experience all of the Italian, Japanese, Turkish and Fish restaurants served by master chefs.
Amenities and activities include a SPA, water sports centre which offers scuba diving, parasailing, fishing, water skiing, standing paddle boarding and jet ski rental. On land, it is possible to find activities for all tastes, such as tennis courts, golf courses, basketball courts, yoga classes and Pilates sessions.
Combining style, serenity and five-star comfort in a quiet location in Cennet Bay, Mandarin Oriental Bodrum has a special place among Bodrum luxury hotels.
Mandarin Oriental Bodrum is one of the most popular Bodrum luxury hotels which will be the preference with its amenities. You can find the most suitable reservation options through this link —> Mandarin Oriental Bodrum
---
LUXURY COMES WITH COMFORT
CARESSE A LUXURY COLLECTION RESORT & SPA
Located in Bodrum Asarlık Mevkii, Caresse a Luxury Collection Resort & Spa stands out with its seafront location, private white sandy beach and pier. In the SPA and wellness area of ​​the resort, which provides comprehensive service in a large area, facilities such as massage rooms with different features, Turkish bath and sauna are among the prominent features.
You will feel the luxury and comfort in every aspect of the facility, but the feature we think you will like the most is that it hosts the world-famous Buddha Bar Beach. Buddha Bar Beach, which is the scene of beautiful events throughout the season, is the centre of attention of tourists.
The resort offers 67 hotel rooms, 9 suites and one Caresse King Villa; Luxury Collection signature beds, a private balcony or terrace for each room and of course the enchanting view of Bodrum. Stylish furniture and attractive bathroom decorations that offer a comfortable luxury are among the details we like. From the choice of furniture to the colours used, there is a wonderful harmony in the rooms, which creates a peaceful and relaxing atmosphere.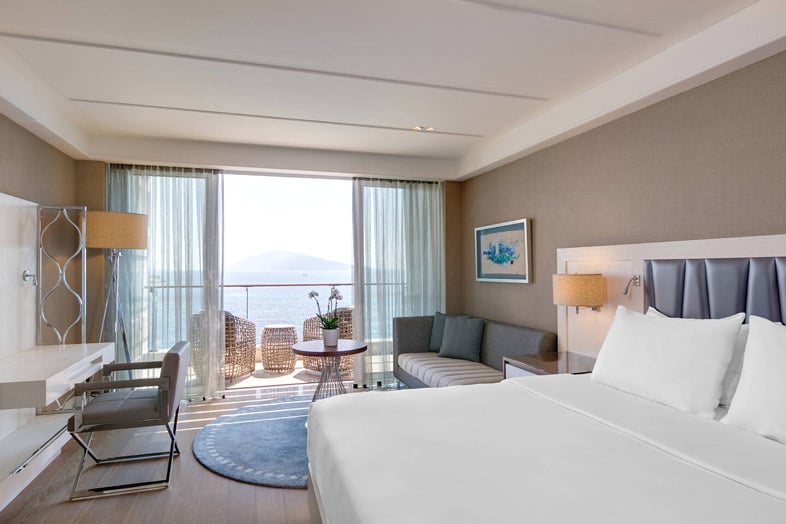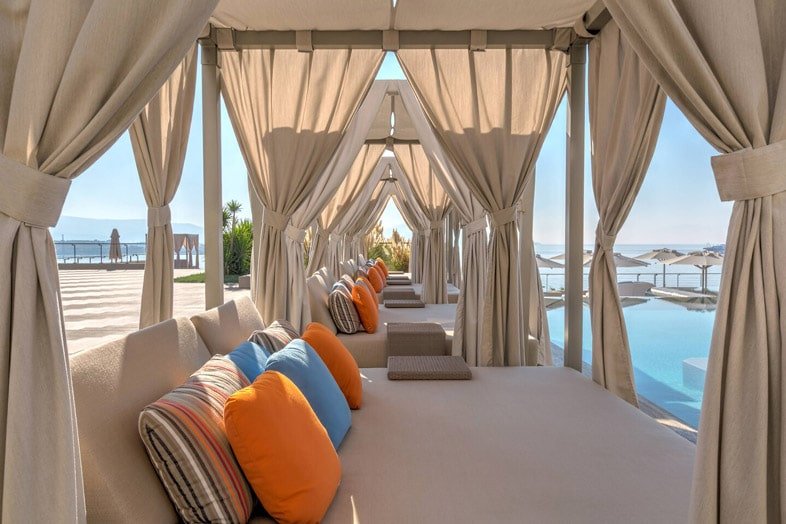 There are two comprehensive restaurants in the hotel where you can taste delicacies such as South Aegean and Mediterranean cuisine, Sushi and Gourmet cuisines; Glass Restaurant and Lounge Bar and Buddha-Bar Beach Restaurant. Of course, the atmosphere of Buddha-Bar Beach Restaurant is more relaxed and cooler.
Although there is a children's club in the resort, it does not have much to please families with children. SPA, steam room, gym, tennis court, outdoor swimming pool and yoga course are other prominent features.
We think those who would like to experience entertainment and luxury together will like Caresse a Luxury Collection Resort & Spa. You can find the best reservation options through this link Caresse a Luxury Collection Resort & Spa
---
THIS MAY BECOME AN ADDICTION
RIXOS PREMIUM BODRUM
I think it would not be wrong to say that the resort, which is located 10 kilometres from Bodrum centre and 25 kilometres from Milas Airport, is one of the most preferred Bodrum Luxury Hotels. It offers a holiday concept that will make you feel special with its Blue Flag private beach, indoor and outdoor pools, rooms equipped with high-level comfort, suites, A La Carte restaurants and SPA service. Located in Torba, the resort appeals to all kinds of holiday tastes; for honeymooners, family vacations and vacationers who want to relax.
Rixos Premium Bodrum, which has many features for families with children, includes bonuses such as a water slide, a special children's club, a children's playground and an aquapark. This luxury resort, which also has many activities for adults, will please you. The SPA services, sauna, water skiing, surfing, diving school, fitness centre, beach volleyball are just the few to mention that caught our eye in the long list of activities.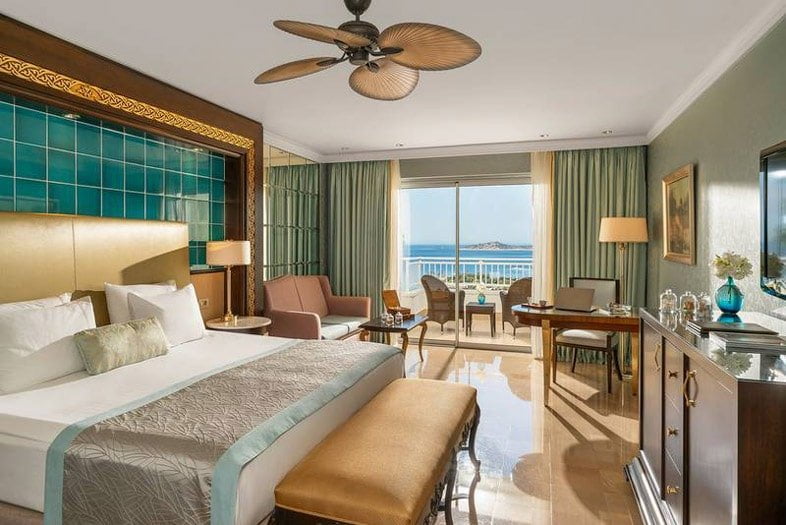 Located right by the sea, Rixos Premium Bodrum has a 200-meter beach and a 500-square-meter pier. At the beach and pool; sun umbrellas, mattresses and towels are of course free. Lounge beds (pavilion) are paid.
Open buffet meals in the morning, lunch and evening are free in the main restaurant, Zeytinaltı Restaurant. Local and foreign alcoholic and non-alcoholic beverages within the brands determined by the management are free of charge for 24 hours.
Rixos Premium Bodrum has 6 different restaurants. You can taste flavours from Mediterranean and Aegean cuisine, as well as Italian cuisine. Patisserie Art Restaurant offers bakery products such as fresh croissants and cakes at for afternoon tea.
Another most preferred hotel among Bodrum luxury hotels is Rixos Premium Bodrum. For this reason, we recommend that you to book early when planning your vacation. You can find the most suitable reservation options thorough this link —> Rixos Premium Bodrum
---
LUXURY HOLIDAY FOR ALL AGES
VOGUE HOTEL SUPREME BODRUM
Located 8 kilometres from Bodrum centre and 27 kilometres from Milas Airport; this resort is perfect for those who want luxury, comfort and fun together. The resort offers rooms in different types and sizes in 12 different accommodation concepts. Apart from these luxury room options, of course, you also have five different size villa accommodation options.
There is a huge aquapark with 25 water slides in total on an area of ​​12.000 square meters for families with children and those who like to have fun. The facility has thought of families with children with numerous details such as water slides, children's clubs and amusement parks. For the adults who will take their children to this beautiful facility, there are countless activity options ranging from SPA to sauna, from yoga classes to archery, from windsurfing to tennis courts.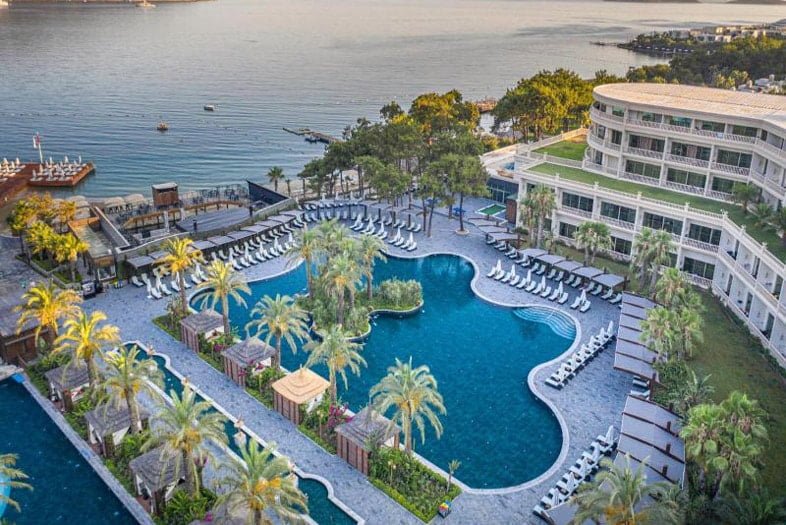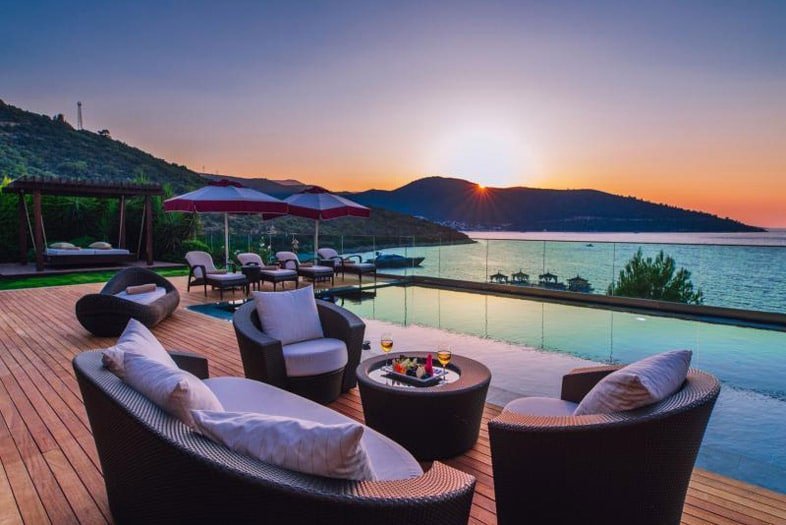 The most curious subject of all time is the beach; Located by the sea, Vogue Hotel Supreme Bodrum has a 650-meter-long private beach and a 100-meter-long exclusive beach. The comfort of the sandy beach and the clarity of the sea will definitely make you happy. There are also two outdoors and one indoor pool.
In terms of food and beverage, the facility provides a service worthy of Bodrum luxury hotels. Besides the open buffet restaurant, there are also four a la carte restaurants. You can taste Turkish, Italian, Far Eastern and seafood delicacies in these restaurants. In addition, there are many open buffet and a la carte bars in the facility.
We should also add that Vogue Hotel Supreme Bodrum hosts many musical shows and concerts. If you are planning a holiday in this resort among our Bodrum luxury hotels recommendations, you can find the most suitable reservation options here —> Vogue Hotel Supreme Bodrum
---
We have introduced the prominent Bodrum luxury hotels to you, all you have to do now is to choose the hotel that fits your luxury hotel concept. After your holidays in Bodrum luxury hotels, we look forward to you sharing your experiences in the comment section below this article. We also recommend you to read our Bodrum Weather Guide article before planning your Bodrum holiday. A holiday in Bodrum is not only ideal in June, July and August as you think, other months can also be ideal for a nice holiday!
You can reach other prominent Bodrum luxury hotels through this link. If you could not find the hotel you are looking for among our Bodrum luxury hotel recommendations, you can find the hotel you are looking for in our hotel recommendations below.