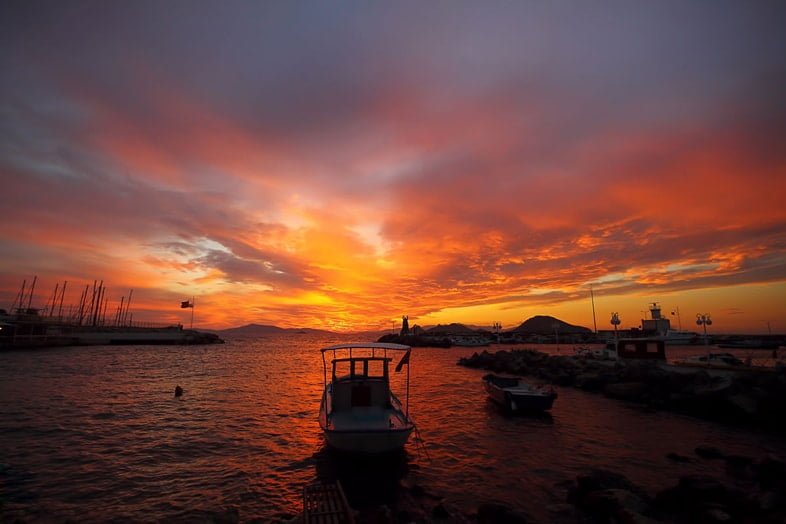 Bodrum Weather Guide
When planning a vacation, almost everyone will first look at the weather of the period they will go on holiday, after reading this article you will not need it for Bodrum. Although the Bodrum weather is not much of a problem for those planning a holiday in Bodrum, you may find out that May or September is ideal for you as opposed to July-August. We have prepared the Bodrum Weather Guide, thinking that having comprehensive information about the weather would help everyone spend a more enjoyable time in the peninsula. Which months are too hot or rainier, which is the most ideal time for a holiday for you? Here is Bodrum weather guide where you can find all this information…
By the way, please note that this article informs about the average temperature of the previous years, Bodrum weather can vary from time to time. If you would like you can join our Facebook group called Bodrum Travel Tips and ask the locals of Bodrum for weather information. You can also ask for tips on all about Bodrum or share your reviews&comments.
---
∴
January – February Bodrum Weather
— Average Tempreture 11.2°C —
Average temperature in Bodrum is 11.2°C in January and 11.3°C in February. However, these are the average temperatures and it can be warmer or – seldom – colder in these months. January is also one of the rainiest months in Bodrum. So if you intend to come to the district in January-February, you should know that you will encounter a rainy and cold Bodrum weather.
The indispensable duo of these months is of course wellies and umbrellas for those who live in Bodrum, so don't forget to pack them if you are planning a visit these months. In January 2019, there was a big flood in the district, so you should bear in mind that you may encounter much more heavy rainfall -even flood- than you would expect in January-February. There aren't many events in Bodrum in this period, but Bodrum Tangerine Festival which takes place in Bitez in January and Gundoğan Sucuk Wine Festival in the last week of February are the events you may enjoy in Bodrum. You can find out more about the festivals by reading our article Bodrum Festivals.
---
∴
March – April Bodrum Weather
— Average Temperature 13.1°C – 16.5°C —
The weather in Bodrum improves when temperatures start to rise in March. The average temperature in March is 13.1°C, and in April 16.5°C, which means that the temperature rise in March-April is rapid. Bodrum can be rainy in March (sometimes heavily), even in April but its warmer and more enjoyable.
Those who like walking in the rain can enjoy walking in the warm rain. Though not for everyone, for some of the natives of Bodrum, April marks the beginning of swimming season. The temperature of the sea starts rising towards the end of April and becomes pleasant for those who want to swim in chilly waters. End of April is the best time to visit Bodrum.
---
∴
May Bodrum Weather
— Average Temperature 23°C —
The weather in Bodrum is unlike any other city. In May, most of our country is experiencing spring, while in Bodrum May means summer. The average temperature in May is 23°C degrees, hottest average can go as high as 25°C. Although the summer starts in May, the temperature is not too high which means May, even end of April is the time of the year preferred by the local and foreign tourists who want to avoid the adverse impact of the heat.
May is the best time to swim in the sea and sunbathe and explore Bodrum without being affected by extreme temperatures. The evenings may be slightly cool, so if you're going to Bodrum during this period, it's worth noting to put a thin cardigan in your suitcase. Although not very often, there can be summer rain in May, and let's say that swimming in the warm rain is a great experience.
---
∴
June – July Bodrum Weather
— Average Temperature 27°C —
Bodrum reaches the proper summer weather in June-July. The average air temperature in the district in June is 27°C and in July it is around 28.2°C, which means that the weather gets really warmer in this period. The average maximum temperature in June is 32°C, and in July it is 35°C. With the month of June, the summer season starts literally in the district, local and foreign tourists arrive and beaches get full, entertainment venues start getting crowded. This period is perfect for sea, sand and sun themed holidays.
For those who don't like very hot weather, June is a more suitable month than July, because in July the weather becomes really hot and it may not be reasonable to go to the sun at noon this month. June and July are the most active periods of Bodrum, you can participate in boat tours, visit various exhibitions, go to places like Bodrum taverns or fish restaurants and enjoy pleasant summer evenings with local delicacies. You may like to take a look at our article What to Eat in Bodrum. Meanwhile, the marathon of the summer concerts and festivals start in the district, especially in Bodrum Antique Theater.
---
∴
August – September Bodrum Weather
— Average Temperature 28°C —
The heat in Bodrum reaches its peak in August, with an average temperature of 28°C it is just as hot as July and the highest temperature of the month is 34°C. Those with fragile health that can be affected by the heat and elderly should be careful and avoid going out at noon, sticking to places that are in the shade during the day. In August, it is much more convenient to go to the sea in the afternoon rather than at noon when the sun is literally burning. As a precaution against sunstroke, it is necessary not to go out at noon and to wear a when necessary.
In September, the weather begins to cool slightly, with an average temperature of 27°C in September. According to many, September is the most beautiful time in Bodrum, with the weather getting cooler and the crowds starting to decrease it is time for those who want to have a quiet holiday with a sweet warm weather in the district. September is also the perfect time to surf in Bodrum. You can visit the surf schools located in various spots such as Akyarlar and Bitez and go surfing. Evenings can be slightly cool in September, so do not forget to pack a cardigan.
---
∴
October Bodrum Weather
— Average Temperature 26°C —
October is the typical autumn in Bodrum weather with the average temperature of 26°C, it can be cool in the day time and it certainly is cool in the evening. You should pack a jacket or a cardigan if you are planning to visit Bodrum in October. Despite the cooler weather, autumn is very enjoyable in Bodrum. It is the perfect time of the year to visit different sites of the district without being bothered by the extreme heat. You can discover the castle, the Mausoleum of Halicarnassus and other historical sites. You may come across some people swimming in autumn, though not many. It starts raining occasionally in October.
---
∴
November – December Bodrum Weather
— Average Temperature 15.5°C – 12.6°C —
Rainiest time of the year in Bodrum is November and December. The average temperature is 15.7°C in November and 12.6°C in December. Last November and December there has been more than one flood disasters in central Bodrum and Gumbet, sweeping cars and flooding houses.
These months are the rainiest months along with January and February. So you will need wellies and raincoats in November and December. Do not think that there isn't much to do in Bodrum at this time of the year; the entertainment continues in these months in popular venues that are also open in the winter, such as Mandalin.
We intended to give a comprehensive information on Bodrum weather for those who wishes to travel to, or plans to settle in this lovely district, which we hope we have. There is one more article we recommend you to read before coming to Bodrum; Bodrum Tour Guide.
Before finishing our article, we would like to invite you to our Facebook group called; Bodrum Travel Tips. This community's purpose is to share your Bodrum holiday experiences or ask other users for recommendations about Bodrum. Help the guests coming to Bodrum from both, abroad and domestically, by giving advices, suggesting places, sharing and providing information about places to visit.
We hope you enjoy the weather and Bodrum. We wish you a nice time in Bodrum.