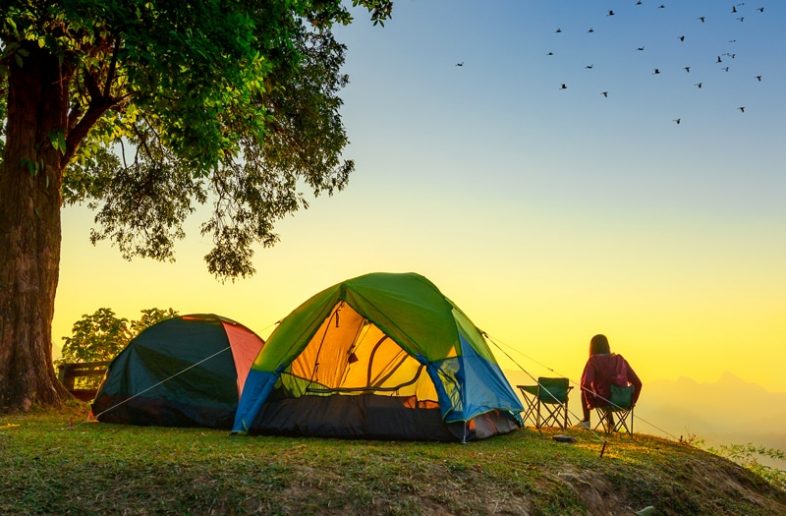 BODRUM CAMPING AREAS SUGESSTIONS
Camping teaches people to love and protect nature. You internalize sharing and form close friendships in the places you camp. Once it gets into your blood, you don't look for hotel comfort anymore. While we were compiling our Bodrum campsites article, we understood better in our conversations; people who camp can have fun, share and socialize better than us.
Bodrum Camping Areas Suggestions
Bodrum Campgrounds
We have prepared great suggestions for those who want to experience a holiday in Bodrum camping in tents or Bodrum bungalow houses, as well as for those who want to camp in a caravan. Although not as comfortable as a hotel holiday, our recommendations for Bodrum campsites, which are more affordable and more enjoyable, also offer you Bodrum bungalow houses which do not lack the comfort of a hotel. After reading our article, even those who never had a camping holiday will be tempted and will find themselves asking; Shall we take a camping holiday this summer!
Bodrum Tent Camping
While strict campers choose their Bodrum camping areas, they prefer Bodrum tent camping rather than Bodrum bungalow houses, they offer less comfort than other options, but when it comes to camping, it is done in tents. Here's some tips for those who has never camped in a tent before. Our advice to those who will do it for the first time is to have a good tent.
Even if you are going to camp site in Bodrum, do not forget to buy a sleeping bag, and even though the camp site will assist you with many things, you should definitely have a Swiss army knife in your bag. An air mattress and an inflatable pillow will make you more comfortable, there are very practical and comfortable air mattresses available now. Do your research in advance.
If you are going to choose one of the Bodrum camping areas for tent camping, you will not be alone in nature, the facility will provide you with many conveniences, but according to your needs it is also useful to provide small items such as a folding chair, flashlight and thermos. Let's remind the most important detail before forgetting, make sure to take an 'insect repellent' spray with you.
Bodrum Bungalow Houses
We wanted to include bungalow houses in our Bodrum campsites article, because it is getting more popular day by day. Of course, Bodrum bungalow houses are more comfortable than tent camping, and the facilities we suggest will make you look no further for hotel comfort. Although it varies from one facility to the other, many bungalow houses have a refrigerator, television, air conditioner, shower and toilet available.
If you are going to have a holiday in Bodrum bungalow houses, you can pack your suitcase just as when you go on a hotel holiday. But make sure to take your towel, beach towel, shower gel and shampoo with you. A few suggestions from the facility where you plan to stay will also help you to have a smooth holiday.
---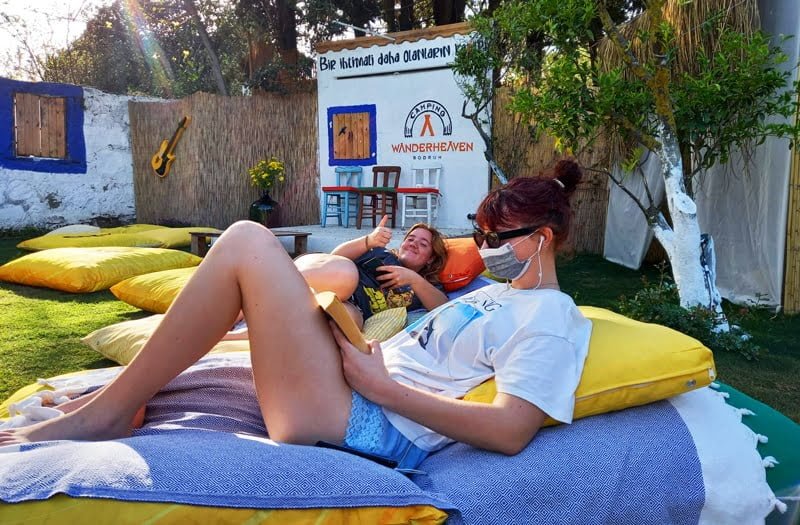 WANDERHEAVEN BODRUM CAMPING
Located in Gumusluk, Wanderheaven Bodrum Camping is one of the most popular among Bodrum campgrounds. The facility is approximately 110 steps away from the sea and serves with a special concept surrounded by tangerine trees. The facility, which attaches great importance to hygiene, shows extra sensitivity both in the camping area and in areas such as toilets and showers. There are six bungalow houses, a tent area for 80 people who bring their own tents and Viking war tent concept tents.
Bungalow houses have everything you are looking for in a hotel room; there is air conditioning, television, shower, toilet and a seating area in front of each bungalow. Mini Viking war tents have an extractor fan and electricity. Wanderheaven Bodrum Camping can only accept mini caravans. For those staying in tents, there are six showers and toilets in the common area, which is a very suitable number for a tent area of ​​80 people.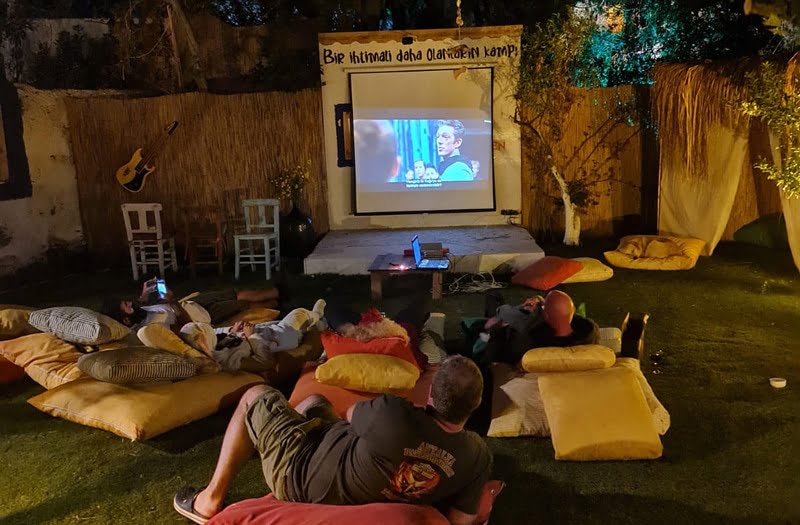 The entire facility has electricity and a very strong internet network. A barbecue area that all guests can use free of charge, a professional darts game area, table tennis and a summer movie theatre make Wanderheaven Bodrum Camping a place where you can have a better time among Bodrum campsites. While the guests staying in the bungalows stay on bed and breakfast basis, the guests in the tent have to pay an extra fee for breakfast. But don't let this upset you, the prices are very reasonable.
You have two options for breakfast; breakfast plate or breakfast buffet. Dinner, on the other hand, is in the camp concept; Manti (Turkish ravioli), meatballs and homemade sausage, fish or three kinds of home cooked vegetable dishes that they prepared themselves. Once it gets dark, the stage, which is open to everyone, hosts either professional groups or the guests who has brought their instruments with them.
The most suitable reservation options for those who plan to have a pleasant holiday at Wanderheaven Bodrum Camping, which is also pet-friendly, can be found through this link —–> Wanderheaven Bodrum Camping
---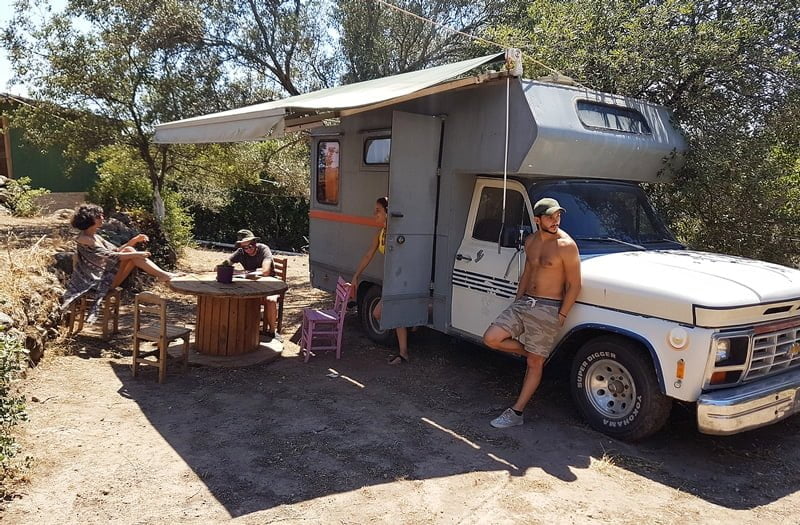 VOLO CAMPING
Located in Gurece, Volo Camping is a resort surrounded by greenery where you can escape the chaos of Bodrum and have a holiday in touch with nature. Volo Camping, which is also pet friendly, has three different accommodation options; tents, bungalows and caravan. If you go with your own tent or caravan, they welcome you.
Volo Camping offers amenities such as electricity, internet, hot water and toilet. There is also a pool where you can cool off. Providing service since 2017, Volo Camping operates including breakfast and dinner. Open buffet breakfast consisting of freshly picked products from the surrounding fields and the tea and coffee you will drink throughout the day are also free. Dinner is served as a 6-7-course menu.
The carefully designed, stylish caravans vary as single or double. Bungalows have accommodation options for three and four people. Apart from these, there are stone houses with cave concept. Sitting on an area of ​​5500 square meters, Volo Camping welcomes a maximum of 100 guests. And our favourite detail; Volo Camping is also pet friendly. You can bring your pet with you to Volo Camping.
Located in the middle of popular neighbourhoods such as Ortakent, Turgutreis and Gumusluk, Volo Camping is 5-7 kilometres away from the sea. Volo Camping stands out among Bodrum campgrounds with its scenery, especially in the evenings. The restaurant, bar and live music and DJ performances in the evenings will allow you to have a nice holiday without having to go to city.
The most suitable reservation options for those who want to stay in Volo Camping are at this link ——> Volo Camping
---
BODRUM MASALI CAMPING
Most of the Bodrum campsites are in Gumusluk. Bodrum Masali Camping, surrounded by tangerine trees, has been serving in Gumusluk since 2017. In this facility, where the owners are also keen campers, you can come and stay with your own tent, or in a bungili, which is a small wooden bungalow for two people. Apart from this, they have a bungalow they call a Bird's Nest and prefabricated family rooms for two and four people. They also accept guests who come by caravan.
Family rooms and Bird's Nest have showers and toilets, while in bungilis only electricity is available. For guests who set up tents, there is a shared toilet, 24-hour hot water, electricity, internet and a shared kitchen area. Another nice detail is that there is a common barbecue area, which all guests can use for free. They charge a small fee for breakfast spreads and simple snacks such as grilled sucuk (spicy Turkish sausage) sandwich and meatballs in the evening. Another paid service is the washing and drying machines, though the price is reasonable.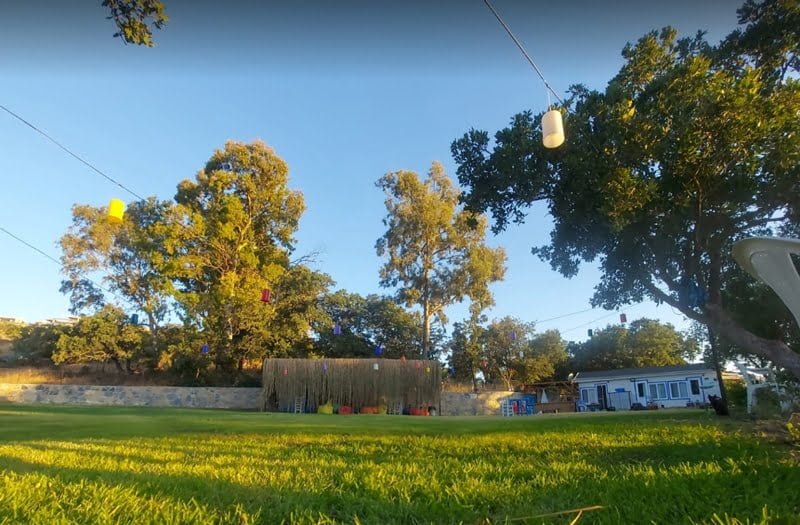 Bodrum Masali Camping also has both indoor and outdoor recreation areas. The outdoor recreation area is very large and grassy. This is a pleasant area where guests can lie down on beanbags, sunbathe and relax. You can reach Kadikalesi public beach in ten minutes by walking from the facility, which is 1.5 kilometres away from the sea. Kadikalesi public beach is one of the most beautiful beaches in Bodrum in our opinion. You can reach Gumusluk beach by a 30–35-minute walk.
A friendly atmosphere awaits you in this camping facility, which is frequently preferred by families, with activities such as backgammon and volleyball tournaments. The most suitable reservation options for Bodrum Masali Camping, where you can play your instruments in the evenings by the fire and establish close friendships, are at this link ——> Bodrum Masali Camping
---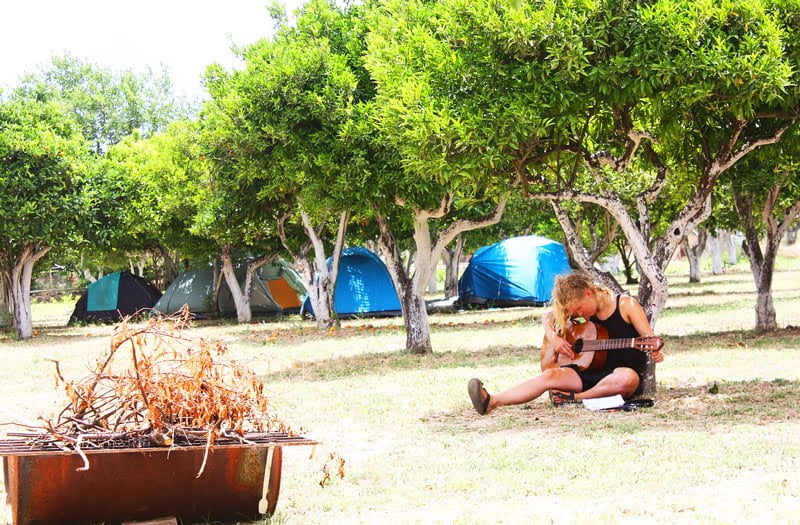 ECOFARM BODRUM
EcoFarm Bodrum, another camping area on the Kadikalesi road, offers tent, bungalow and prefabricated hostel accommodation options. The bungalow houses are for two people, the hostel is a dormitory that can accommodate 16 people, and there is a tent area for 50 people. EcoFarm Bodrum has a pleasant environment of seven acres among tangerine and orange trees. Among our recommendations for Bodrum campgrounds, EcoFarm Bodrum stands out with its calm and peaceful environment.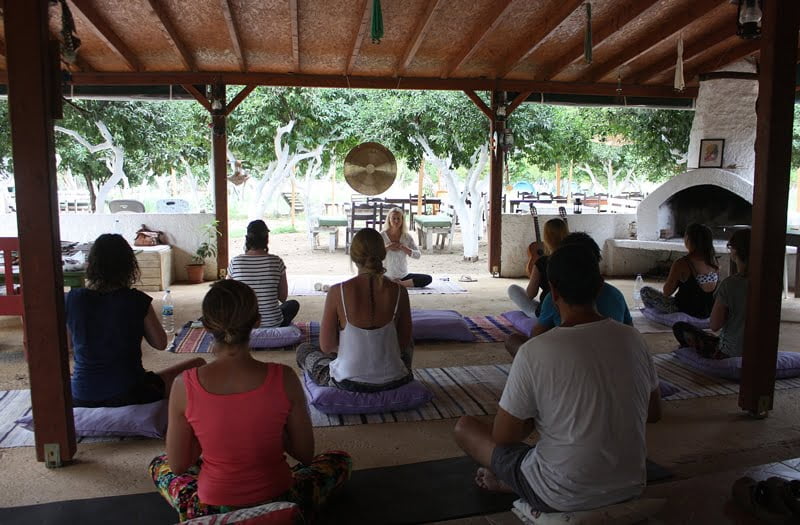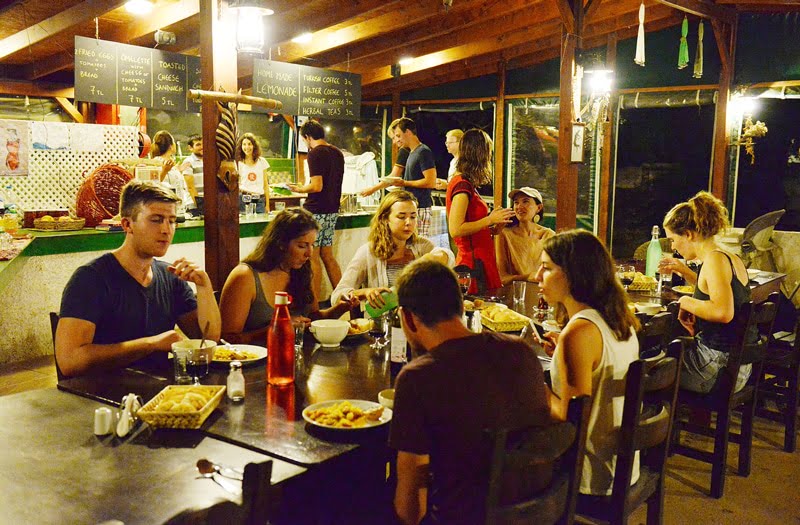 Facilities such as electricity, hot water, bathroom and internet are available at the grounds. EcoFarm Bodrum provides service in half board basis, including breakfast and dinner in accommodation price. In the morning, a breakfast plate is served and of course unlimited tea, and for dinner, a four-course meal is served in the form of an open buffet.
The distance of this pleasant facility to the sea is one and a half kilometres, you can reach the beach in ten minutes on foot. The most convenient reservation options of EcoFarm Bodrum, which is also frequently preferred by foreign tourists, are at this link ——-> EcoFarm Bodrum
---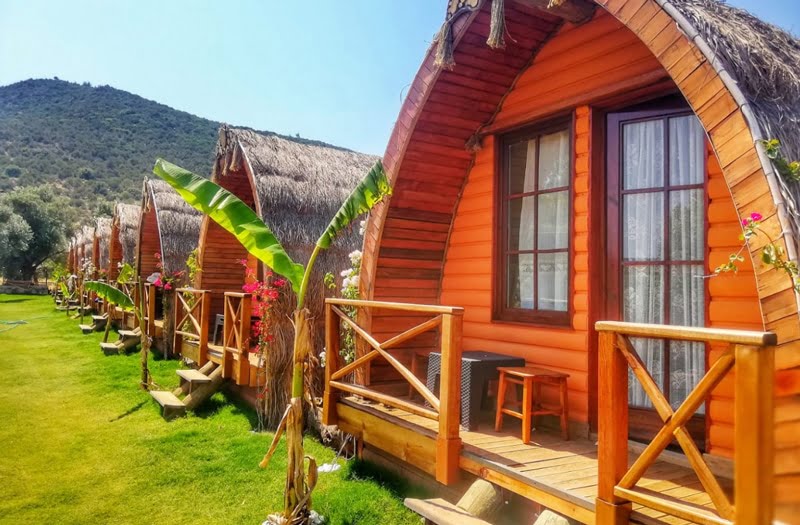 BUNGALOW BODRUM
Bungalow Bodrum, which provides service only with bungalow houses among our Bodrum camping areas recommendations, is located in Yali neighborhood. Bungalow Bodrum is not a tent camping area, let's make this clear. Those who are not satisfied with the comfort of tents but want to be in touch with nature can have a holiday in these stylish bungalow houses.
Bungalow Bodrum is run by Mr. Fatih, who is a film director, and his family. You may find it hard to believe, but Mr. Fatih built the bungalows himself. While he was living in Istanbul, he tore up the photo of a bungalow house which was featured in a magazine about a Bali trip, put it in his pocket and made his way to Bodrum. "We had a hard time at first, but now we are very happy with the nice comments from the guests," says Mr. Fatih.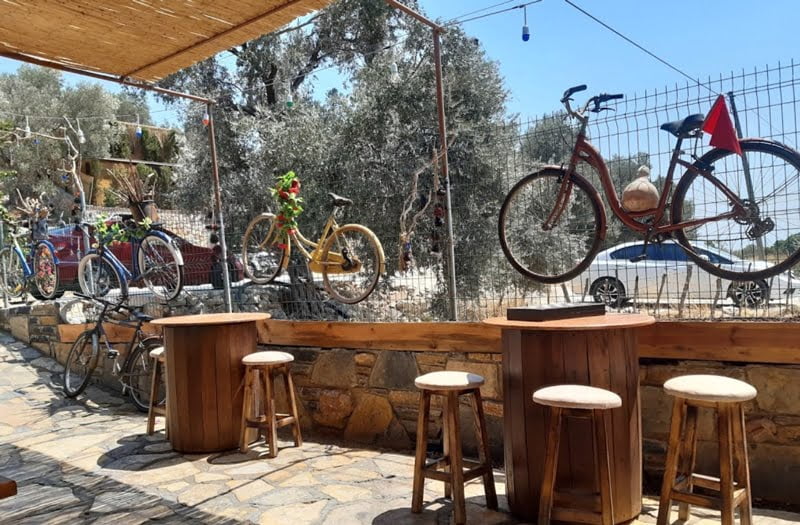 There are 10 bungalow houses in the facility and all bungalows have toilet, shower and air conditioning. In addition, five of the bungalow houses have double beds and five have two twin beds. They also provide a children's bed if requested. Services such as Wi-Fi, 24-hour reception, restaurant and bar are available. Bungalow Bodrum serves on bed + breakfast basis, but if you wish, you can join the barbecue party in the evenings for a small fee.
The distance from Bungalow Bodrum to the sea is 350 meters. If you wish, the facility gives you a bicycle, a nice touch to explore the surroundings. We warm up to every business that says "We are a pet-friendly business", they accept pets in Bodrum Bungalow, they already have a friendly dog ​​and cat.
You may have trouble finding a place in the summer period in Bungalow Bodrum, which will match the comfort of a hotel. Our advice to you is to plan your holiday in advance and make your reservation! Reservation options at this link ——> Bunglaow Bodrum
---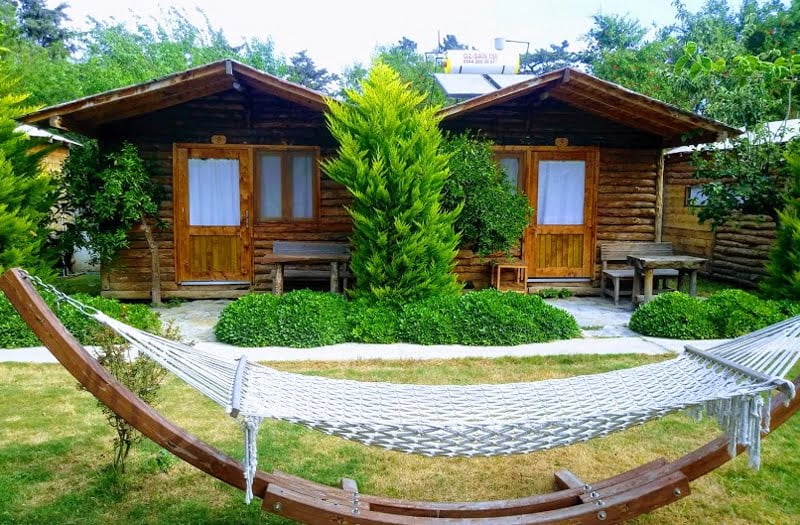 PITOS BUNGALOWS
Pitos Bungalows is located in Kadikalesi, one of our favourite neighbourhoods of Bodrum. Located 10 meters from the sea, the property does not have a tent area, only 25 bungalows. Bungalow houses for two, three and four people have electricity, internet, hot water, bathroom, refrigerator, air conditioning and a shared kitchen.
The facility, which serves on bed and breakfast basis, has an open buffet breakfast, and you can have your evening meals at the Pitos Fish Restaurant with the magnificent sea view of the facility. Pitos Bungalows, which is open throughout the year, is a family business. We recommend making a reservation in advance for a peaceful holiday in bungalow houses surrounded by greenery among tangerine trees. Both its proximity to the sea and its beautiful location in Kadikalesi increase the demands. Although not well known, Kadikalesi beach is among the most beautiful beaches of Bodrum. You can get more information by reading our Bodrum Public Beaches article.
If you are planning a holiday in Pitos Bungalows, which is also pet-friendly, the most suitable reservation options are at this link ——> Pitos Bungalow
---
When you are on vacation, don't you spend most of your time at the beach, at dinner, or just having fun? So, you only use the hotel room to sleep for eight hours. Of course, there may be those who do not like Bodrum tent camping because of the lack of comfort, but a holiday in Bodrum bungalow houses can please you.
We also recommend to families with children; make sure to camp a few times with your child, it is both fun and educational. If you have camped at the facilities in our Bodrum campsites article, or if you are going to camp after reading our article, do not forget to tell us about your experiences in the comments section below this article. If we still couldn't tempt you to have a camping holiday, we invite you to read our article on Bodrum's Best Gueshouses.
We wish you a nice holiday where you will have lots of fun and establish close friendships…