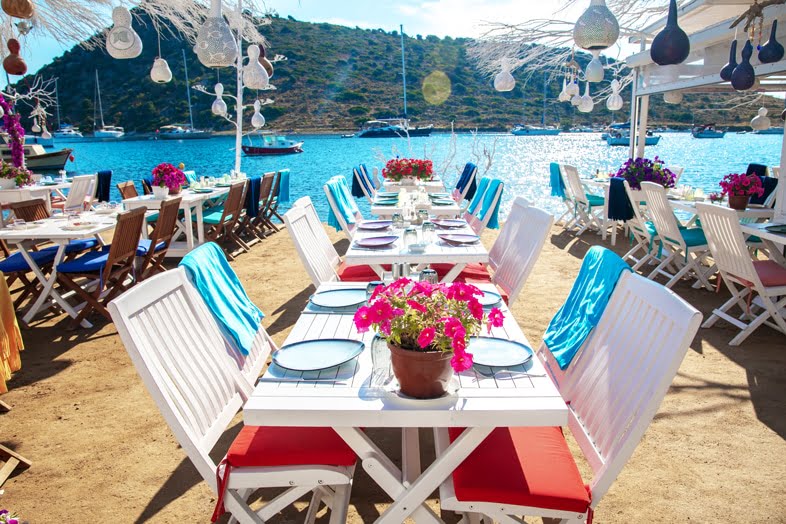 BODRUM FISH RESTAURANTS YOU'LL BECOME REGULARS OF
There is a fish restaurant in every neighbourhood of Bodrum, you would even see them lined up next to each other in some popular locations. Turks cannot think of eating fish without the company of Raki!
Thanks to its geographic location, it is always possible to find fresh fish in Bodrum restaurants and owners of the Bodrum fish restaurants pay special attention to ensuring this. You cannot stop eating mezes, which are both abundant and delicious, and sometimes forget to order fish. Mezes are so important for a fish restaurant. Some of Bodrum fish restaurants stand out with their mezes.
A fish restaurant should also pay attention to some details, such as ensuring the crunch of the coating of calamari. Fries, which are served with the calamari, should be crisp too. Most of the Bodrum fish restaurants have their own way of ensuring this, which we think you'll find delicious.
A good fish restaurant should always have ice-cold beer, nobody likes it lukewarm! They should keep a good selection of Raki in stock; while some prefer Efe Raki or Yeni Raki, others like Ala or Gold and some prefer the premium, Kulup Raki.
The staff should be friendly, even though some don't like this, they should take care of the guests as though hosting their friends. Finally, it is customary for clients to tip well in a fish restaurant and thank the staff with the same warmth as the staff showed them.
Why have we selected the Bodrum fish restaurants below? Some are here because of their view or location, some stand out with the taste of their mezes, table settings or friendly staff while some are chosen for a particular dish in their menu. However, you should know that there are dozens more fish restaurants in Bodrum!
We also suggest you to take a look at our What to Eat in Bodrum article to find out more about Bodrum's local fish, mezes and delicious green vegetables before you start reading the Bodrum Fish Restaurants article.
---
GONCA BALIK
Gonca Balik serves its customers on Torba beach, right by the water. Gonca Balik, which has a comfortable and friendly atmosphere, has a pleasant ambiance and view. As well as the seasonal fresh fish, baby calamari and grilled octopus are the favourite of the customers as warm starters.
Grilled aubergines stuffed with seafood, Crunchy Seafood Ball with seafood, mature kasar cheese and Aegean herbs and Grilled Shrimp Boreks are amongst their delicious specials. Gonca Balik offers a seafood feast with 50 different types of mezes. Even if your hotel is not nearby, we recommend you to enjoy a fish-Raki evening in Gonca Balik.
Phone : +90 252 367 17 96
Location : googlemaps
---
ATILAY BALIK
Atilay Balik has been serving its customers in Golturkbuku for twenty years. You can see their luxurious approach in the service and presentations but this doesn't reflect to their prices. Tasteful table settings, room between the tables and careful service are the details we like. Atilay Balik's patented dish Seabass 'Lokum' is the first dish the guests order as soon as they settle on their tables. 'Atom' which is prepared with oven dried red capia peppers is another dish that stands out. Their home made Artichoke Stem Pickle and Cabbage Pickle should not be missed either.
Atilay Balik's Steamed Shrimps and Morrel Mushrooms in olive oil and garlic will also make you want to go back for more. Thirty differed mezes, prepared freshly every day and Tahini Halva Roll makes Atilay Balik a very special fish restaurant.
Phone : +90 252 377 50 95
Location : googlemaps
---
BITEZ BALIKCISI
Bitez Balikcisi is right by the water and owned by the same proprietor as Limonatta Cafe which we have praised in our Bodrum Breakfast Places. Noticing the lack of fish restaurants in Bitez, they've opened this place and they emphasize the fact that they have a great chef.
Bitez Balikcisi's menu mainly consists of mezes and warm starters. Mezes made with Aegean herbs and Stuffed Zucchini Flowers are amongst the most preferred local delicacies of the restaurant.
For warm starters they serve Stuffed Calamari, Fish 'Kokorec' and Shrimps Wrapped in Shredded Phyllo Pastry. Their most preferred main dishes are Fish Cooked in Salt Crust and Seabass Fillet with Buttered Spinach.
Bitez Balikcisi also serves a wide selection of salads and their special salads and diet salads are very popular. Bitez Balikcisi, which offers Soufflé and Pumpkin with Syrup and Walnuts as dessert, is a family friendly venue which is open throughout the year.
Phone : 0252 363 95 43
Location : googlemaps
---
FISH RESTAURANTS IN CENTRE OF BODRUM
There are a few fish restaurants lined up next to each other in Neyzen Tevfik Street. They are all excellent in terms of service, taste and variety. Korfez Restaurant, Savoy Balik, Gemibasi Restaurant, Yelken Balik and Komodor Meze Evi are the prominent fish restaurants in the central of Bodrum.
Some serve in a bohemian/comfortable ambiance, while others stand out with their perfect table settings and carefully presented dishes. This, of course, creates a difference between them. You decide which concept is more comfortable for you.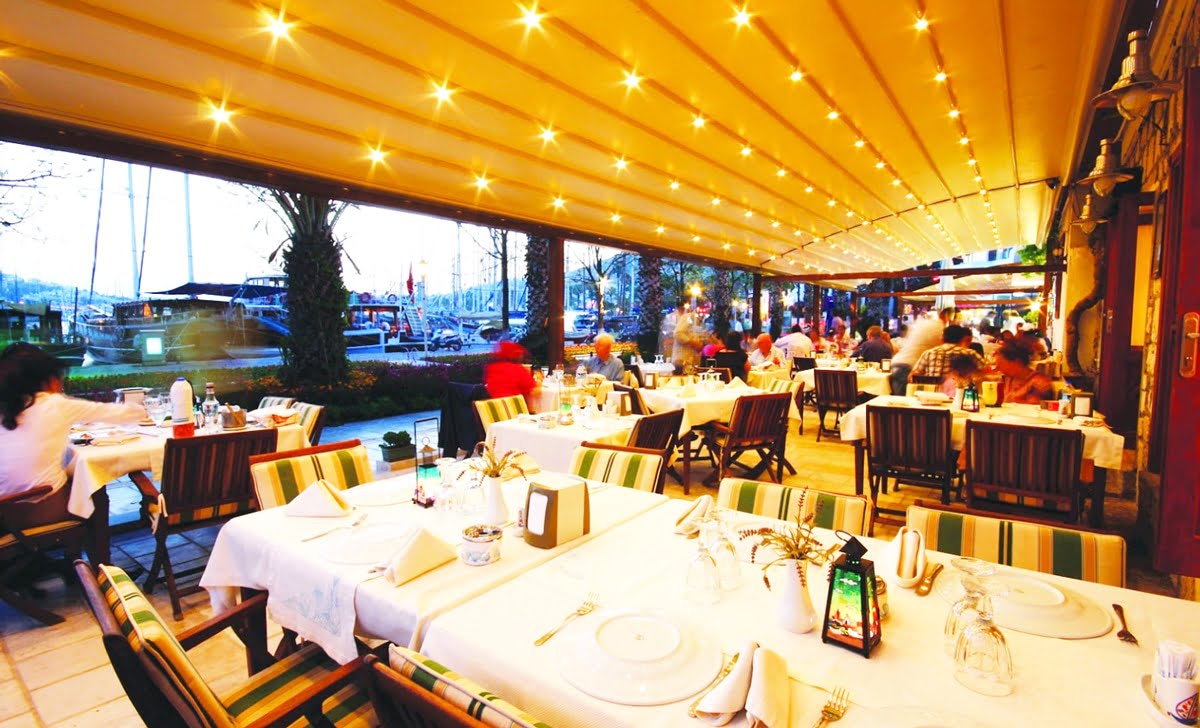 KORFEZ RESTAURANT
Bodrum's oldest restaurant, Korfez Restaurant, is on the Neyzen Tevfik Caddesi which is the street that goes from the Municipal Square to the marina. This established restaurant's menu mainly consists of delicious fish and meat dishes of the Aegean and Crete cuisines. We highly recommend you to taste their outstanding delicacies such as Friend Calamari, Octopus Rice and Cuttle fish in Ink.
Korfez Restaurant is full especially in the summer. Therefore, you should book a table before you go. For those who doesn't like seafood, they also have delicious meat dishes. We think you'd also like their Lemon Parfait and Tangerine Sorbet for dessert.
Phone : +90 252 313 82 48
Location : googlemaps
---
TRANCA RESTAURANT
Serving its customers in Kumbahce Neighbourhood, Tranca Restaurant is also another popular Bodrum fish restaurant. Tranca Restaurant's outstanding feature is its location. Sitting right by the water, the restaurant has a breath-taking view of Bodrum Castle.
It is possible to taste the local fish as well as seafood such as cuttle fish and octopus as well as all kinds of mezes. They also have dishes from Ottoman cuisine. Their most popular dish is Fish in Salt Crust. The fish, which is thoroughly coated in sea salt to preserve its juices and cooked in the oven, is brought to the table in flames. We recommend you to taste it as the taste of the fish is different when cooked by this technique.
Another recommended dish is the shrimps served on an aubergine bed. The restaurant also has a lot on offer for vegetarians, such as Vegetable Casserole, Vegetable Crepes, Sauteed Mushrooms.
Phone : +90 252 316 66 10
Location : googlemaps
---
GUMUSLUK FISH RESTAURANTS
Gumusluk shore is lined up with fish restaurants almost from one end to the other. Almost all have been serving for many years owned by their original proprietors. Gumusluk fish restaurants have a festive atmosphere in the summer evenings.
It is hard to find an empty chair in the late summer. As though decorated by the same person, Gumusluk fish restaurants look like one another. Laughter rising from the tables and delicious hot and cold mezes turn Gumusluk shore to a festival ground. It would be fair to say that they are similar in terms of tastes too. What sets them apart from one another is just the location, friendliness of the staff and table settings.
MELENGEC GUMUSLUK
Melengec Gumusluk is one of the most popular Gumusluk restaurants which is why their prices are slightly higher. Melenguc Gumusluk, which is the last restaurant on the right, is set slightly different than the others with its decoration. They have a more comfortable table setting with some tables set in the shallow water.
Shrimp Ravioli and Calamari Balls are the two warm starters which you shouldn't miss. Melengec Gumusluk takes the bones of the fish before frying so that the customers don't have to struggle. Melengec Gumusluk also has a branch in Golturkbuku now.
Phone : 0252 394 48 58
Location : googlemaps
---
FENERCI RESTAURANT
Serving its customers since 1979, Fenerci Restaurant is right next to the path to Tavsan Island. Most favourite dishes of the restaurant, which stands out with its view, are Sauteed John Dory and Sauteed Anglerfish.
We highly recommend you to taste their cold mezes prepared freshly each day from the local produce. When choosing your fish, we recommend you to follow the advice of the service staff as they pay attention to keeping fresh fish in season. We advise you to book a table if you want to have a fish-Raki experience in popular Fenerci Restaurant in the summer.
Phone : +90 252 394 30 51
Location : googlemaps
---
SIESTA RESTAURANT
Right next to Fenerci Restaurant, Siesta Restaurant is the last restaurant to the left of the Gumusluk fish restaurants. Sitting right in front of the pathway to Tavsan Island, the restaurant has an amazing view in the evenings. Their most favoured specials are; fried zucchini flowers stuffed with calamari, walnuts and cheese; fried calamari and grilled octopus.
You should book in advance to get a table on all Gumusluk fish restaurants in the summer.
Phone : 0532 765 25 89
Location : googlemaps
---
YALIKAVAK FISH RESTAURANTS
Unlike other locations, where fish restaurants are lined up one after the other, Yalikavak fish restaurants are scattered around. It would be fair to say that Yalikavak fish restaurants are the most popular ones amongst Bodrum fish restaurants.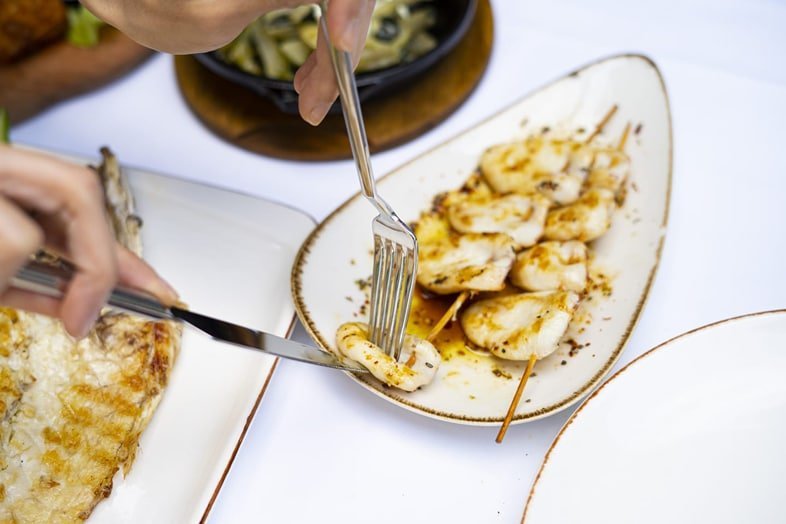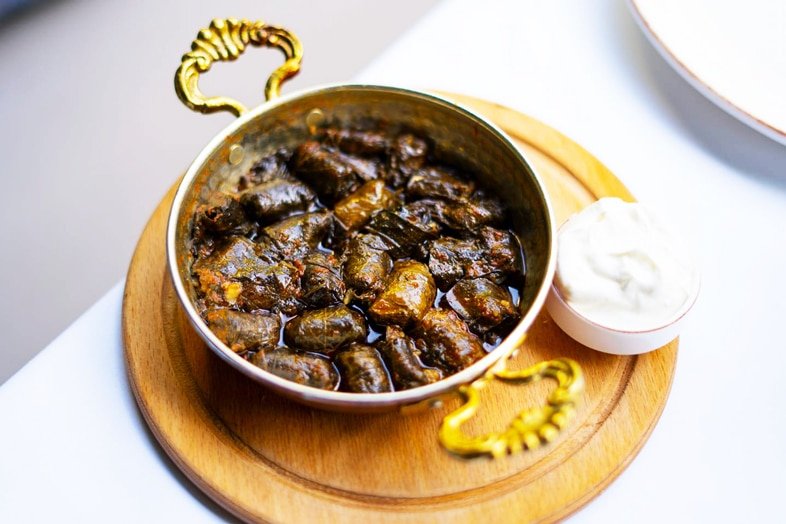 ESKIYER RESTAURANT
Eskiyer is serving its customers in its shabby-chic venue and quality service in Yalikavak. The owners, coming from the kitchen, pay special attention to their mezes and menu. The dish presentations are very chic and we think you'll also like their mezes. Their biggest advantage, of course, is their location right by the water and the amazing view.
Milk thistle and delicate, lamb stuffed wine leaves are the mezes are amongst their most favourite mezes ordered by all customers. However, all their mezes, especially the Crete dishes beg to be tasted. Eskiyer Restaurant's partner, Mr. Murat is from Hatay.
The crunchy pumpkin in syrup which they order from Hatay; crumpet in syrup served with cream, which is brought from Afyon and stuffed walnut dessert are our favourites. You cannot find a large selection of wine in most of Bodrum fish restaurants but Eskiyer Restaurant has a wider selection of wines and liqueurs.
Phone : +90 252 313 60 53
Location : googlemaps
---
YALI KIYI SEYFI
Another fish restaurant that stands out in Yalikavak is Yali Kiyi Seyfi. Right next to the sea, Yali Kiyi Seyfi is a decent and quiet establishment, offering great sea view. For those going by car, there's parking available nearby.
Shrimps in pesto sauce and sea food special are not to be missed. Sea food special, which is made wide calamari, shrimps and octopus in a special sauce, is a flambe dish brought to the table in a cast iron pan.
Yali Kiyi Seyfi stands out with its careful table settings and precise service. Their wide choice of mezes will make it difficult to decide on the main course! We especially recommend you to taste their Lakerda (Bonito pickled in brine) and Ciroz (Dried mackarel). Also, tahini soufflé is a highly recommended dessert of Yali Kiyi Seyfi.
Phone : +90 252 385 41 43
Location : googlemaps
---
TURGUTREIS FISH RESTAURANTS
Most of Turgutreis fish restaurants are located right next to each other on the same street, just like Gumusluk. Turgutreis fish restaurants are located on a street known as the Balikçilar Sokagi (Fishers Street) set slightly off the seaside.
They offer a shabbier and more comfortable atmosphere. Most popular venues on this street are; Adabeyi Balik, Turgutreis Balik Restaurant and Hulya'nın Yeri. Not located in this street but amongst the oldest ones of the Turgutreis fish restaurants, Kadir Reis'in Yeri is another popular fish restaurant.
---
HULYA'NIN YERI
Being the best-known fish restaurant in Turgutreis, Hulya'nın Yeri has an important advantage, they have their own fish mongers. They serve a wide choice of daily fresh fish from their own fish mongers at the restaurant. Angler Fish Stew and Scorpion Fish Stew are the popular dishes of the restaurant.
They also add that they are ambitious about stewing, frying and grilling of all fish. Warm Aubergine is another special meze of Hulya'nın Yeri, the menu also offers Bodrum's regional mezes.
Phone : +90252 382 80 85
Location : googlemaps
---
TURGUTREIS BALIK RESTORANI
Frequented by local regulars, the restaurant is open throughout the year. One of the most popular dishes of the restaurant, which offers a wide selection of fish, is fried mullet. You must taste mezes such as the Sea Beans and Fava at the restaurant, which has a wide choice of mezes. You may prefer this restaurant's decent atmosphere to enjoy Raki and fish while listening to ambient classic Turkish music.
Phone : 0543 610 38 44
Location : googlemaps
---
BODRUM BALIK RESTAURANTS' PRICES
It is hard to give prices for Bodrum fish restaurants. The price depends on what you eat and drink. However, we have checked the average price for one on all of the restaurants we've mentioned on our article. We have re-edited this article in June 2022 and their prices were 500 – 600 TL per person at the time. Please bear on mind that this is just an average figure which can be more, depending on your order.
---
Whether you're coming to Bodrum from another city in Turkey or from another country, you must have a dinner experience in one of Bodrum's fish restaurants. We don't want you to go to these restaurants just for the sake of fish but to enjoy their festive evening atmospheres and taste their delicious mezes. You cannot taste these delicacies elsewhere in the worlds, not even in our neighbour, Greece.
Here's a small warning for our foreign friends; if it is your first time drinking Raki, take it slow and never drink on an empty stomach! Those who are drinking Raki first time shouldn't exceed three glasses.
We are aware that we were not able to include all Bodrum fish restaurants in our article. This article is updated each year and we will make sure to include the new Bodrum fish restaurants we experience each year. It is hard to include all fish restaurants of Bodrum in an article as there's many more quality restaurants.
To improve this article, we kindly ask you to share your Bodrum fish restaurant experiences and your favourite mezes. Please drop the name of your favourite Bodrum fish restaurant on the comments section. Last but not least, do not forget to follow us on our social media accounts such as Facebook and Instagram.
Enjoy your meal…