Bodrum Taverns – 8 Best Bodrum Taverns
Taverns (Tur.Meyhane) are an important part of our culture as it an essential pleasure for us to go to a tavern to enjoy a nice meal and drinks along with enjoyable conversation. Bodrum taverns are, of course, most popular among the visitors of the peninsula. There is even a street known as the Taverns Street, which hosts tens of taverns and this street is just as busy and entertaining in winter as it is in summer. As we thought that it is a must to eat local foods and drink raki in Bodrum taverns once you are in Bodrum, we have gathered the best Bodrum taverns for you.
---
İKİ SANDAL MEYHANESİ
İki Sandal Meyhanesi, located in Kumbahce neighbourhood, starts service at 12:00, midday. Iki Sandal stands out among Bodrum taverns with its menu as they have many mezes made with their private recipes. Among the special delicacies of Iki Sandal tavern are pickled fish, with a recipe that dates back to 1764; stuffed red pepper which is a recipe from the town of Ula, Circassian salad with a recipe from 1844, their homemade fish pastrami and bonito pickled in brine.
Their Topik (an Armenian dish made of chichpeas, onions, currants and tahini) is also very popular as some state that it's the best Topik they had in Turkey. They also serve giblets. Fried brains from the Sephardic cuisine, stuffed spleen from Armenian cuisine, sautéed kidney and thyme dish which is a specialty of Tire, Albanian fried liver made with lamb liver and many other giblet dishes are a part of the menu in this tavern.
The tavern is also ambitious when it comes to sea food, with most preferred dishes of butter fried shrimps, grilled octopus and fried calamari. Meat and fish dishes are offered as main courses. We especially recommend the sward fish cooked skewers over coal. They do not use farm fishes at all and the most preferred dish is the red mullet. They also serve lamb chops, meatballs made with minced lamb, stir fried lamb with vegetables and fillet steak with shrimps.
The tavern also stands out with its desserts; their special dish Yanyali and the lemon jelly made to a 15th century recipe are among the favourites. The tavern doesn't have live music. Instead they play classic Turkish artists' songs from old recordings.
---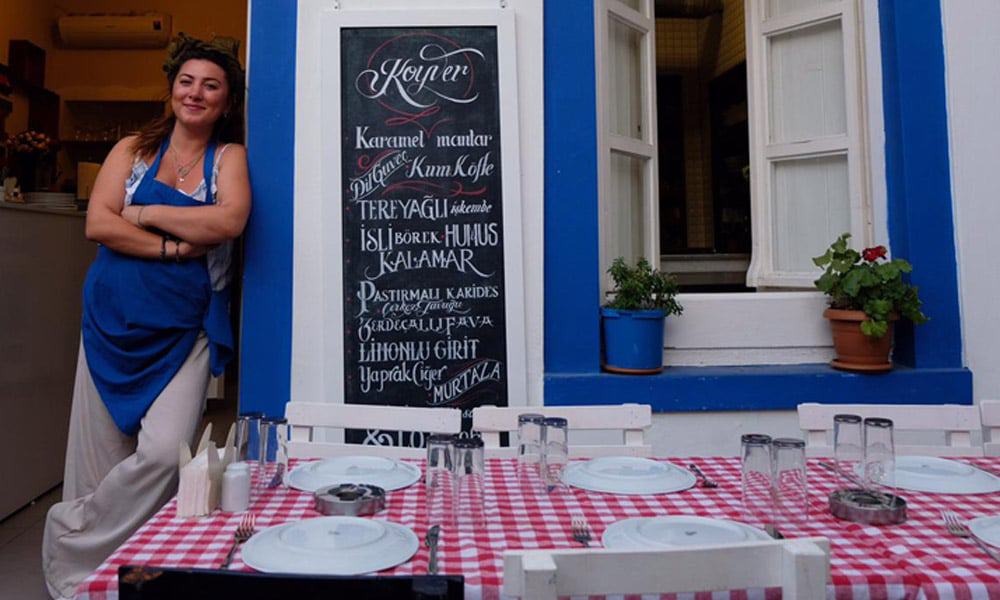 KOYVER MEYHANESİ
The service starts at about 16:00 – 17:00 in the afternoon and ends at 00:00 – 02:00 at night in Koyver Meyhanesi which is located in Adliye Street that runs parallel to Bodrum Bars Street. The tavern has a beautiful garden with olive, lemon and pomegranate trees. It is very enjoyable to sit under these trees and enjoy a delicious meal, accompanied by raki. The tavern serves mezes such as fava bean puree with turmeric and dried apricots, couscous with beetroots, mushrooms with caramelised onions which you've probably never tasted before.
Their most popular warm appetizers are eggplants with halloumi cheese, butter fried tripe, stir fried heart, fried liver, borek (flaky pastry) made with smoked cheese and shrimps cooked with pastrami. As you can see from the samples of their warm appetizers, Koyver Meyhanesi is a heaven for those who love giblets. As mostly mezes and warm appetizers are consumed in the tavern, the main course choices are meatballs and manti (Turkish ravioli, served with garlic yoghurt and butter sauce), which is popular among the foreign tourists. As for dessert, Koyver Meyhanesi serves crusty halva to tickle your palate.
---
MARMARAM MEYHANESİ
Marmaram Meyhanesi, in Konacık, starts service at 14:30 in the afternoon and close by 01:00 latest. Classic dishes such as hot spicy tomato dip, fried aubergines in tomato garlic sauce, roasted aubergine and garlic spread and sautéed carrots in garlic yoghurt sauce are among the popular dishes of the tavern. Shrimps with mushrooms, calamari, octopus, shrimps on bed of roasted aubergines are also very popular.
They do not use frozen fish, instead they buy the fish of the season, daily. The biggest advantage of the tavern, which usually plays Greek music, is that the prices are much more reasonable compared to those in the central of Bodrum. The owner says the reason for this is the fact that rent is cheaper in Konacık in comparison to the centre of the town and adds that by reflecting this to their prices, they are able to offer an enjoyable tavern experience to their guests at affordable prices. Another advantage of Marmaram Meyhanesi is that they have a 'bring your own booze' rule.
---
BODRUM MÜDAVİM
Located in the Cumhuriyet Caddesi, known as the Bars Street, Bodrum Mudavim is a special venue as it is the house of Sadun Boro, the first Turk who sailed around the world on his yacht.
Sadun Boro's room, upstairs of the tavern, has been kept as it is and Boro's photos and personal belongings are displayed here. The owner of the tavern states that a lot of people goes to the tavern to see this great sailor's house, which we also think is a must. The tavern, which is open throughout the year, starts service about 12:00 midday and stays open until 02:00-03:00 in the summer and it closes at 01:00 in the winter.
Vegetable dishes cooked in olive oil, dolmades with sour cherries, stuffed courgette blossoms, fresh fennel, grilled aubergines with tahini and fried liver are among the mezes served at this tavern, which also serves regional dishes in the winter. Bodrum Mudavim also serves small, local fish as well as desserts such as cheesecake with tahini and molasses and fresh walnuts in syrup which you have probably never tasted before. In short, Bodrum Mudavim is a special tavern with its venue, atmosphere and amazing delicacies they serve.
---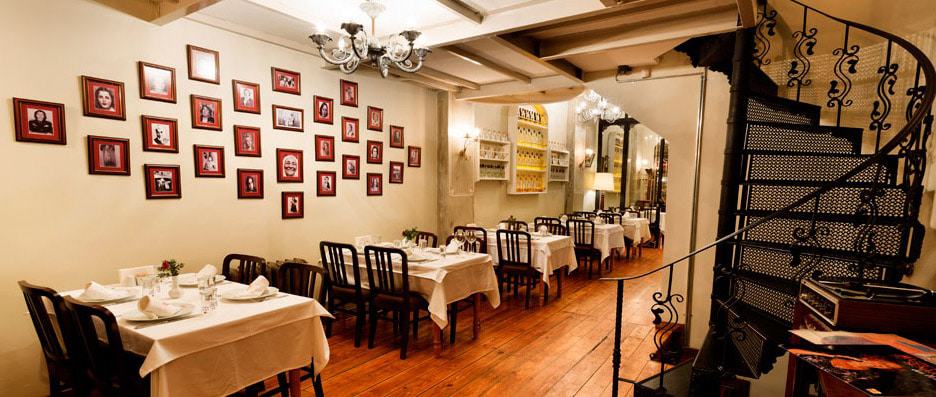 LATİFE HANIM MEYHANESİ
Latife Hanim Meyhanesi is located in Yalikavak, one of the most beautiful places in Bodrum. The decoration of the venue is coherent with its name, Latife, which was the name of Ataturk's mother. The decoration, reflects early days of the republic and the atmosphere is nice. The service starts at 13:00. Dishes such as marinated sea bass, shrimps wrapped in shredded pastry, sea bass wrapped in wine leaves, grilled calamari with haloumi are served as well as semolina halva with ice cream for dessert. They play classical Turkish music in the tavern. You can choose Latife Hanim Meyhanesi to enjoy an evening in a nostalgic atmosphere.
---
TRATA MEYHANESİ
Trata Meyhanesi is one of the most known taverns located in the Meyhaneler Sokagi (The Bodrum Taverns Street) in the central of Bodrum, which we have mentioned at the beginning of our article. The street, which is lined up only by taverns, is a place where everyone visiting Bodrum should visit at least once. The service starts at about 19:00-20:00 at Trata Meyhanesi.
The tavern serves sea food dishes such as grilled calamari, butter sautéed shrimps, grilled octopus, and stuffed calamari as well as other alternatives, such as fried liver. They serve semolina with ice cream as dessert. The venue doesn't have live music, however, you can always invite street musicians who roam the Bodrum Taverns Street for a performance on your table. We must add that these musicians are highly entertaining, jolly people.
---
GÜMTEK MEYHANE
Gumtek Meyhane in Gumbet, which is about 10 minute drive from Bodrum town centre, is also a special tavern described as a 'new generation' tavern by the owners. Gumtek Meyhane, where the tavern culture is blended with entertainment, starts serving its customers at 20:30. The venue has live classical and pop Turkish music 6 nights a week and they have a gala evening on Sundays. The menu consists of Greek and Crete mezes, lamb shish cooked in char coal grill, brim and meatballs, their favourite dish is shrimps served on grilled aubergines. This venue is the first choice of those who want to go for a tavern dinner and enjoy themselves dancing to the live music.
We hope that we were able to help guiding you to a delicious and enjoyable Bodrum evening in a tavern. We suggest you to choose one of the taverns on the Bodrum Taverns Street or our list and have this special experience. We would also love to hear back from you if you wish to share your experiences on the comments section below.