What to Eat in Bodrum?
This article is to eliminate the question mark in the minds of local and foreign tourists coming to Bodrum; What to Eat in Bodrum? One of the most exciting aspects of Bodrum is its local delicacies. One of the most important elements of a holiday is delicious food. When talking about delicious food, we must say that the boreks (filled pastries) made in Bodrum are legendary.
Almost every place has its own pastry, we recommend you to taste them. Take a look at our Bodrum Breakfast Venues article to find out a few of these places. Bodrum Cokerme Kebab and Bodrum Doner which you can find almost everywhere nowadays are among the delicacies you should taste, but for Bodrum Cokertme Kebab, our advice is to eat in Bodrum. Here, what to eat in Bodrum?
---
Fish
If you like fish and seafood, you should come to Bodrum not only for holiday but also to taste the fish we will list below, because Bodrum on the Aegean Sea is a fish paradise. The first thing that springs to mind when eating and drinking in Bodrum is the rakı fish duo. Some of the Bodrum fish are also found in other cities, but when you taste these fish in Bodrum you will immediately feel that they are much more delicious than the ones you have eaten before. You can also read our Bodrum Fish Restaurants article and get information about the restaurants.
Red Mullet
Red Mullet is a fish caught in abundance on the Aegean coast and the most preferred type in Bodrum is the rock mullet. It is not difficult to recognize this fish with its pink color verging on red. Red Mullet is one of the most delicious fish in Bodrum and is preferred pan fried. We must mention that it's an expensive fish.
Grey Mullet
For most people, mullet is a fish that will not be eaten, but undoubtedly your opinion will change after tasting open sea Grey Mullet in Bodrum as the taste of the open sea Grey Mullet is very different to those caught inshore. For this reason, if you find an open sea Grey Mullet do not take a pass.
Bogue
Bogue (Gupes, kupez or kupes in Turkish) is also a popular fish of this area. Delicious and reasonably priced Bogue is preferred pan fried. Bogue is a wandering fish, living in a wide area and some prefer to live under the fish farms in Bodrum, these fish are called "below the farm". Bogue living under the farm are light colored and not preferred. The color of the Bogue that swims verges on green, and these are the most delicious ones. This tip will help you buy the most delicious Bogue when shopping.
Deli Sarpa (crazy bream) is called as such because of its resemblance to bream, but it's better known in Bodrum as Sokan. Also called Sokan (Stinging) because of its poisonous spines, Deli Sarpa is one of the indispensables of Bodrum with its white and delicious meat. Of course, this fish with poisonous thorns must be cleaned by skilled fishermen. If you try to clean yourself you can seriously hurt yourself.
Common Two-banded Seabream
Altough it lives in Black Sea and Mediterranean, Two-banded Seabream is also one of the local fishes caught in Bodrum. Enjoyed by most, it is most delicious either grilled or pan fried.
Seabass and Seabream
Here are two common fishes that can be found everywhere, but those caught in Bodrum are completely different. Seabass and Seabream you eat in most places are bred in farms. In Bodrum you can find Seabass and Seabream from the sea. If you are ordering in a restaurant you should enquire whether they are from the sea or from a farm!
---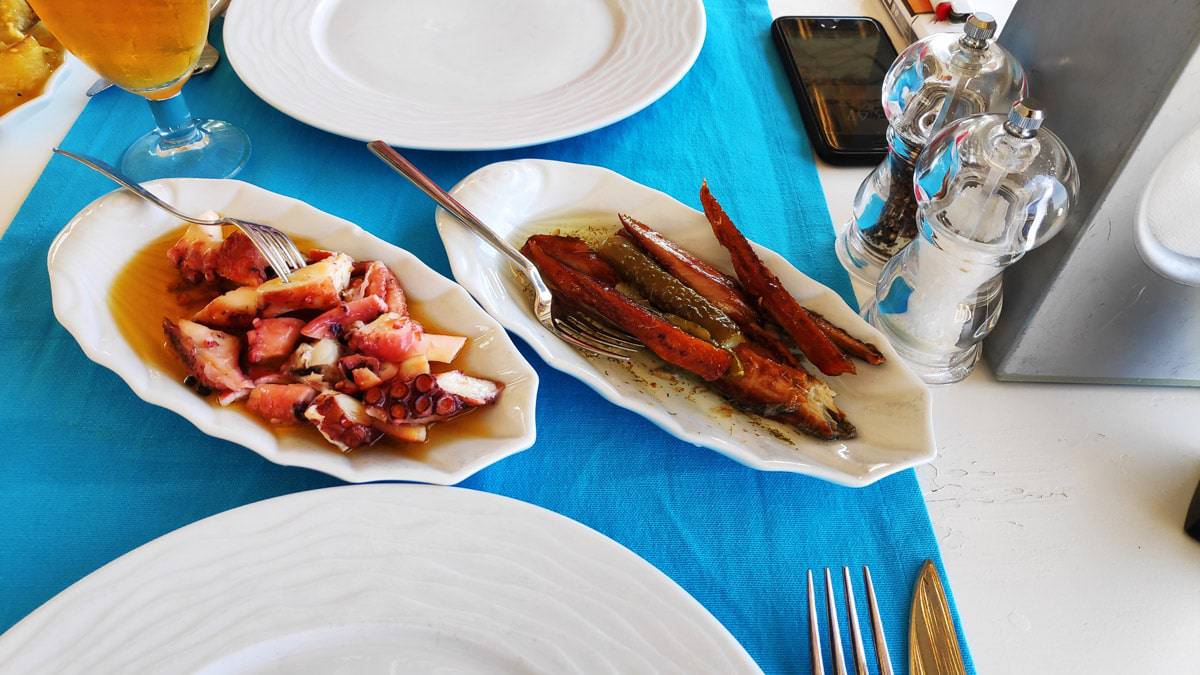 Bodrum
Sea Food
As you can guess, Bodrum is the perfect spot for sea food. Delicious local seafood grace the menus of Bodrum restaurants and taverns.
Cuttle Fish
The cuttlefish, which is a kind of squid, is perhaps the most delicious of Bodrum's local seafood. Stuffed, grilled, stewed and stir fired, the most special type of cooking you can taste in Bodrum is what the locals call as "garali subye". Once you've tasted the cuttlefish which is cooked in its ink, you'll want to eat again at the first opportunity. Trata Meyhanesi, where you can taste this local delicacy is located in the street of taverns in the center of Bodrum.
Octopus
Most of the boys who grew up in Bodrum know how to catch octopus because Bodrum is very rich in octopus. The taste of local octopus is also exquisite and it is often consumed as an appetizer in the form of a salad. The octopus stew is also worth a try.
Calamari
Calamari is also among the local tastes of Bodrum and even calamari hunting tours are organized in Bodrum when it's in season. The sauté and salad of calamari, which is more commonly consumed fried, is just as delicious. Memedof Restaurant in the center of Bodrum, Tranca Restaurant on the street of the bars and of course the restaurants on the coast of Gumusluk are a few of the places you can go to eat fish and seafood.
---
Bodrum
Weeds
We came to the most important topic of our article on What to Eat in Bodrum. Herbs are an indispensable part of Aegean cuisine and the stars of Bodrum cuisine. Weeds are used a lot in mezes and these weeds amazingly compliment raki. When you come to Bodrum, you must taste the appetizers made with local weeds.
Wild radish
One of the locally grown weeds in Bodrum, wild radish has a unique taste. It is usually blanched first and made into a salad with the addition of olive oil, lemon and garlic. You can find wild radish salad in all taverns of Bodrum.
Sea beans
This marvelous herb, called sea beans that grows on the seaside is from chenopodiaceae family and is healing as well as delicious. Blanched and flavored with olive oil and lemon like wild radish, sea beans is the favorite of Bodrum tavern tables. You can taste sea beans in most restaurants in Bodrum, but Fenerci Restaurant in Gümüşlük is our favorite place for sea beans.
Cibes
Cibes, one of the most delicious elements of the cruciferous family, is one of the favorite weeds of Bodrum locals. If you've eaten the root of broccoli, you can simulate the taste of it. Although Cibes is mostly consumed as a salad with olive oil, this delicious weed is also popular served with yoghurt and stir fried with eggs. However, you will mostly encounter it in salad form in taverns, if you come across the season.
Leaf mustard
Related to wild radish, leaf mustard is also preferred as a popular meze. You can easily find the leaf mustard salad served with olive oil and garlic in all of the taverns in Bodrum.
Mallow
Mallow is a weed that grows in every corner of Bodrum and it is very popular amongst the locals. Though the locals make stuffed mallow with the fresh mallow in spring, it is hard to come by in the restaurants and taverns in this form. Instead, you can have it as salad. Mallow is also served with yoghurt and used as stuffing in boreks (stuffed pastry).
Tilkisen (Wild asparagus)
The wild version of the asparagus, Tilkisen, tastes like asparagus. Tilkisen can be eaten with olive oil as well as stir fried with eggs. Finding Tilkisen in the restaurants not likely, if you want to taste it you should visit the local market set up by Bodrum bus station on Fridays. It is not in season in summer months.
---
Cokertme Kebab
If we did not include the Cokertme Kebab on our What to Eat in Bodrum article, they would not let us into Bodrum. Cokertme Kebab is just as famous as its folk song. Cokertme Kebab, which is a dish made with beef cut into Julienne pieces, fried potatoes, garlic yoghurt, and served with optional salad is a Bodrum dish which is a must-try. Originally cooked with beef, it is also available with chicken. Also you should read Where to eat Bodrum Cokertme Kebab? article.
---
Bodrum Doner
If you ask what to eat in Bodrum, everybody says "you should eat Bodrum Doner". The most special and tasteful form of Doner, which has spread from Turkey to the world, is Bodrum Doner. Unlike traditional doner, it is grilled with the different vegetables which are embedded into it and it leaves an amazing taste in your palate. It was originally invented by Sirin Doner located in the Bar Street. It would definitely be a big mistake to leave Bodrum without tasting Bodrum Doner.
---
Bodrum Tangerine
Everyone must have heard of Bodrum tangerine. Bodrum's sweet and aromatic tangerine's fame has spread to the world. Established in recent years, Bodrum Mandalini firm produces a wide variety of products from this fragrant tangerine. You can not only taste products such as Bodrum tangerine soda, Bodrum tangerine Turkish delight and Bodrum tangerine jam but you can also buy these delicious gifts that bear the aroma of Bodrum to take back to your loved ones home.
---
Bitez Ice Cream
Bitez Ice Cream, which has become one of the most important flavors of Bodrum in recent years, is made from completely organic fruits that make it so delicious. Bitez Ice Cream which was established in Bitez in 1995 and became famous with its deliciousness in a short time is a special taste that everyone who comes to Bodrum today tastes. There is a branch of Bitez Dondurmacısı on the street leading to Bodrum marina, stop by here and cheer your palate with this delicious ice cream.
---
Pablo Beer
Pablo Bira, which has become a legend after coming out of Bodrum, is a taste that beer aficinados will fall in love with. Produced in Konacık and in their own words, "faithful to the Kraft point of view from the raw material type used to the methods applied" Pablo Beer is a delicious Bodrum taste that should not only be drunk, also taken with you on the way home.
When you come to Bodrum, you know that you should first taste Cokertme Kebab and Bodrum Doner, then a delicious marathon is waiting for you among the other flavors that we have listed. Now that you know what to eat in Bodrum, it is the time to learn Bodrum's Best Beaches. See you on an enjoyable Bodrum holiday.