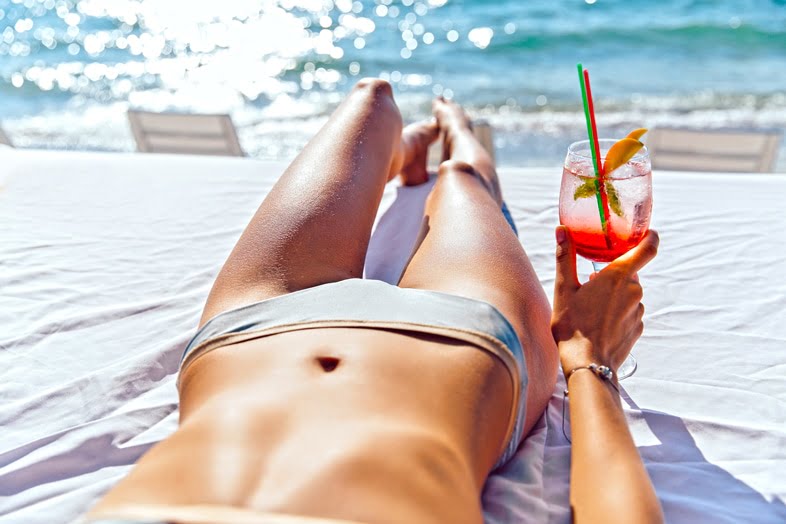 BODRUM BEACH CLUB RECCOMENDATIONS
Dozens of beach clubs located in magnificent bays and beaches all over Bodrum peninsula attract those who want to combine the trio of sea, sand and sun with fun during the summer. Most of the Bodrum beach clubs also provide food and beverage services, that is, they offer the opportunity to have breakfast, have lunch and even dinner in the same place after swimming and sunbathing in the sea. This is a great advantage for those who want to spend the whole day at beach.
If you are one of those who do not want to end their Bodrum holiday without enjoying the beach clubs, our Bodrum beach clubs recommendations will be very useful for you.
---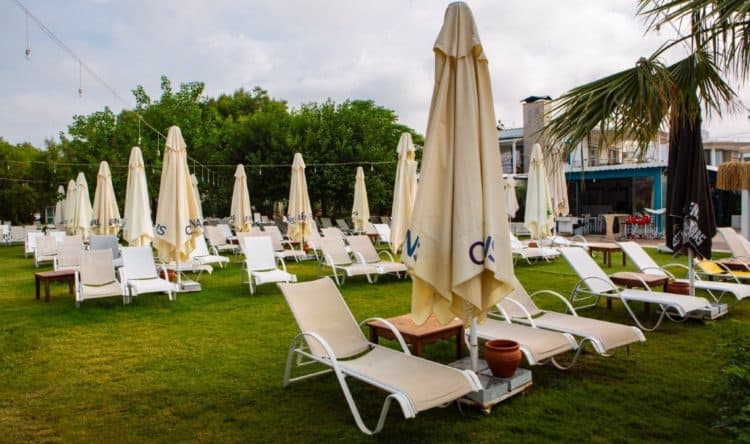 KEFI BEACH CLUB
Located in Ortakentyahsi, Kefi Beach serves its customers with a 1000 sqm sunbathing area. As well as the beach, they have a natural grass area which you can enjoy. You can enjoy both the sea and your snacks with your family, friends, children and your loved ones at this comfortable environment. The service quality and the tasteful dishes of Kefi Beach, which also has a restaurant, reflects the professionalism of this establishment.
Kefi Beach also pays a special attention to breakfast. You can start the day with a pleasant breakfast accompanied by cheese, olives, butter, honey, homemade organic jams, warm breads baked in their own oven, and crispy bagels, all of which are supplied from local producers, and then you can enjoy the wonderful beach. Let's not forget that you can choose Kefi Beach Suite for accommodation.
KEFI BEACH CLUB ENTRANCE FEE :
Entrance fees for 2023 have not been determined yet.
Phone : +90 252 3483145
Location : googlemaps
---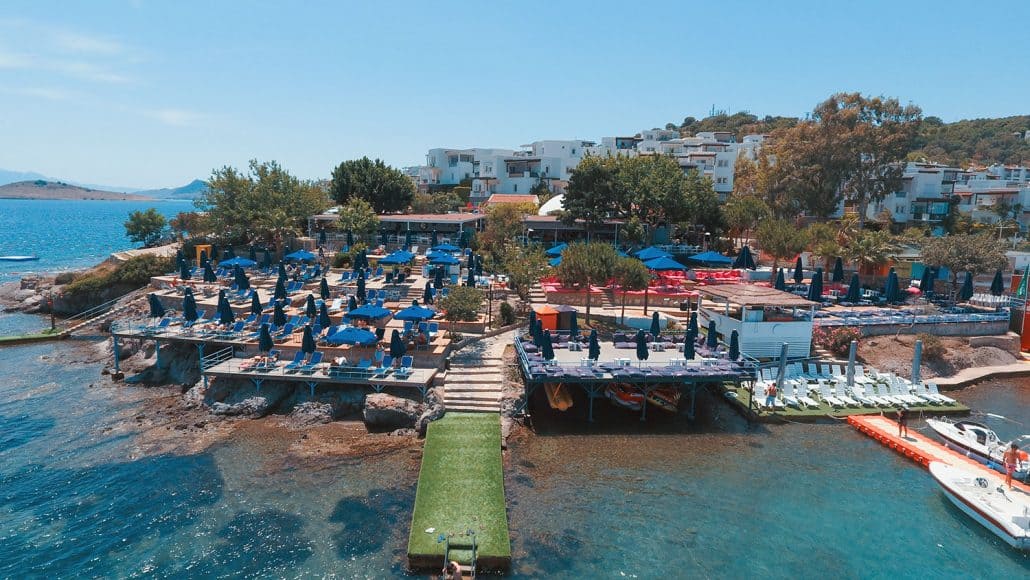 SARNIC BEACH
One of the oldest beach clubs in Bodrum, Sarnic, has been in service since 1993. Sarnic Beach in Bitez, which is about half an hour away from the centre of Bodrum, has the opportunity to do water sports as well as the facilities such as mattresses and sun loungers, which is why many people prefer the Sarnic.
Bitez is also a place where surfers from all over the world come to surf. It is also possible to surf at Sarnic Beach. The cuisine of the place is very successful, the restaurant, which serves mostly Turkish cuisine, is also very nice with its calm atmosphere. Sarnıç Beach is a more suitable beach club for those who want to have a good time in a quality environment rather than having crazy fun.
SARNIC BEACH ENTRANCE FEE :
No entry fee. There is a spending limit of 1000 TL.
Phone : +90 530 034 34 34
Location : googlemaps
---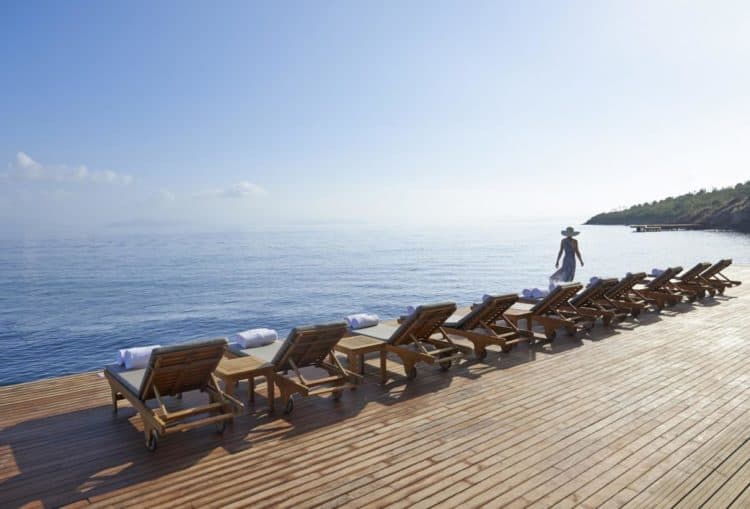 BLUE BEACH CLUB & BAR
Blue Beach Club & Bar in Golturkbuku, which is sometimes the subject of news with its expensiveness, is a Bodrum beach clubs which can be defined as ultra-lux. Blue Beach Club & Bar, which is the beach of Mandarin Oriental Hotel, also accepts guests from outside.
The venue, which is one of the quietest among Bodrum beach clubs, has private arbours as well as luxurious sun loungers. Lunch is served at the venue between 12:00 and 18:00. Beverage service is between 10:00-20:00. Its menu includes options such as pita, salads, sandwiches, and kebabs, and as in almost every place in Golturkbuku, the prices are quite high compared to other places.
BLUE BEACH CLUB ENTRANCE FEE :
Phone : +90 252 311 18 88
Location : googlemaps
---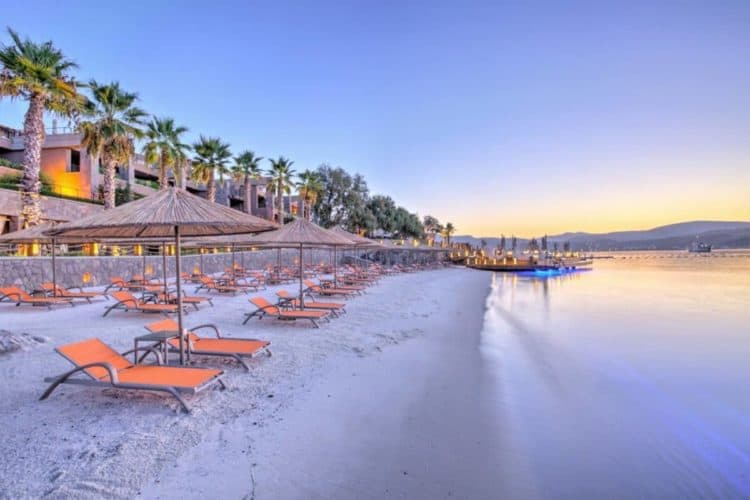 BUDDHA BAR & BEACH
Buddha Bar & Beach, which opened this year within the Caresse a Luxury Collection Resort & Spa in Asarlık, is one of the most ambitious Bodrum beach clubs. With its bohemian-chic style decoration of stone and hardwoods, house and lounge music are played in accordance with the Buddha Bar concept, as expected.
Known for its claim to gastronomy all over the world Buddha Bar & Beach offers food prepared by famous chefs. The venue is located on a magnificent beach, and if your budget allows, you should go to Buddha Bar & Beach to have a different Bodrum beach clubs experience.
BUDDHA BAR & BEACH CLUB ENTRANCE FEE :
Buddha Bar & Beach entrance fee is 225 Euros per person. 75 Euro is the beach usage fee and 150 Euro is the fee to be used for food and beverage. Please note that this fee is non-refundable!
Phone : +90 252 311 36 36
Location : googlemaps
---
FLAMM BEACH
The beach of Flamm Bodrum Hotel, which we also recommend in our Bodrum Boutique Hotel Recommendations article, stands out with its comfort and calmness. Flamm Beach, with a capacity of 500 people, serves with two large piers and a large grass area. Pet-friendly Flamm Beach is an ideal Bodrum beach club for those who want to sunbathe on a sun lounger and read a book. We can call Flamm Beach a real family-friendly beach. Instead of making their guests listen to loud music, they created a calm and peaceful environment.
Compared to other bays of Bodrum, the temperature here is less suffocating. Due to the slightly breezy nature of Golkoy District, the heat is less unbearable here. The venue also has a bar and restaurant. You can taste delicious dishes such as pide and lahmacun at their restaurant, which has a wood burning oven. Of course, it is possible to find meat, fish and Mediterranean delicacies in the menu of the restaurant.
FLAMM BEACH ENTRANCE FEE :
Between 1 and 23 June, the spending limit per person is 1,250 TL. These prices may be updated in July and August, please confirm the updated information from the phone numbers below.
Phone : +90 252 357 76 00
Location : googlemaps
---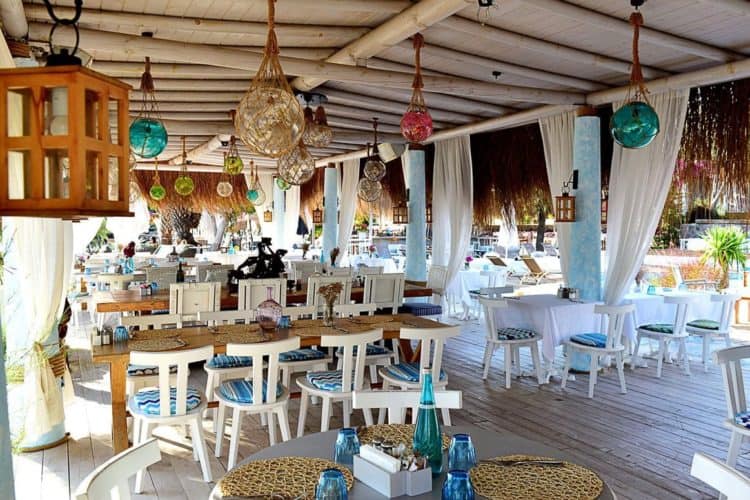 MOON BEACH
Located in one of the most special bays of Bodrum with its magnificent beauty, Gokcebel Bay, Moon Beach has the advantage of being in an untouched bay. Moon Beach, which offers the opportunity to swim in a clear sea and lie down in hammocks, plays calm music during the daytime. Towards the evening, the volume is turned up. There is also a restaurant in Moon Beach which is very ambitious in terms of taste. You spend the day by swimming in the sea, sunbathing, listening to nice music, and end the evening with the delicious meals served at this restaurant.
MOON BEACH ENTRANCE FEE :
The entrance fee per person is 800 TL.
Phone : +90 252 387 73 80
Location : googlemaps
---
XUMA BEACH
Xuma Beach in Yalikavak is one of the most famous Bodrum beach clubs. The venue also hosts important events such as the Xuma Beach Chill-Out Festival. You can take a look at our Bodrum Festivals article to find out about all the festivals that will be held in Xuma Beach and other locations throughout the year in Bodrum. You can see the entrance fee for Xuma Beach, where children under the age of 6 are not allowed.
XUMA BEACH ENTRANCE FEE :
Beach usage fee is 1.000 TL per person. In addition to this price, there is a minimum spending limit of 1,500 TL per person. These prices are valid for the month of June, there may be updates in the following months, please confirm the updated information from the contact number below.
Phone : +90 252 385 47 75
Location : googlemaps
---
MAGI BEACH
Magi Beach in Tilkicik Bay in Yalikavak stands out as a Bodrum beach club with its Blue Flag beach and eucalyptus trees. There is also breakfast service at Magi Beach and the place is quite ambitious about its breakfast. You can start the day with breakfast consisting of delicacies such as pastries and homemade jams, while spend the rest of the day enjoying the sea, sand and sun and choice of local delicacies from their menu.
The venue also offers other services such as beach volleyball, foot tennis and water sports. Magi Beach also has a massage service, and you can enjoy their sunset parties accompanied by DJ performances. In Magi Beach, which has an open fitness area, you also have the chance to attend classes with the professional company Alive Fitness team. You can also enjoy Raki and fish meals on the pier of the venue.
MAGİ BEACH ENTRANCE FEE :
No entry fee. There is a spending limit of 1,500 TL per person.
Phone : +90 532 778 20 26
Location : googlemaps
---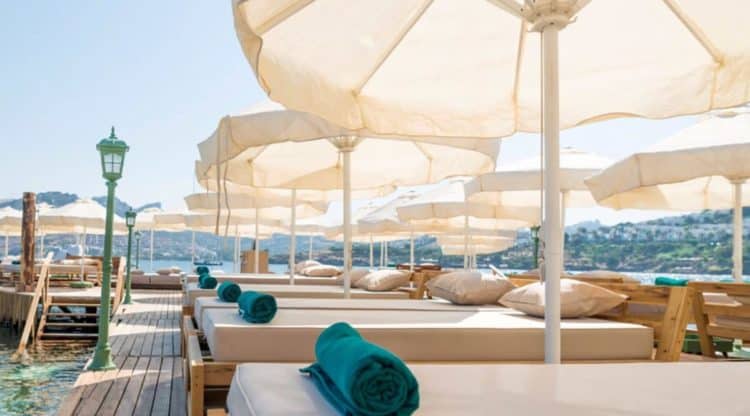 MIYA BEACH
Established in Tilkicik Bay in Yalikavak, Miya Beach also has a Blue Flag beach which means the sea is very clean. Decorated with attention to detail, the venue can be classified as a quality beach club. Miya Beach, where the sandy beach meets the gras garden, also hosts various organizations.
Enjoyable music plays in the venue, and they hold happy hour events. Miya Beach, also considers children and offer special activities for them. So Miya Beach can be one of the first choices for families with children. The venue also offers water sports. Miya Beach, which is also ambitious in terms of Food & Beverage, offers flavours from international and Mediterranean cuisines.
MIYA BEACH ENTRANCE FEE :
No entry fee. There is a spending limit of 2,500 TL per person.
Phone : +90 552 798 98 00
Location : googlemaps
---
We weren't able to include all Bodrum Beach Clubs in this article. You can find out about the others on our Bodrum Beach Clubs Category page. Before we finish, we should mention that the Bodrum Beach Clubs prices on the article are from 2022. If you have enjoyed this article, we recommend you to also read What to Eat in Bodrum? and Best Turkish Breakfast in Bodrum articles.
Before finishing our article, we would like to invite you to our Facebook group called; Bodrum Travel Tips. This community's purpose is to share your Bodrum holiday experiences or ask other users for recommendations about Bodrum. Help the guests coming to Bodrum from both, abroad and domestically, by giving advices, suggesting places, sharing and providing information about places to visit.
We wish you a fun-packed holiday