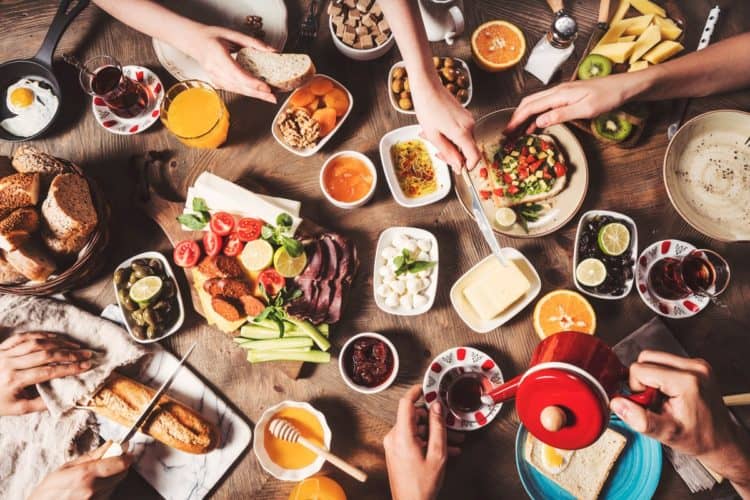 Best Breakfast Places in Bodrum
Everyone looks for a grand breakfast table and venue whether it is the weekend or holiday breakfast. We are certain that you will want a joyous start to your day with a grand breakfast when you are in Bodrum. For this exact reason, we have gathered Bodrum's breakfast locations for you. We tried to pick venues famous for their breakfast, located at various spots in Bodrum. Remind us if we missed out on any other venues. We should point out that regardless of where you go for breakfast in Bodrum, it will be delicious and fresh. Let's have a look at the suggestions.
---
What to Have for Breakfast Places in Bodrum?
First of all, let's mention some local flavors you can taste at a breakfast in Bodrum. As you might know, Bodrum is famous with its tangerines and lovely jams made from these. You can taste these jams for breakfast as well as buy them to take home or to your loved ones. The women of Bodrum make their own tangerine jam and marmalade to their taste. If you do come across homemade jams, we highly recommend you try it.
Kalamata and crushed olives are also a must for breakfasts in Bodrum. You can find Aegean's delicious olives at every breakfast table.
If you like pastries for breakfast, then pastries made with Bodrum's local herbs are a great alternative. You can find these pastries on most of the breakfast venues, even if it's not displayed on the menu. For those who like these pastries, we suggest you try a different place for each breakfast and please comment your review below or on the venue's website. We are thinking of making a Bodrum pastry guide in the future and we could use your reviews.
The locals in Bodrum love having cottage cheese for breakfast even though it might seem like a bland food for some. When combined with olive oil, this cheese that can either be dry or fresh, becomes a lovely feast. If you miss the chance to try it for breakfast, you could have it at a fish restaurant as its served before dinner. If they don't serve you should certainly ask for some. You can have a look at our article on Bodrum Fish Restaurants to pick a restaurant for dinner. There is also another article for those who take food seriously; What to Eat in Bodrum.
---
KUYTU BAHCE
Located in a 3,5 decar tangerine orchard, the breakfast is served in front of the stone house in Kuytu Bahce. Open throughout the season, they also have a closed area heated with a wood burning stove for the cold winter days. The breakfast service starts at 09:00 in Kuytu Bahce and is continues until 16:00 in the summer season and winter weekends; the service ends at 14:00 weekdays in the winter.
It is also possible find special dishes such as zuccini blossoms stuffed with cheese, stuffed wine leaves in the breakfast menu, depending on the season. They also make home made jams such as tangerine jam and quince jam from the fruits they pick from the garden as well as making their own olives. In short, Kuytu Bahce is a venue where you can have a home made breakfast in a natural environment.
Their Bodrum style pastry with feta filling, deep fried pastries, Aegean style pastry with chard and herb filling are also other favorites. Kuytu Bahce also serves eggs with pastrami and home made braised lamb. Pumpkin fritters they serve in the winter is another favorite dish of Kuytu Bahce which is a great address for an enjoyable Bodrum breakfast.
Phone: +90 542 586 15 68
Map: googlemaps
---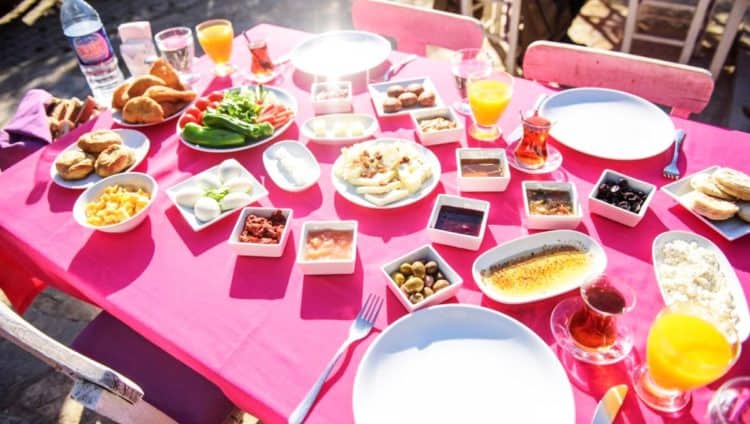 LIMONATTA CAFÉ
Located in Bitez, one of Bodrum's popular villages, Limonatta Café is ideal especially for families with kids because they have a children's play area. As the restaurant with a capacity of 150 guests is very busy in the summer, you must make a reservation.
Cheese delight, filo pastry with various fillings and delicious jams are a few of the favored tastes. They are especially famous for their cheese delight.
You can choose Limonatta Café for a delicious breakfast in a homely environment.
Phone: +90 539 647 38 85
Map: googlemaps
---
ASMALI CARDAK BREAKFAST HOUSE
Located 18 kilometers away from the city center, Yalikavak has one of the most popular breakfast places; Asmali Cardak Breakfast House. If you wish to have breakfast somewhere with a village vibe, under a pergola wrapped with vine leaves, this is the right place for you.
As we have mentioned above, tangerine jam is one of the special delicacies you can taste in breakfast and the tangerine jam here is among this venue's most favored dishes. Asmali Cardak's filo pastry with pumpkin filling is also favored.
Phone: +90 533 568 63 33
Map: googlemaps
---
Cingillioglu
One of Bodrum's most famous cheese monger, Cingillioglu also serves breakfast at their Turgutreis branch. Breakfast here can be very enjoyable for cheese lovers as their cheeses are delicious. They also have delicious olives. This venue is not surrounded by trees or nearby the sea, even though it is by the road, we can assure you their breakfast is worth it.
---
ZIP ZIP BREAKFAST HOUSE
Located in one of Bodrum's most beautiful villages Camlik, Zip Zip is a venue where you can have a hearty breakfast surrounded by nature. You can taste various types of cheese, olives, jam as well as fresh eggs and pastries with herb filling. This place is also famous with Turkish pancakes so don't miss out if you like them.
Phone: +90 252 362 11 05
Map: googlemaps
---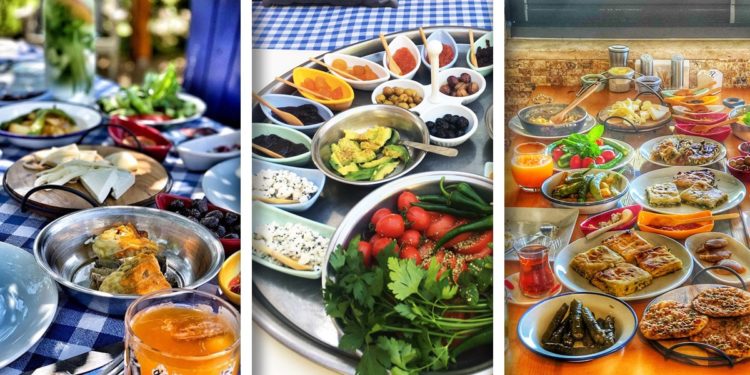 QUIZINE BREAKFAST HOUSE
Quzine Breakfast House in Gundogan is known for its special pastries baked in a wood oven. Baked in a wood oven in the winter, Caykama (filo pastry with cheese and herb filling) is the most favored special. This venue that can be a picked for their delicious food such as eggs with cottage cheese, home-made spicy spread, fenugreek, stuffed zucchini blossoms is also very convenient for families with kids. There is also a kid's playground at this venue set on a grass area.
Phone: +90 545 387 83 85
Map: googlemaps
---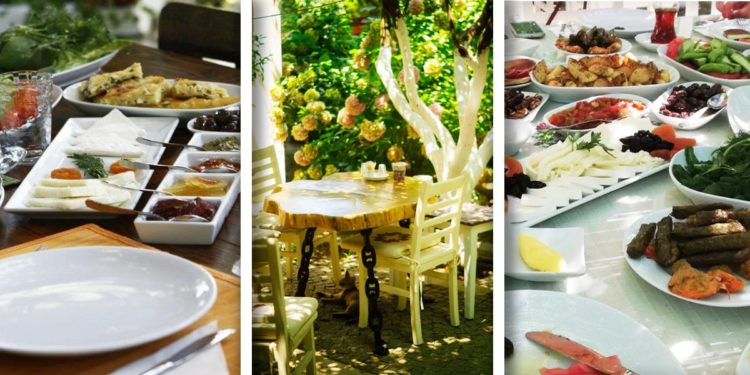 NAR CICEGI BREAKFAST HOUSE
Surrounded by tangerine trees, Nar Cicegi Breakfat House is just the place for families with kids. Three types of filo pastries with various fillings and vine leaves wrapped with a rice filling gives a feast vibe to your breakfast. Lemon and watermelon skin jam are delights you must taste. The atmosphere is so lovely that you can forget the time here. Nar Cicegi is quite preferable amongst Bodrum's breakfast locations.
Phone: +90 536 592 16 63
Map: googlemaps
---
HAVVA ANA BREAKFAST HOUSE
Located in Gokcebel village of Yalıkavak, this lovely place is the exact spot for a village breakfast. All the produce here is fresh and hand-picked by Havva Ana for her guests. Do not go without a reservation as you might have trouble getting a table as this small place is one of Bodrum's popular breakfast locations.
Don't be surprised to find luxurious cars parked here as there are celebrities amongst Havva Ana's regular customers. You must try the tomato jam when you go there for breakfast. Don't expect an outstanding service, you might have to pour your own tea but we can assure you will enjoy a lovely breakfast accompanied with delicious pastries.
Phone: +90 532 684 79 66
Map: googlemaps
---
KIR SOFRASI
Located in Camlik village which has preserved its natural beauty even though it's close to the town center, Kir Sofrasi offers an open buffet breakfast. They have homemade jams and all other food products are local. Spicy bread, flatbread and various pastries are amongst the most favored dishes.
Other than having breakfast, Kir Sofrasi is the right address to spend a wonderful time with kids as there is a kid's playground, large garden, basketball, football and volleyball fields and a trampoline. There are chickens, chicks, rabbits and donkeys at this facility in touch with the nature so you can choose here for your children.
Phone: +90 533 309 55 51
Map: googlemaps
---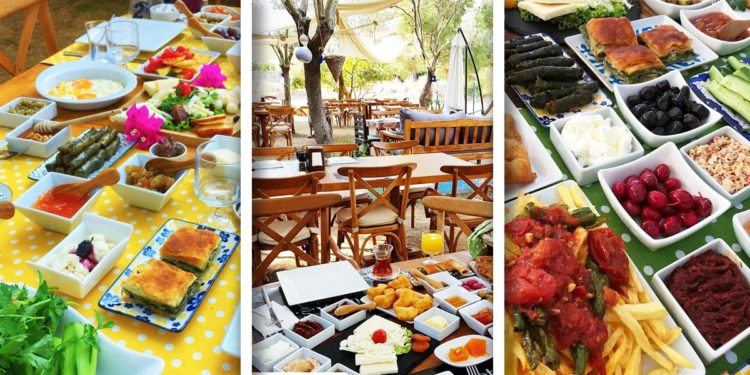 KOZOLAK BREAKFAST HOUSE
You can enjoy your breakfast under the trees in the summer and by the cozy fireplace in the winter at Kozalak Breakfast House which is open throughout the year. House specialties include watermelon skin jam, dulce de leche, sundried tomato paste and crepes. They also serve extras such as Turkish style scrambled eggs with tomatoes, sausage or meat. Kozalak Breakfast House is an ideal venue for kids with its walking trail and tampoline.
Phone: +90 546 712 74 63
Map: googlemaps
---
As we have said before, a nice breakfast is a must to have a nice start to the day. It would make us very happy if you visit some of these breakfast venues and leave your reviews at the comment section below.
Before finishing our article, we would like to invite you to our Facebook group called; Bodrum Travel Tips. This community's purpose is to share your Bodrum holiday experiences or ask other users for recommendations about Bodrum. Help the guests coming to Bodrum from both, abroad and domestically, by giving advices, suggesting places, sharing and providing information about places to visit.
Enjoy your breakfast!