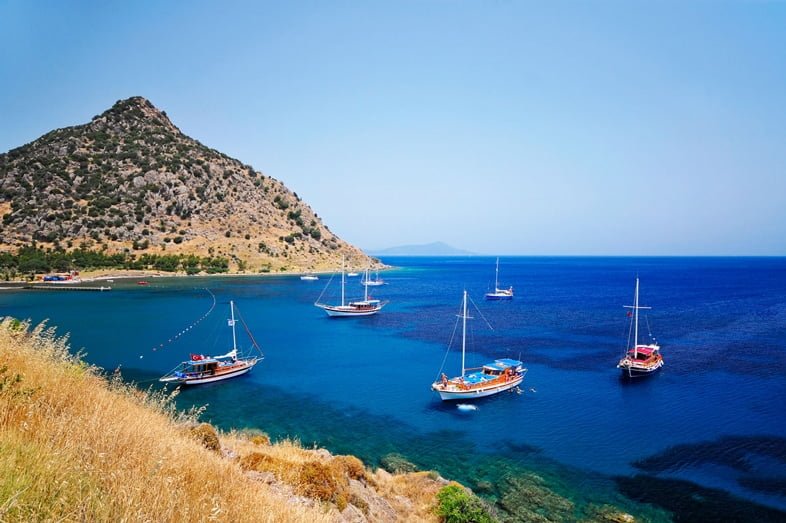 Bodrum Boat Trips
It is among the 'must do's of a trip to Bodrum. We suggest you to not to go back without going out on a Bodrum boat trips and begin our article with all the information you may need about the Bodrum boat trip.
You must have heard of the term 'Blue Cruise' or 'Blue Voyage'. Bodrum is the starting point of this concept. The yacht cruises of the Fisherman of Halicarnassus (Cevat Sakir Kabaagacli), whose name is identified with Bodrum, Azra Erhat and Sabahattin Eyuboglu, who are also writers, where they discovered the bays of Bodrum has later become the subject of the book named Blue Voyage, written by Azra Erhat and the yacht cruises made in the Aegean and Mediterranean has been called with this name ever since. Seeing the bays of Bodrum, which fascinated these three important litterateurs, is still one of the activities that almost everyone visiting the town does today. Also yo might like our Fisherman of Halicarnassus atricle…
---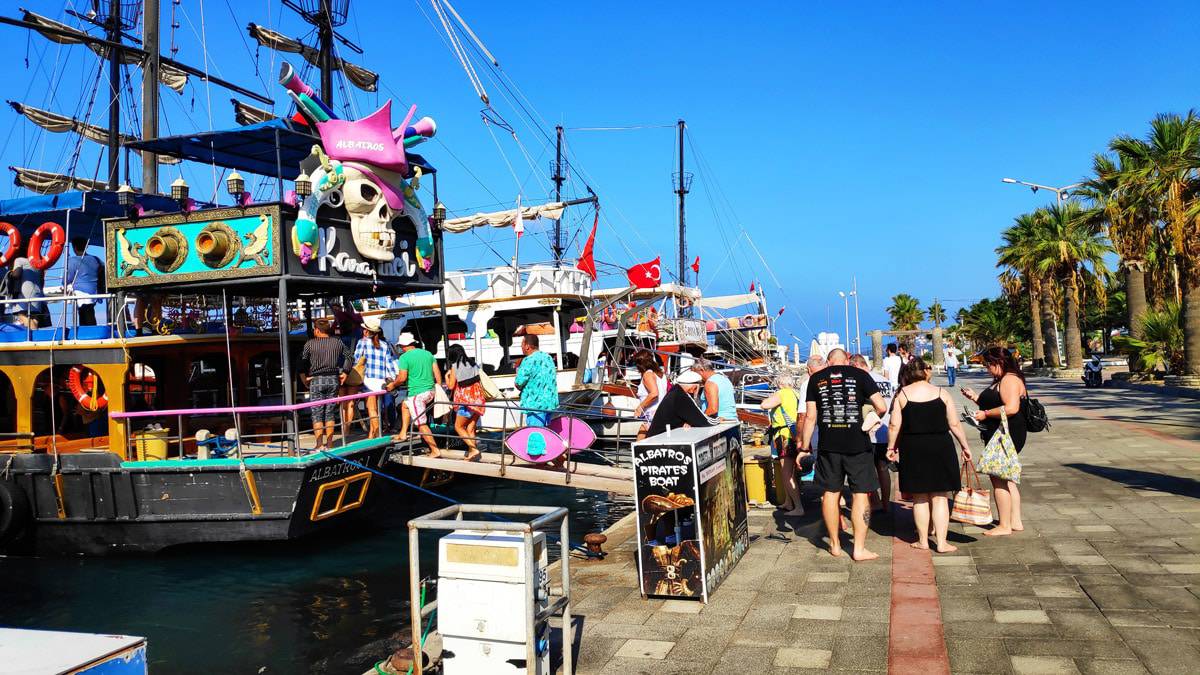 Where Do the Bodrum Boat Trips Depart From?
Bodrum tour boats depart from the town center of Bodrum, Gumbet and Turgutreis. Most of the tour companies selling these tours offer free transfers to the boat for those not staying in the centre of the town or in Gumbet, picking you up to take you to the boat and taking you back to your hotel in the end of the tour.
---
What Time Do The Bodrum Boat Trips Depart?
Bodrum tour boats leave the harbour usually at 10:00 in the morning and return at 17:00-18:00 but some leave earlier and return later. If you are planning to have a boat trip you should get up early in the morning.
---
Food and Drinks on Bodrum Boat Trips
These trips take about 6-7 hours which means you'll need to eat and drink something during the day. Lunch is included in the prices and menus usually offer alternatives. They usually offer chicken, pasta, salad or fish, pasta, salad combos and charge extra for the drinks. This is a standard tour package, if you buy an 'all inclusive' tour they include the local alcoholic and non-alcoholic beverages. Considering that you will need a lot of fluids in a 6-7 hour trip in the summer heat and that it may cost a considerable amount in the end of the day, this may be an better alternative.
---
Bays Visited in a Bodrum Boat Trips
As you know, Bodrum is a peninsula which hosts many bays, all more beautiful than the other. But these trips cover only some of them. Although there may be slight differences depending on the boat you choose, let's take a look at the bays that you may get to see on a boat trip in Bodrum.
Aquarium Bay
Aquarium Bay is one of the most beautiful bays you can see by a boat trip. The bay known as Aquarium Bay is located between Gumbet and Bitez, and is actually named Buyuk Akvaryum Koyu (Large Aquarium Bay). There is another bay next to it called Kucuk Akvaryum Koyu (Small Aquarium Bay) but the boats go to the larger one. As its name suggests, Aquarium Bay will fascinate you with its crystal clear waters where you can the bottom of the sea.
The Meteor Pit
Meteor Pit, which is thought to have been opened due to a falling meteor, is one of the most enjoyable places you will see with Bodrum boat trips. The water at a depth of 20 meters is so clean and clear that it attracts people. However, we do not recommend that you try to dive into the sea from the edge of the pit. We know that some of those who have tried to dive from this height of about 20 meters have suffered serious injuries, so it makes more sense to enjoy a swim in this beautiful bay instead of climbing to the top of the pit and diving.
Karaada-Cleopatra Cave
There is no settlement in Karaada, an island close to Bodrum, and this plays an important role in the preservation of its natural beauty. This is definitely one of the most popular routes of Bodrum tour boats, because there is also a thermal spring on the island. It is believed that the mud and water of the spring, which is known as Cleopatra Cave Spring, has healing and beautification qualities. But there is more; the legendary Egyptian Queen Cleopatra is said to have been bathed in this spring and owes her beauty to it, which is why the cave spring is named after Cleopatra. Especially foreign tourists show great interest in this spring.
It is said that the spring in the cave is beneficial for rheumatism and sulphur mud is beneficial for skin diseases.
Yahsi Beach
Yahsi Beach, is one of the most beautiful and popular bays of the peninsula frequented by most of the tour boats and they tend to stay here longest as it has an organized beach where the guests can discover. There are facilities such as a restaurant and water sports. You are guaranteed a great time in Yahsi Beach. You must keep an eye on the watch so you don't miss your boat!
Poyraz Bay
This bay is located at Karaada which we mentioned above. Located at the back of the island, this bay is windy at all times which is why it's called Poyraz (Northeaster Wind). Though not all the boats stop by here, we didn't want to exclude Poyraz Bay. There are many varieties of fish in the bay and it's a joy to swim with them. You can use your masks here.
Orak Island
Boat tours with Orak Island route usually go only to this island and spend the time here instead of visiting other bays. Some boats stop in Kizilburun Bay for a swim break on their way to Orak Island and some go directly there. The most important quality of Orak Island is that it is the only island on the peninsula with white sandy beach.
---
Private Bodrum Boat Trips
There are also boats that organize private trips in Bodrum. The difference of these boats is that they are hired exclusively for you with a skipper and a deckhand and you do not have to share the boat with others. These boats follow the same route more or less, but they are a little bit more expensive. The lunch is included in these boats too and drinks are extra. These boats also offer all inclusive option. One of the boats that organize these private trips is My Way, and they offer fresh fish or Miami spiced chicken. This is just an example and other boats can offer different menus.
---
Bodrum Pirate Boat Trips
Yes, we have come to pirate boat tours that have become more popular in recent years. There are several pirate boats in Bodrum and you can go on these boats. Pirate boats are especially preferred by young people because tours are organized in a slightly different concept. For example, if you want to get up with the foam party, you can choose to join the pirate boat tour.
In pirate boats, pasta-chicken-salad combo is served for lunch and drinks are extra. Since there is a great interest in these boats, it is necessary to make a reservation before joining the tour. Let's give a little tip while finishing our article about boat tours in Bodrum; if you say "I want to spend the night at sea" there is a solution to that too, Club Catamaran. You can spend the night on the sea, partying under the stars by cruising in Club Catamaran, which leaves the harbour every night at a certain time from the centre of Bodrum. Find out more about Club Catamaran and more by browsing our article Where to Listen to Music in Bodrum.