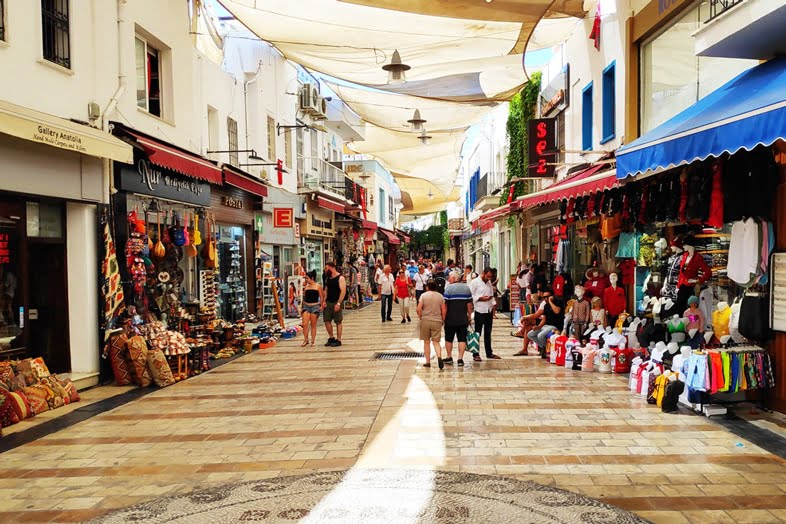 Bodrum Center Guide
"When you reach the top of the hill, you will see Bodrum. Don't assume that you'll leave as you came. The others before you were the same, too. As they departed, they all left their souls behind." If you see the sign with these verses of The Fisherman of Halicarnassus (Halikarnas Balıkçısı), Bodrum center is a few minutes away. The center of Bodrum, a peninsula, is full of countless beauties that everyone should see.
With its historical sites, entertainment venues, hotels, restaurants, taverns, the center of Bodrum is not only active in summer but also in winter, on special days such as holidays and New Year's Eve, the center of Bodrum is especially influenced by local tourists. No matter what time of year you go, everything you need to know about Bodrum center is waiting for you in our article.
---
Welcome to Bodrum

City Center

When you come to Bodrum, the first point that welcomes you is the bus station. Bodrum bus station is 36 kilometers from Bodrum Milas Airport and it takes about 40 minutes to get to the bus station from the airport. It is possible to get to the Bodrum bus station from the airport by service busses, taxis and VIP vehicles. From the bus station, there are regular minibus services to all neighborhoods of Bodrum which run until the late hours of the evening, while they finish earlier in the winter. You can learn more about this by taking a look at our Bodrum Travel Guide article.
---
Let's walk in Bodrum City Center
If you walk down from Bodrum bus station for 3-5 minutes, you will find yourself in the heart of Bodrum. To your left is the famous Bodrum Bar Street and your right goes to Neyzen Tevfik Street, where there are quality fish restaurants and different venues, and then to the marina. Our advice is to turn left first and leave yourself to Bodrum's most lively street and go to Bar Street which is full of souvenir shops and entertainment venues as the name suggests.
Although this street comes to mind when it comes to the center of Bodrum, do not forget to enter the back streets. You can visit different shops and high quality venues, you can explore Tekilacılar Street which is an alleyway leading to the Bar Street. Although it has a different atmosphere in the evening, it is a pleasure to visit Tekilacılar Street during the day.
---
Take a break
If you are tired and want to take a breath, you can sip your beer with the view of Bodrum Castle at Mahfel Café, which belongs to the Municipality – you should bear on mind that they do not like people bringing food and drinks from the outside. When you walk to Mahfel Café, you will pass by Bodrum's most famous bakery, Yunuslar Bakery, where you can find fresh delicious snacks to assuage your hunger. There are also two shops on this road where you can eat a Bodrum doner, one is Nokta Doner and the other is Sirin Doner.
---
Things to do in Bodrum City Center
Bodrum center is a rich spot in terms of places to visit, which has a great impact on people coming here in summer and winter. All of the attractions in Bodrum center are within walking distance of each other, but if you do not want to walk you can also reach the minibus departing from the bus station.
Bodrum Castle and Bodrum Underwater Archeological Museum
The Castle of Bodrum, built by the Knights of Saint John in 1402, is the most important historical site of the district. Bodrum Castle is quite big, it is most reasonable to reserve a whole day to visit the whole castle. Bodrum Castle visit times are 08:00-20:00 for the summer and 08:00-17:00 for the winter. The entrance fee for the year 2019 is 48 Lira, museum card is also valid.
Bodrum Castle also hosts the Bodrum Underwater Archeology Museum, which is one of the most important underwater archeology museums in the world. While visiting the castle, you can see Queen Ada Room, dungeon, French Tower, English Tower, German Tower, Glass Hall, East Roman Ship, Glass Shipwreck. While visiting the castle, remember to look at the view of center of Bodrum, which looks spectacular from when viewed from the Castle.
---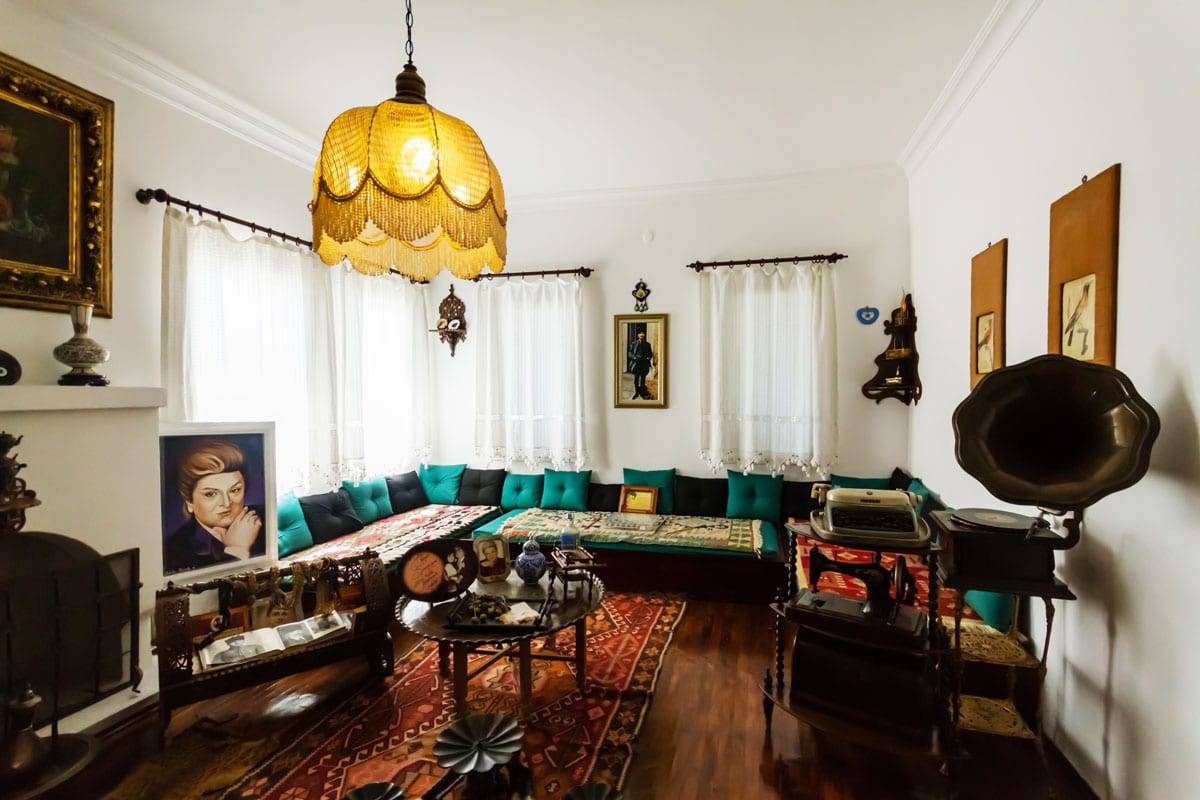 Zeki Muren Museum
Zeki Muren Museum, which is a half-hour walk from Bodrum Castle, serves in the home where the artist spends the last years of his life. Zeki Muren Museum, which you will see on the left when you walk across Bar Street and climb the hill at the end of the road, turn to the street on your left and walk for 5 minutes, can be visited between 08:30-19:00 in summer season and between 08:30-17:30 in winter season.
Entrance fee for 2019 is 6 Lira, museum card is also valid and the museum is closed on Mondays. In the museum, personal belongings of the artist, clothes, stage costumes, awards, jewelry and photographs are exhibited. The most exciting works on display in the museum are the watercolor paintings by Zeki Müren, since most people do not know that the artist also painted.
---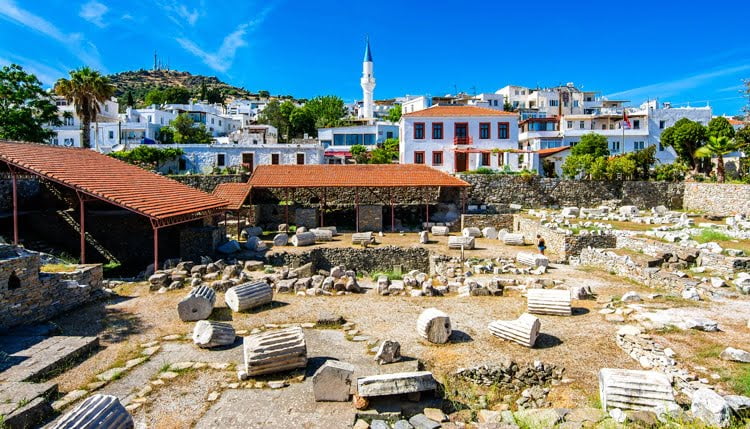 Mausoleum of Halicarnassus
Tomb of King Mausolos, also known as Mausoleum of Halicarnassus, is one of the Seven Wonders of the World. Even though it does not rise with its grandeur in history, it is the first place visited by the holidaymakers who love history. The Mausoleum is a 15-20 minute walk away and Bodrum city center. After descending from the bus station to the seashore, turn right and walk, as soon as you reach Tepecik Mosque, you can enter Saray Street on the first right and reach the Mausoleum in about ten minutes.
The monumental tomb, which was one of the most magnificent buildings of the period it was built, stood intact for hundreds of years, but unfortunately most of it was destroyed in the 1304 Great Anatolian earthquake. While some of the stones of the tomb were used in the construction of Bodrum Castle, artifacts such as the embossments and sculptures were taken to the British Museum and are still exhibited there. The Mausoleum of Halicarnassus, which is open between 08:30-19:00 in summer and between 08:30-17:30 in winter, is closed on Mondays and the entrance fee is 14 TL for 2019.
---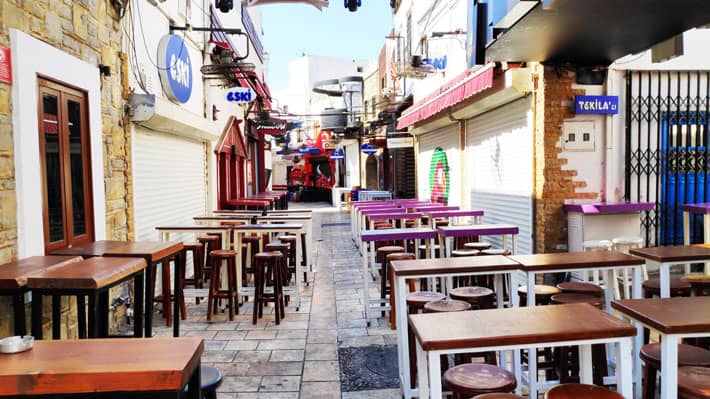 Entertainment Venues
Bodrum center is so rich in entertainment venues, it is not possible to include them all in our article, instead we will talk about the two famous streets where the entertainment venues are concentrated; Bodrum Bar Street and Bodrum Meyhaneler Street. The Bar Street is located at a 2 minute walk from the Bodrum Bus Station to the seafront, to your right. As the name suggests, Meyhaneler Street is a street full of taverns.
The tables of the taverns on the street are outside, so the street itself looks like a huge tavern. Among the most popular taverns of the street, which is full both summer and winter, is Trata Meyhanesi, which we introduced in detail in our article Bodrum Taverns. Bodrum Meyhaneler Sokağı is an address you should stop by in the center of Bodrum and enjoy the raki-fish duo.
---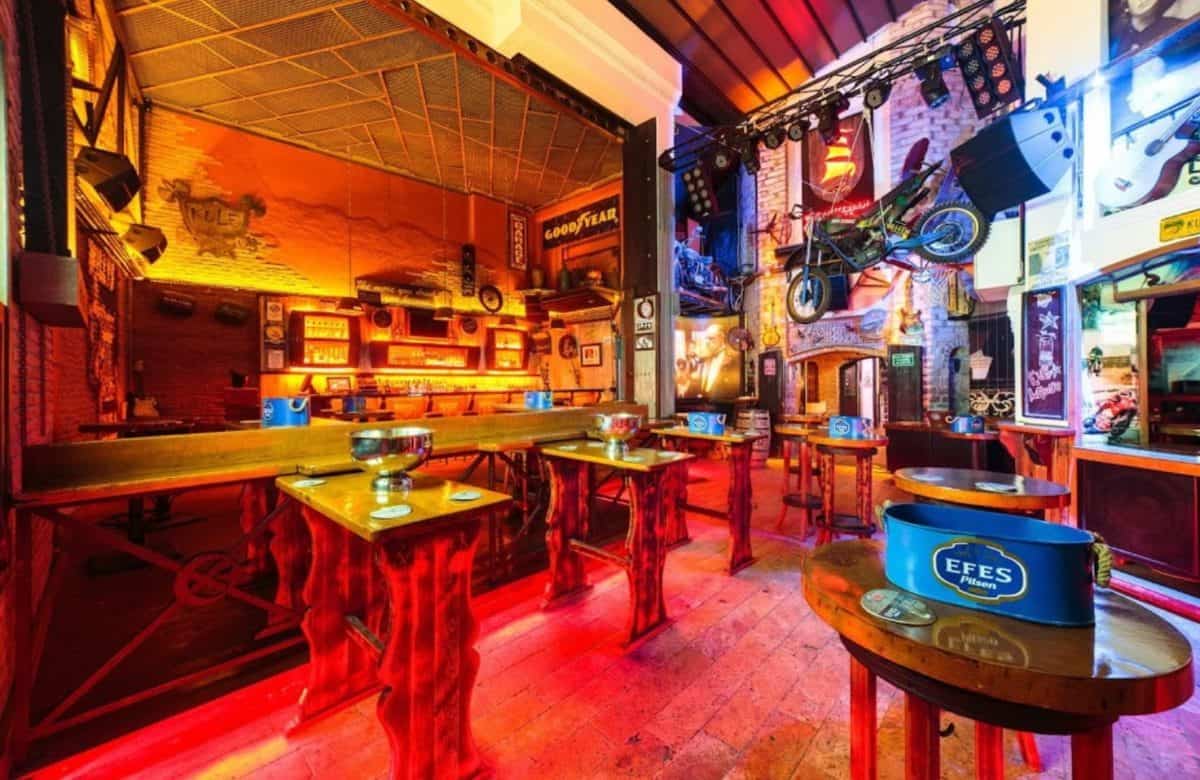 Bodrum Bar Street
The official name of Bodrum Bar Street, which can be called the heart of entertainment, is Cumhuriyet Caddesi. There are hundreds of entertainment venues along the street. Bar Street is very crowded in summer, even though most of the places are closed in the winter, there are places that appeal to different entertainment concepts. Some of the venues have been in the street for many years which also has restaurants, clothing, souvenir, jewelry shops, selling local products.
For example, Korfez Bar, the favorite of rock lovers, has been serving at the same address for at least 20 years and Kule Rock City Bar for more than 10 years. In Bodrum Bar Street, which has a fast circulation in terms of businesses, many places open and close every year, so you may not find a place you liked in your next visit. Other long-standing attractions on Bar Street include Mandalin Bar, Veli Bar, Blue Bar. Mandalin and Blue Bar are also open in winter. Also you should read Best Bodrum Bars article.
---
Bodrum Center Markets
It would be a big mistake to leave Bodrum without going around the markets. In Bodrum center, two separate markets are set up two days a week, one for clothes and the other for food. The markets, set up above the bus station, sell clothes on Tuesday and food on Friday. The clothes market set up on Tuesday sells items such as local tablecloths as well as clothes, so it may be a good idea to take a look if you wish to bring back home something indigenous to Bodrum.
In the food market set up on Friday, in addition to all the products you can find in every market, centaury oil, which the local women of Comakdag make themselves, local olive oils, local olives and local delicacies such as seasonal Korek mushrooms are sold. Many people who come to Bodrum come to the market and take delicious local olive oils home.
---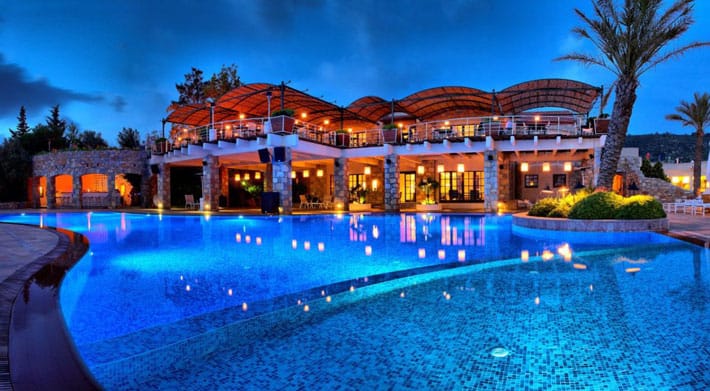 Where to stay in Bodrum City Center
Those who come to Bodrum especially for nightlife prefer Bodrum center hotels to stay. In the center of the district, there are famous chain hotels such as The Marmara Bodrum, Grand Yazici Boutique Hotel Bodrum, as well as local businesses. It would be accurate to say that there are options on offer for every budget and need you can check out hotels category for Bodrum city center hotels.
In fact, there are more guesthouses (pansiyon) in the center of Bodrum than there are hotels, it is possible to find a guesthouse in almost every corner of the center. Bodrum center guesthouses are one of the first choices of those who come to Bodrum especially to blend into the night life, and of course the fact that they offer accommodation with more reasonable budgets compared to hotels plays a role in the choice of guesthouses.
Roma Pansiyon is located on a side street opposite the Bodrum post office and is a good option for a stay with its antique Roman concept decoration and its magnificent castle view from its terrace. The Sade Boutique Pension in Kumbahçe neighborhood is very close to the bar street and with the Aegean-inspired decoration. With only 11 rooms, Sade Butik Pansiyon is an alternative you can choose among Bodrum center guesthouses. You can find more information about all these beautiful guesthouses in our Best Bodrum Guesthouses article.
---
Goodbye for now
We hope that our article will help you when you visit Bodrum center. You can also support us by sharing our article on your social media accounts or by following our instagram accounts. You can also find out about the delicacies you need to taste when you come to Bodrum by reading our article What to Eat in Bodrum.
Before finishing our article, we would like to invite you to our Facebook group called; Bodrum Travel Tips. This community's purpose is to share your Bodrum holiday experiences or ask other users for recommendations about Bodrum. Help the guests coming to Bodrum from both, abroad and domestically, by giving advices, suggesting places, sharing and providing information about places to visit.
We wish you an unforgettable Bodrum holiday…