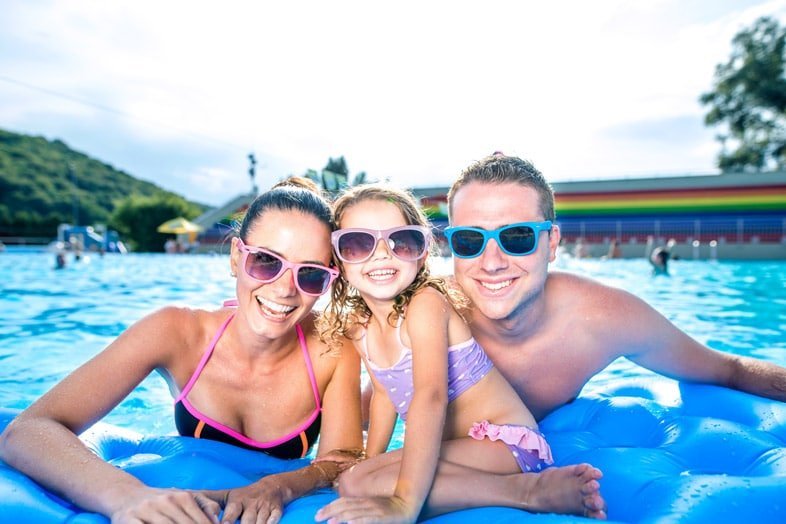 BODRUM'S BEST FAMILY-FRIENDLY HOTELS
Going on a holiday with the entire family can sometimes be tiring for parents. If you are not staying at one of the family-friendly hotels of Bodrum, you might end up looking forward to the end of your holiday. Fear not as there are many family-friendly hotels in Bodrum! These Bodrum family hotels come with many facilities: huge water slides, playgrounds, kids' clubs, animation shows, day-care services and more. Your children will surely enjoy their holiday most at a hotel with water slides.
BODRUM FAMILY HOTELS
While writing this article on Bodrum's family hotels, we made sure to include hotels with water slides. Both you and your children will enjoy a holiday at one of these family-friendly hotels. Here are some hotels in Bodrum with water slides.
---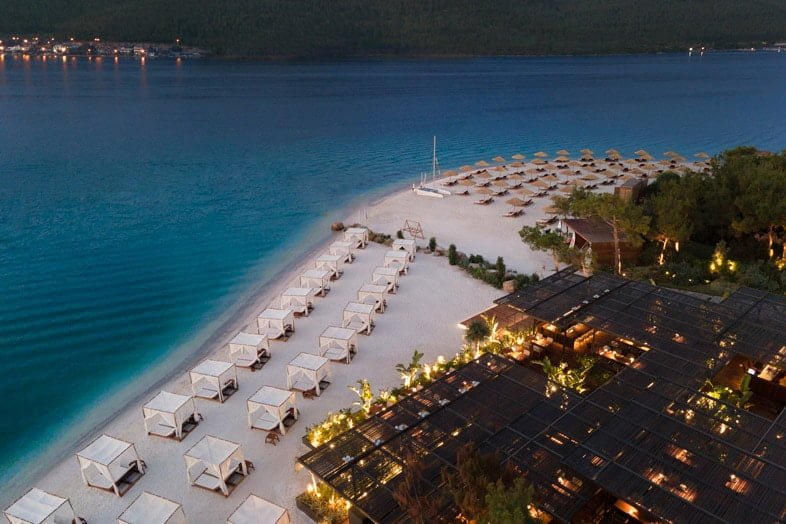 A WORLD OF FUN
LUJO HOTEL
We begin our Bodrum family hotels suggestions with the most luxurious one; Lujo Hotel. Lujo is a gigantic ultra-luxurious seaside hotel in Guvercinlik. The hotel is situated 15 minutes away from the airport and 30 minutes from Bodrum city centre.
With more than 20 different and comfortable room options, Lujo invites its guests to luxury. While crowded families can choose from one of the four different villa types with private pools, romantic couples will be drawn to exquisitely designed Forest Rooms. With 80% of its rooms offering full sea view, the luxury Lujo offers to its guests is not limited to its rooms. If you wish to get further information, we have given more details in our Bodrum's Most Luxurious Hotels.
Lujo Hotel serves selective tastes of Turkish, Mediterranean, Asian and Italian cuisines in 9 different, all-inclusive a la carte restaurants with amazing sea views. In addition, unique cocktails prepared by talented bartenders in 14 different bars and aged whiskeys served at Pablo Esco Bar await guests.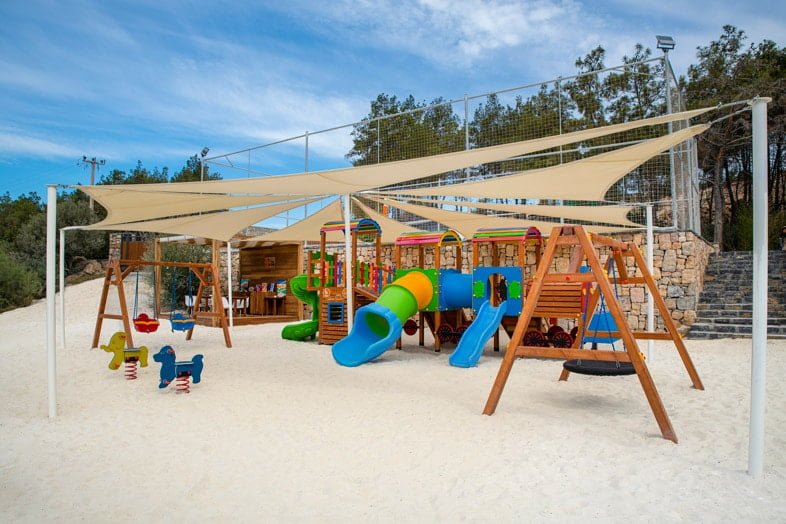 While having a lot to offer for adults, they have also created an unforgettable holiday environment for kids at Lujo Hotel. Kijo Club is a 4500-meter square meter space designed especially for kids aging 1-17. Kijo Club will be the kids favourite.
Hosting fun and educative workshops, music rooms, theatre, art rooms, science laboratory, Lego room, play room, laser tag area and more, Kijo Club is open between 09:00 – 02:00. There is a play room designed especially for children under 3 as well as a mini water park with two water slides. There are six water slides in the Aquapark, which we think will be a lot of fun not only for children, but also for adults with a young spirit.
There are also special toilets for children, cartoon movies and Play Station sets in your rooms. In addition, there are special menus prepared for children in all restaurants and a special food corner in the main restaurants.
There is somewhere suitable for everyone at Lujo's kilometre long beach. While Escape Beach is for those looking for some quiet time, Joy Beach is attracting families who want to build sand castles with their children. Those looking for a beach party will go to Indigo Beach Club.
As well as having an on-site nurse and a doctor, another advantage of this family friendly hotel is that it offers this dream-like holiday for free to kids up to 12 years old. You can see the best booking options for this most luxurious family friendly hotel through this link —> Lujo Hotel
---
HOLIDAY FOR THE ENTIRE FAMILY
KEFELUKA RESORT HOTEL
Another Bodrum family hotels recommendation away from the chaos of Bodrum's central is Kefeluka Resort Hotel.
Located in one of Bodrum's most beautiful and quiet bays, Akyarlar, Kefaluka Resort Hotel is 25 kilometres from the central of Bodrum and 60 kilometres from the airport. Do not worry though, the resort offers transfers from the airport.
There is a Mini Club designed especially for children 4 – 12 years in Kefeluka Resort. We are hoping that your children will be satisfied with the fun programs and activities organized for the same age groups. Special restaurants for children, water slide large enough to offer fun to all age groups, children's pool and activities such as art atelier and shows for children are enough to make Kefeluka Resort a complete Bodrum family hotels but that is not all.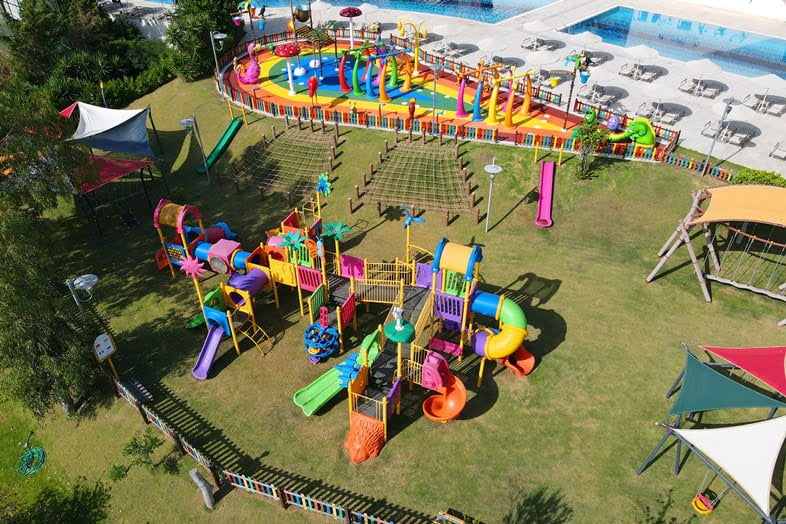 Kefeluka Resort has thought of grumpy teenagers too. Teens who are keen on sailing can set sail for the first time in Kefeluka Resort Hotel's sailing school. There are other fun activities such as water sports for teens, sailing, windsurfing, water-ski, wakeboard and canoe which will double their holiday fun.
We think Kefaluka Resort Hotel will be a great option for an unforgettable holiday for the entire family. There are seven different room options starting from standard rooms to prestige rooms. There are also five different restaurants, offering delights of Continental and Turkish cuisines.
Kefaluka Resort Hotel could be a good option for you which is amongst Bodrum hotels with water slides. For an unforgettable holiday you can see the best reservation options through this link ——> Kefaluka Resort Hotel
---
A GIANT AMUSEMENT PARK
VOGUE HOTEL SUPREME BODRUM
Vogue Hotel Supreme Bodrum serves its customers right on the shore of Torba. We wouldn't be exaggerating by calling Vogue Hotel Supreme Bodrum a giant playground. There are 25 water slides at the resort. The hotel, which offers different water slide alternatives for children and adults, have turned the resort into a giant amusement park.
Speaking of amusement parks, yes, there is an amusement park in the resort; Candyland. It is one of the most fun packed areas of the resort. There are many different, dazzling and exciting toys in this area. Toys which attract all ages, such as bumper cars, a carrousel, and a Ferris wheel will offer a dream holiday to your children.
Then there are dinosaurs! All children would love to see Vogue Hotel Supreme Dino Park. The park, which has 15 giant dinosaur models will impress adults and children alike. One of the main reasons we've added Vogue Hotel Supreme to our Bodrum family hotels is Candy Town.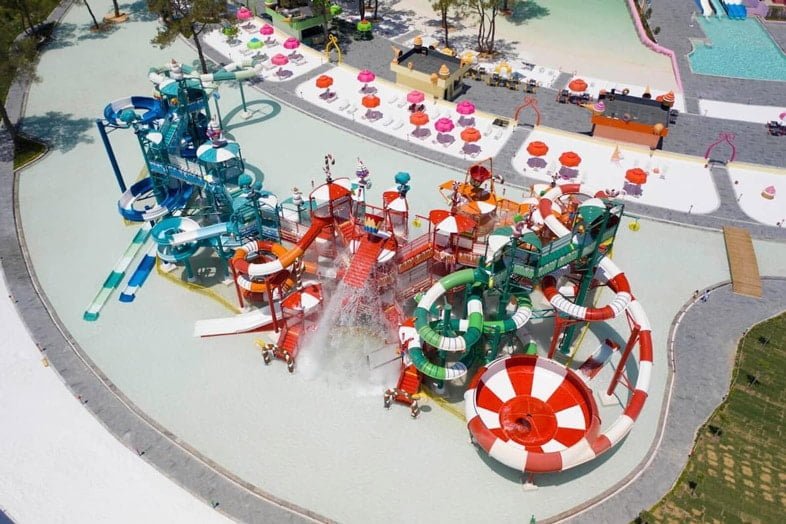 Candy Town, on the other hand, is a great play and education centre where your children are given the necessary training to have basic knowledge about certain professions and they can get Early Learning Centre certificates related to their field of interest. We loved the idea of Candy Town which is established in a 2500 square meter area. We hope that the education given for three different age groups will be of interest to you. For those thinking 'Are we here for fun or education?' we go on; how about 8D cinema? You have a chance to watch interesting movies adorned with impressive effects with your children.
While your children spend their energy on number of activities, you can make the most of the sparkling beach of Vogue Hotel Supreme Bodrum to enjoy the sun and dip in the crystal waters of the Aegean Sea.
Vogue Hotel Supreme Bodrum's 750-meter-long sandy beach is one of the areas where you'll spend an enjoyable time. You can taste the delicious samples of Turkish, Italian, Asian and Mediterranean cuisines in the resort's restaurants.
You have 12 room options in different concepts, you can also prefer to stay in one of the villas. You can see Vogue Hotel Supreme Bodrum's best reservation options through this link —> Vogue Hotel Supreme Bodrum
---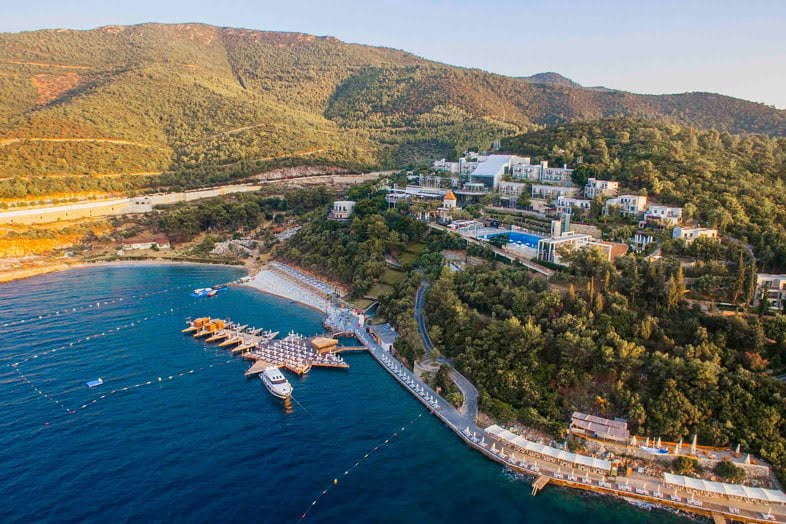 YOU'LL MISS YOUR CHILD
DUJA BODRUM
Those who's been to Bodrum before would know, you go past Duja Bodrum on the way to Bodrum's centre. It is about 10 kilometres from Bodrum's centre. Duja Bodrum, which is one of the largest resorts of Bodrum sits on 87 thousand square meters and has a very large beach.
The hotel, which offers ultra-all-inclusive concept, is very confident about this aspect. They say that all extra services that you may like are included in their ultra-all-inclusive concept: 92 main rooms with sea or garden views, 274 very chic Village Rooms and 54 Club Rooms. They also have three villa options, called Grand Suit. These numbers should give you an idea about the size of the resort.
Let's get to the most important point, which led you to this article. The resort has a very successful Kid's Club which offer a safe and comfortable environment for kids to have fun while learning. Children at the ages of 4-12 get together at the Kid's Club to have fun with various sports activities, pool games, creative and fun games while you are enjoying yourselves at the beach.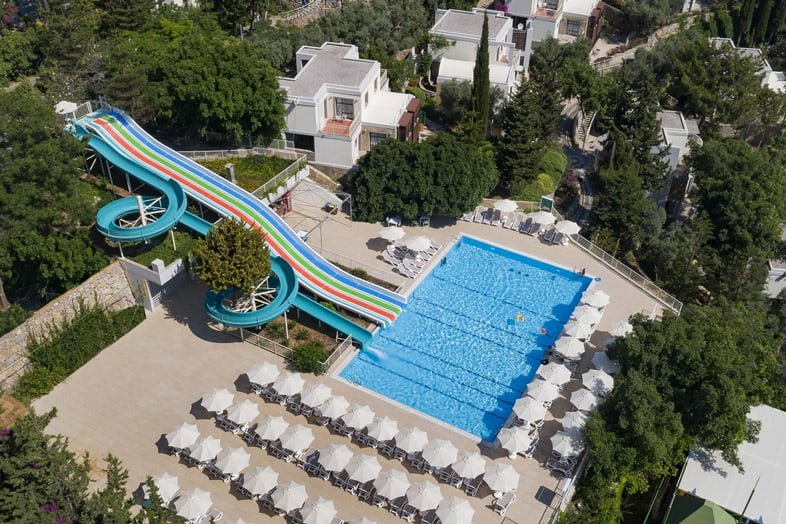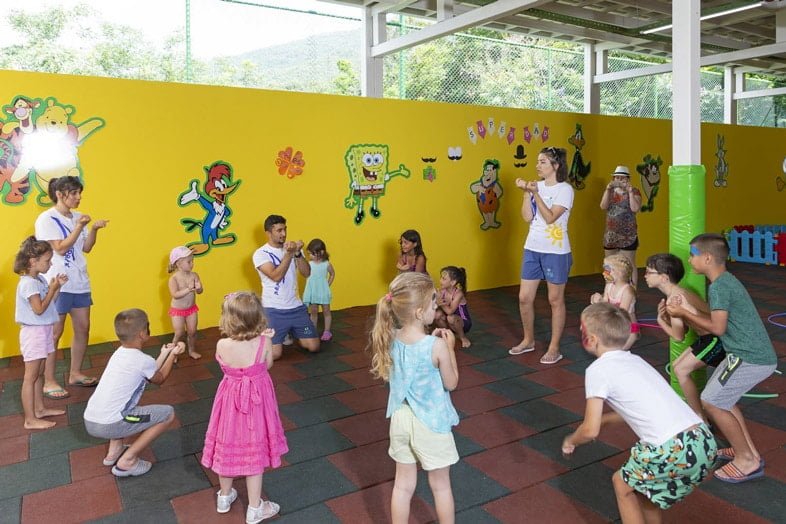 The resort has six outdoor and indoor swimming pools of various sizes. Of course, there's a separate pool and a large, fun packed water slide. You can have fun on these water slides as a family.
There are also activities throughout the day at Duja Bodrum. You can pick one of the animation shows for all ages, shows, colourful activities and live music concerts most suited to your taste and enjoy yourself.
If you like water sports, all you need to do is to stop by the water sports station. You can both enjoy the sea and join fun-packed activities with Duja's professional waterpots team. For those who doesn't like crowds, Duja Bodrum has an ideal beach. There is a very large area to sunbathe in Duja Bodrum's 370 square meter beach.
One can't have fun on an empty stomach. As well as the rich open buffet restaurant, you can taste delicacies of global cuisines at Duja Bodrum. You can choose from the Italian, Mediterranean, Mexican, Turkish and Asian restaurants and sit down to enjoy the delicious food.
Finally, we would like to mention the extensive SPA of the resort. We can recommend Duja Bodrum to all holidaymakers both as a family friendly hotel and an extensive all-inclusive hotel. You can see Duja Bodrum's most suitable booking options through this link —-> Duja Bodrum
---
A UNIQUE BAY
BLUE DREAMS RESORT & SPA
One of Bodrum's most beautiful bays, Torba, is hosting Blue Dreams Resort & Spa. Blue Dreams Resort & Spa is a five-star resort which is right by the sea on a 60,000 square meter lush land with a 700-meter private beach.
Blue Dreams Resort & Spa's 291 rooms which look at the well-kept landscape, five outdoor and one indoor pools, tennis court and comprehensive SPA service which rejuvenate your body are the privileges on offer.
Blue Dreams Resort & Spa has a fun-packed aquapark offers plenty of fun to all ages with Space Hole, Multi Slide, Compact Slide and Wave Slide.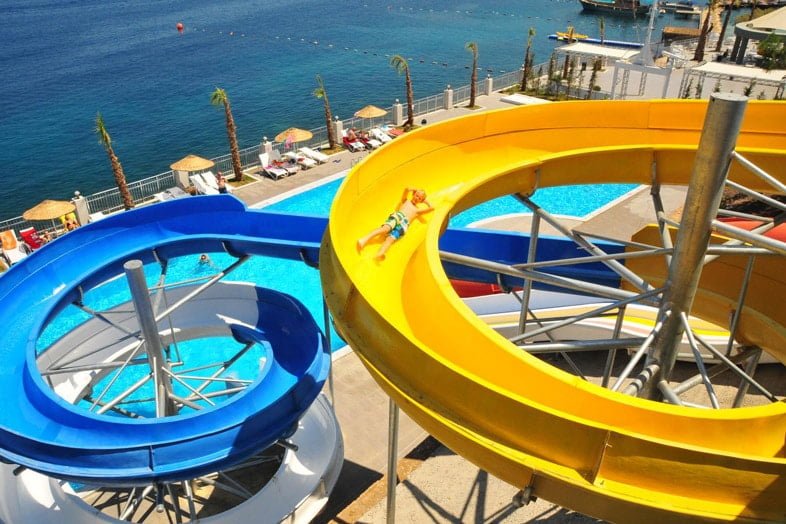 There are six pools in the resort including infinity pool, main pool, terrace pool, aquapark pool, indoor pool and kid's pool. They also have a Kids Club for 4–12 year-olds and animation shows which you can enjoy.
Blue Dreams Resort & Spa has four restaurants. While La Kebap offers the unique taste of Turkish cuisine, Halicarnassus a taste of Mediterranean and La Locanda a taste of Italian cuisine, there is also a Snack Restaurant in the resort. There are four different bars in the resort, including the Disco Bar.
You can reach the best booking options of one of the most enjoyable family friendly hotels, Blue Dreams Resort & Spa, located in Torba, through this link —-> Blue Dreams Resort & Spa
---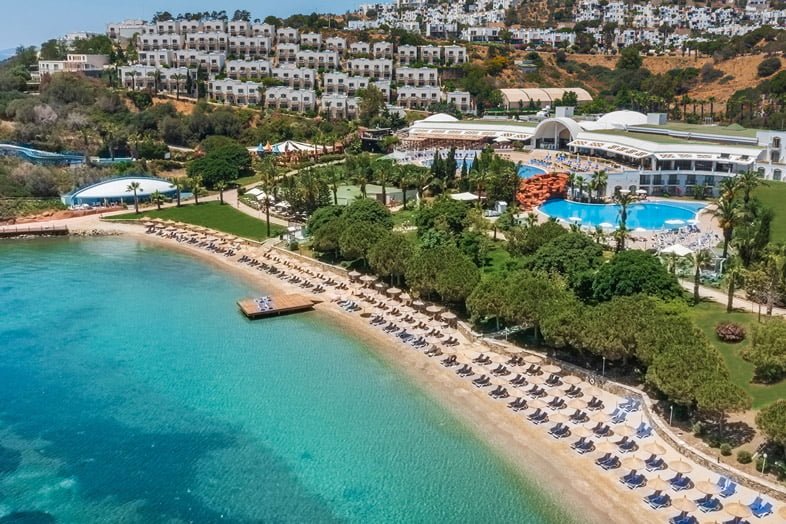 THERE'S NOTHING LIKE A FAMILY HOLIDAY
YASMIN RESORT BODRUM
Yasmin Resort Bodrum is located in the little-known neighbourhood of Kadikalesi. The sandy beach and sea make Kadıkalesi, a small town 22 kilometers from the center of Bodrum, a special place for us. The hotel, which serves its customers on ultra all-inclusive basis, has an approach appealing to all ages. Yasmin Resort Bodrum is not a luxurious hotel but their service is and they pay attention to hygiene as they should do which makes it a suitable recommendation for our Bodrum family hotels.
Hotel staff are warm and welcoming. Its kilometre long beach and comfortable rooms will satisfy you. The hotel offers 1140 beds in three different accommodations options. Even when the hotel is fully booked, you will not feel cramped in its large grounds which sits in 40 thousand square meters.
They have a fun loving, dynamic animation team which your children will want to invite home. There is a Mini Club for kids 4-12 years of age. Here, they offer activities, a playground, children's disco and children's shows.
Yasmin Resort Bodrum is one of the water slide hotels with a considerably large aquapark on the grounds. Offering fun for all ages, the water slides will be the entertainment centre for your kids. There are four pools, including one indoor pool.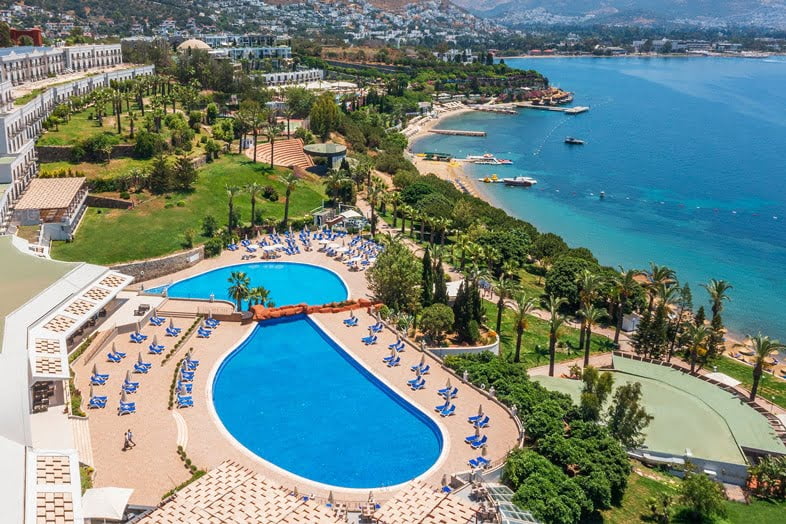 To mention the few of the amenities for adults; cabanas located next to the jetties on the kilometre long beach are await you. There is a main restaurant which serves an open buffet, a restaurant which offers Aegean cuisine, an Italian restaurant overlooking the view and another restaurant offering delicacies of Ottoman cuisine. Though not exactly a luxurious resort, Yasmin Resort Bodrum offers a luxurious service for adults too.
That is not all, of course; an international animation team offers an entertaining program for all tastes and ages. Dance shows, parody shows and skits, competitions, beach parties, theme nights, live music concerts each week and gala night are a part of the entertainment program. Yasmin Resort Bodrum also has a basketball, volleyball and a tennis court up to international standards, an indoor gym, an extensive SPA and fitness saloon to top it all up.
Yasmin Resort Bodrum has all amenities offered by a luxurious hotel at more reasonable prices. You can see the most suitable reservation options through this link —-> Yasmin Resort Bodrum
---
ENJOY THE FUN
LA BLANCHE RESORT
La Blance Resort Bodrum is located in one of our most favourite neighborhoods, Turgutreis. It is at a walking distance to the centre of Turgutreis and you can reach everywhere on foot. La Blance Resort Bodrum, which works in all-inclusive basis, is going to be a great choice for adults who like as much fun as the kids.
First, let us explain why this is one of our recommended Bodrum family hotels. The hotel has a dedicated play area for kids, a kid's pool, a large water slide and a children's club. They also have supervised child minding service and activities which is offered at an extra charge.
"U" shaped hotel has a very large pool in the middle. Rooms facing this pool are slightly more expensive than the others. But the hotel offers so much fun, you'll only be using your rooms to sleep at night so no need to worry so much about a room facing the pool.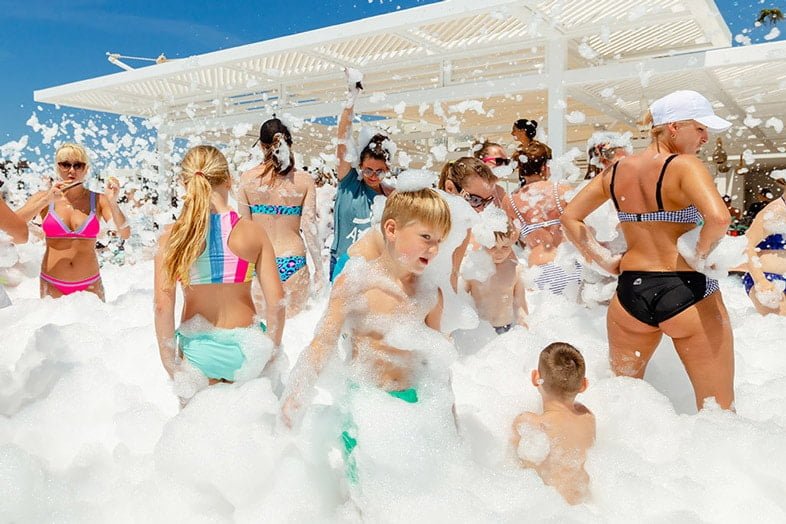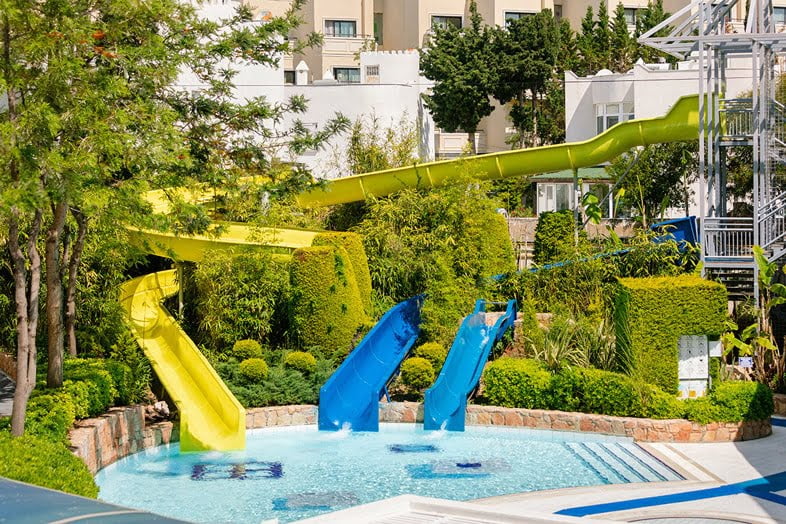 Though there's a small road between the hotel and sea, the hotel has its own beach which is large and comfortable. Its jetty with private booths looks enjoyable and there's a restaurant on this large jetty area.
The hotel offers entertaining games, competitions and activities not only for children, but for the adults who wants to have as much fun as the kids. La Blanche Resort has an open tennis court, a SPA, an indoor pool, sea vessels with engines, water toys, a sports centre and a night club.
Hotel's four different restaurants consists of Chang Ga which offers Asian cuisine, La Merla offering Aegean cuisine, Mardin offering Ottoman cuisine and Gardenya Restaurant which offers 800 seats, sea view and an international menu suitable for all tastes.
La Blanche Resort is flocked by local and foreign tourists every year but it's mainly favoured by Russian and German tourists. You can reach the most suitable booking options for La Blanche Resort through this link ——> La Blanche Resort
---
We hope our article on Bodrum Family Hotels will guide you when looking for a hotel. We picked up Bodrum hotels with water slides to recommend. You can reach all Bodrum family hotels through this link. We think that you'll also find our Bodrum Weather Guide article very useful while making your holiday plans. Because Bodrum is an ideal holiday destination not only in June and July but in September – even October.
We suggest you to check out 'Best Bodrum Family Hotels' category of TripAdvisor to see Bodrum's other family friendly hotels. If you cannot find the hotel that you're looking for amongst the Bodrum hotels with water slides we have recommended, perhaps you can find it in one of our articles below.
We wish you a fun-packed, happy holiday with your children…