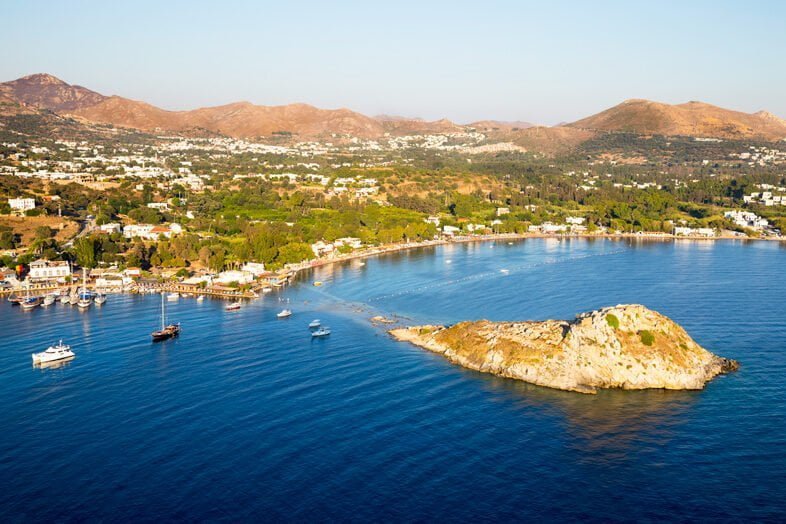 GUMUSLUK GUIDE
Bodrum Gumusluk is one of the first places that come to mind in Bodrum. The small town has become a brand with its unique atmosphere, its fishermen lined up at the sea front and Gumusluk International Jazz Festival where important artists from Turkey and around the world take stage. Gumusluk is a 'must see' destination if you are on holiday in Bodrum. We suggest our readers to spare at least a day to visit and enjoy this peaceful village that is under protection as a historical archeological site.
---
Where is Gumusluk and How to Get There?
Bodrum is a peninsula and Gumusluk is on the farthest west side of the peninsula so it is not very close to the town center. There are buses that run regularly from Bodrum bus station to Gumusluk. It takes 45 minutes to get to the town which is 23 kilometers away. The buses go on until late at night in the summer but finish early in the winter. The same applies to buses leaving from Gumusluk to Bodrum.
If you are planning on travelling by taxi, you should know that it will cost at least 100 Turkish liras as it is a long trip. You could also take buses from Turgutreis and Yalikavak that leave from the bus stations. Turgutreis is also a neighborhood that is lively in the winter and is the closest central spot to Gumusluk. You can find more information on our article Bodrum Transportation Guide.
---
Places to Visit in Gumusluk
Gumusluk has thousands of years of history. Lelegians and Persian satrap Mausolos who we mentioned in detail in our article Mausoleum of Halicarnassus, have left important marks on the region. Mausolos built Myndos around this area which was later buried under the water with the earthquakes. You would walk over the ruins of the town when touring Rabbit Island, the most popular touristic spot, but stepping foot on the island isn't allowed anymore.
You could still see the ruins by taking the road to Rabbit Island or snorkeling. Ecclesia is another spot to visit in Gumusluk. The 400-year-old Orthodox chapel built from rocks is now turned into an art center. During the summer there are many concerts held here such as jazz and classical music concerts where artists from all over the world perform. So Ecclesia Church is one of the most important and special places in the town both as a historical building and an art center.
---
Where to Swim in Gumusluk?
Gumusluk is a large bay. As you get off the bus and walk to the beach, you will see many fish restaurants to the right side. If you walk past those restaurants all the way to the end of the bay, you will get to the public beach. There are no cafés or restaurants here and there aren't sunbeds or sheds. If you plan on swimming here, you can get snack and drinks from the shops on the way to the beach. The sea is shallow and there are seaweeds here.
When you get down to the beach if you walk left there are many venues here with their private beaches. You could sunbathe and swim at Club Gumusluk's private beach, one of the most popular venues in Bodrum. They also serve to the beach so you could have drinks and food here. If you arrive there at noon, you might not find sunbeds as most venues on the beach will be full.
You would have to get there early to find a sunbed but if you don't want to swim at noon when it's the hottest hours of the day, you could go there early and put down a towel on a sunbed and spend time at the restaurant. At Club Gumusluk and the other venues on the beach, there is a minimum spending limit if you want to use their sunbeds and umbrellas. If you walk past these places, there is a part at the end of the beach where you could swim for free but just like on the other side, there is seaweed here.
---
Gumusluk Hotels
Even though it is a small town, Gumusluk is a very popular destination. There are many hotels as thousands of people come here for holiday in the summer. Oda Bodrum is one that stands out with its comfort. The most important advantage of the hotel is that it is within walking distance to everywhere. There are rooms for two, three and four at Oda Bodrum where there are shared terraces and bicycles for the use of the guests. For a relaxed and enjoyable stay, Oda Bodrum is an ideal alternative.
Otel Gumusluk is another suggestion of ours. 30 meters away from the sea, this hotel has a warm atmosphere and a large garden. The hotel with 36 rooms has a small pool too. Their breakfast and dinner menu offer delicious food. The hotel has a bar and its own beach. If you are planning a holiday in Gumusluk you should consider this nice, clean hotel.
Our final suggestion is Arion Resort. With villas right by the sea offering a sea view, Arion Resort is on National Geographic's list of the Top 10 Places Around the World to Watch the Sunset, which is enough reason to stay here. The rooms and the hotel have been decorated and designed to make the guests feel at home. The hotel is also a good place for a fun time as they have DJ performances at their private beach. They also have delicious food.
You can find more Gumusluk hotel suggestions at this link.
---
Gumusluk Guesthouses
Guesthouses are the first choice for many of us as they have a more relaxed atmosphere than hotels and reasonable prices. 5 minutes walking distance from the sea front, Myndos Bed and Breakfast is a good option with a friendly atmosphere and reasonable prices. The single-floor rooms surrounded by greens offer a relaxed stay. Their delicious breakfast is served in the lovely garden. The rooms of the guesthouse which is very close to the sea have a bathroom and air-condition.
Arriba Pansiyon is another guesthouse in Gumusluk. The rooms of the guesthouse which is by the sea have a balcony, bathroom, air condition and wi-fi. The guesthouse has its own beach where you can use sunbeds and umbrellas. There is also a bar and a restaurant. They have apartments available too.
You can find other popular guesthouses in Gumusluk at this link.
---
Gumusluk Breakfast Places
Most hotels and guesthouses in Gumusluk serve breakfast but we would like to make a few recommendations for those who want something better than a hotel breakfast. Limon Gumusluk is the first place that comes to mind as a breakfast spot. People come to Gumusluk just to have breakfast here. Breakfast is prepared using local and homemade ingredients at this lovely venue surrounded by greens. Their most popular item on the menu is the lemon pastry. Limon Gumusluk also stands out with it's amazing view. You could come here for a lovely breakfast with a view.
Our second suggestion is Tel Dolap. Sitting on a hill overlooking the amazing view of Gumusluk, this venue serves dinner as well as breakfast, but we wanted to especially suggest their breakfast as it is delicious. A delicious breakfast with homemade jams, local cheeses, fresh greens and olives along an amazing view is more than enough for a nice start to the day.
Our final suggestion is a tiny patisserie on the left side of the sea front, a few meters past the tea garden. All their products are delicious, especially the pastry with herbs. You could buy pastries from here and enjoy it along a fresh cup of tea at the tea garden. They also have delicious Turkish coffee at the tea garden that you could enjoy after your breakfast.
---
Gumusluk Restaurants
The first places that come to people's mind are the fish restaurants when thinking of dining out in Gumusluk as this beautiful town is famous for its fish restaurants. You could dine at Fenerci Restaurant to enjoy delicious fish with raki, overlooking the view of Rabbit Island.
Braised angler fish is a popular dish at this reasonably priced restaurant. Mimoza is another one of our suggestions. Right by the sea, the restaurant has an amazing view especially at sunset, so this is the right place if you want to enjoy a romantic meal with your company. You will enjoy drinking raki along with delicious octopus, calamari, sea food, fish and fresh mezes at Mimoza.
But of course, you don't necessarily have to go to a fish restaurant. Next to the tea garden, Dalgic Restaurant has homemade dishes such as Turkish pancakes, soups, Turkish ravioli and stuffed peppers. This restaurant is ideal for a lunch. The Turkish pancakes are delicious, homemade foods are average but with reasonable prices and the service staff is friendly.
After dinner, don't forget to have lokma (Turkish doughnuts in thick syrup) from Lokmacı Ana, located on the way down from the bus station to the seafront. It is not a proper holiday in Gumusluk if you don't walk along the sea front while snacking on lokma.
---
Gumusluk Entertainment Venues
Here is what's most exciting about Gumusluk; its night life! Gumusluk is livelier at night than you would imagine. There are many venues along the sea front with different concepts. If you wish to spend the night at the beach, you might get a headache from the mix of music coming out of the bars. The most popular entertainment venue here is Club Gumusluk, were we have suggested earlier for its beach. The venue has both a restaurant and bar. You could enjoy your evening with nice drinks and music at the bar.
Sometimes they host concerts at the venue. Jazz Café is another entertainment venue that has become the symbol of the town. On the far-left end of the sea front, you could listen to a nice live performances at the bar where they mainly have jazz performances. Selale Sehnaz Sam, Neset Ruacan, Quartet and Ali Tolga Band are a few artists that took stage here last summer. Jazz Café deserves to be at the top of the list for an enjoyable evening along with great music.
We have mentioned before that Gumusluk hosts a very important festival; Gumusluk International Jazz Festival. Important artists from around the world take stage at the concerts which are held from June to September. For detailed information about the festival, you could visit gumuslukfestival.org.
You can follow the events in Gumusluk from our Events page or Instagram account.
---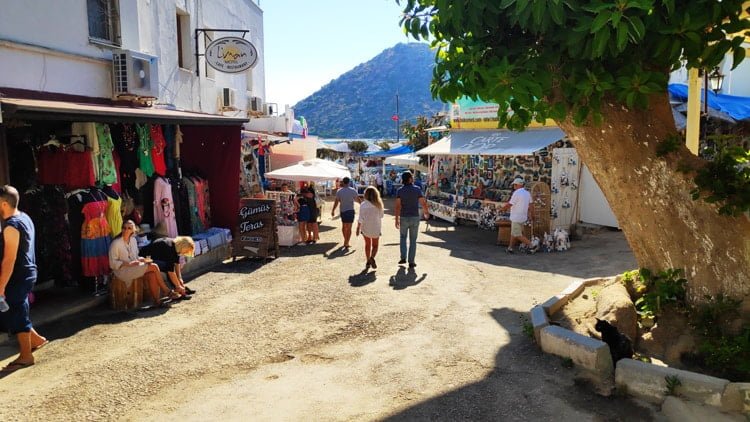 Gumusluk Market
Like many neighborhoods in Bodrum, Gumusluk has markets too. So far, we have only mentioned the sea front but there also is a part of the village inland where the markets are set. You must visit the market set in Poyraz Street. At this small market, you can buy delicious local olives, cheeses and olive oil to enjoy at home. This market is set on Sundays.
On the way to the market, the road going up from the sea front, don't forget to have a look at the jewelers and boutique shops. You can find lovely handmade jewelry, authentic clothes, handmade sculptures and bibelots at these small shops. If you are interested in ethnic clothes, Etnika Boutiqe will certainly catch your eye. You might find this shop interesting where they sell ethnic kaftans, blouses, dresses and trousers as well as accessories such as bags, hats and bikinis.
We have shared everything we know about Gumusluk to give our readers a better idea. Have you been to Gumusluk? If you have, we would appreciate you sharing your thoughts and experiences about venues we have and haven't mentioned in this article at our comments section.
Before finishing our article, we would like to invite you to our Facebook group called; Bodrum Travel Tips. This community's purpose is to share your Bodrum holiday experiences or ask other users for recommendations about Bodrum. Help the guests coming to Bodrum from both, abroad and domestically, by giving advices, suggesting places, sharing and providing information about places to visit.