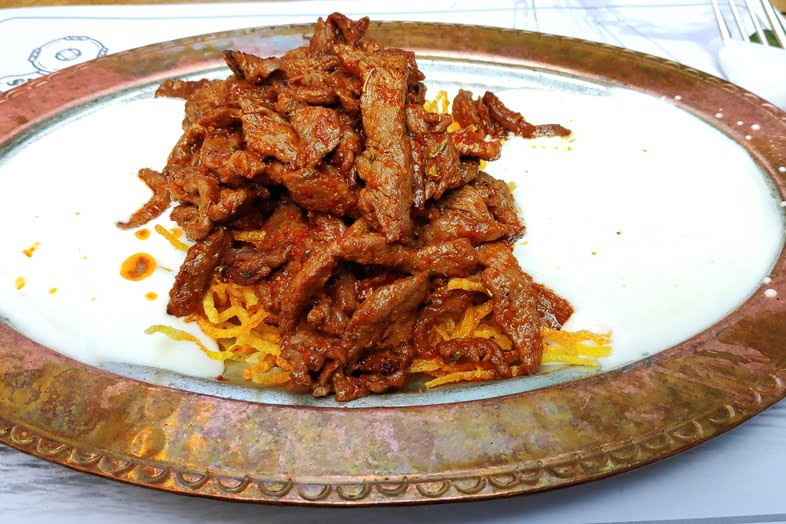 WHERE TO EAT BODRUM COKERTME KEBAB?
Ensued from the kitchens of Bodrum and enjoyed all around the country, Bodrum's Cokertme Kebab is a delight that no one can resist with crispy shoestring potatoes, covered by garlic yogurt and julienne sliced tender meat. Though nowadays they make Cokertme Kebab with chicken, the original recipe is made with sirloin.
The little amount of garlic will not bother you. A portion of the dish is around 600 calories but with a tour around Bodrum, you can easily burn these calories. If you are thinking of where to, we got that covered, we suggest you take a look at our Bodrum Tour Guide article. Besides, as you will be on holiday, we hope that you will take a break from your diet.
On this article, we will suggest a few restaurants in Bodrum where you can enjoy Cokertme Kebab. You can also find a recipe from the chefs of these restaurants at the end of our article. We should warn you before you begin, this will work out our appetite!
---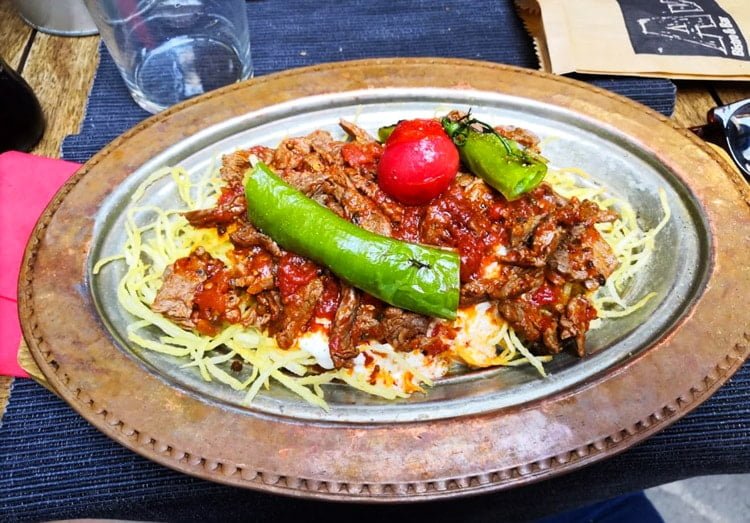 Serving its customers at a 160 year old stone house, Avlu Bistro has a very chic ambiance. If you are planning for a special date with your spouse or partner, Avlu Bistro is the right place for it. At this venue, where they pay special attention to service and presentations, you can taste one of the best renditions of Bodrum's Cokertme Kebab.
The dish is one of the best-sellers and during high season, they serve around 30 portions of it a day. A big part of their customers are tourists. Along with this dish that is made with sirloin meat, they recommend you enjoy a glass of red wine. They only serve local wines at the restaurant which is their way of showing the high-end wine production in Turkey.
Crispy shoestring potato topped with strained yoghurt and 180 g sirloin cooked in its special sauce. The portion of this dish, which waters ones mouth even when describing it, will fill you.
You will want to dive into this plate as soon as it arrives on the table but be careful! The special plate which it is served on gets heated before service. Don't get too excited and burn your hands! You can enjoy Cokertme Kebab for 65 TL at Avlu Bistro.
---
One of the first restaurants that come to mind in Bodrum, Sunger Pizza is located across Bodrum Marina. Even though they are named as a pizza restaurant, they have a wide range of options on their menu. One of the most preferred dishes on this menu is of course Bodrum Cokertme Kebab.
Offered both with beef and chicken, the most preferred version of Cokertme Kebab is still beef. They serve around 25-30 portions a day. When we asked the owners what the customers prefer to drink to accompany the dish, the answer was beer, wine or coke. If you are to order a salad with it, the restaurant's suggestion is the seasonal salad.
The price of this dish which is served hot on special Ottoman-style plates is 59 TL. The restaurant is popular among both locals and tourists, you might have difficulty getting a table during high season.
---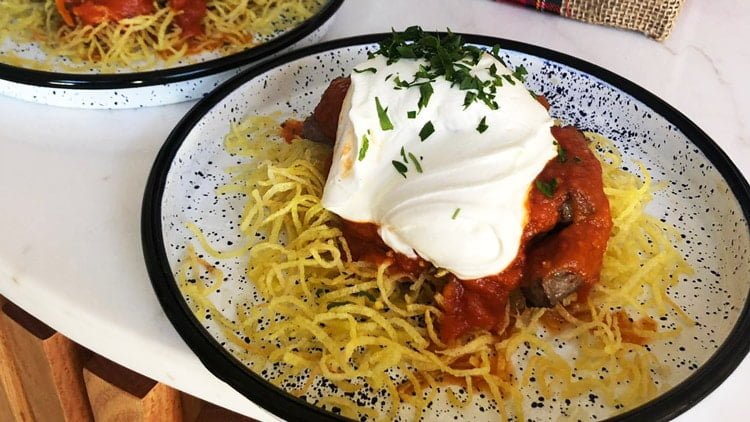 Havan'dan Bodrum is located at the end of Kumbahce beach. We could say Havan'dan is a modern Turkish restaurant where the dishes are made even more delicious with modern touches. You must go to Havan'dan Bodrum to try these delicious dishes. We should also mention that Havan'dan Bodrum has a branch in Istanbul.
Let's get to our point; Cokertme Kebab. You can have Cokertme Kebab, made with beef only, on Wednesdays at the restaurant because the menu changes every day. They share their menus and delicious images of the food on their social media account (instagram: @havandan).
They don't apply any marinade on the kebab that is made with sirloin. Julien sliced sirloin over crispy shoestring potato topped with tomato sauce with lots of garlic and finished with yoghurt. Unlike other restaurants, they don't make any changes to the yogurt.
When asked what to drink with it, they reply with red wine or beer. Service manager Fatih suggests that local red wine from Malbec grapes will turn the dish into a feast. They serve local wines at the restaurant. You can have Cokertme Kebab for 54 TL at this modernized local diner. We must say beforehand, you will have a hard time picking the Cokertme Kebab when you see the other Turkish delicacies served at the restaurant!
---
Serving its customers on Ataturk Street in Bodrum, the restaurant is mainly focused on kebabs. Their love for the job reflects on the quality of service. At Otantik Ocabasi, you can taste not only Cokertme Kebab but all sorts of kebabs special to Turkey. You can eat all kinds of kebab and meat dishes here that are prepared with special meat that comes from Balikesir.
Otantik Ocakbasi is a must for those, local and tourist, who want to taste Turkey's delicious kebabs. If you want to taste delicious kebabs on your holiday, this is one of the best places for you.
At Otantik Ocakbasi, they make both chicken and beef Cokertme Kebab. Of course, the guests mostly prefer the beef Cokertme Kebab. The kebab dish made from sirloin is composed of crispy shoestring potato, garlic yoghurt and julienne sliced sirloin cooked in tomato sauce.
Otantik Ocakbasi marinades the strips of sirloin with their special sauce for a day. The shoestring potato is fried in sunflower oil and placed on the service plate. The chefs at the restaurant note that: "If you put the yoghurt on top of the crispy potato beforehand, the potatoes will get soggy. If you put the yogurt just before service, the potato will preserve its crispiness."
Otantik Ocakbasi suggests that red wine is ideal to accompany the dish when asked what to drink with the meal. They also add, Okuzgozu and Bogazkere red wines are the best to enjoy with the dish. The managers of the restaurants mention that raki is also highly preferred by their guests.
If you want to have a side, 'Gavurdagi' salad here is amazing. Even if you don't need to order sides, we suggest you taste this delicious salad. We must mention that they serve mini- Lahmacun as soon as you are seated at your table. Beef Cokertme Kebab is 64 TL and chicken is 52 TL at the restaurant which is open all year round.
---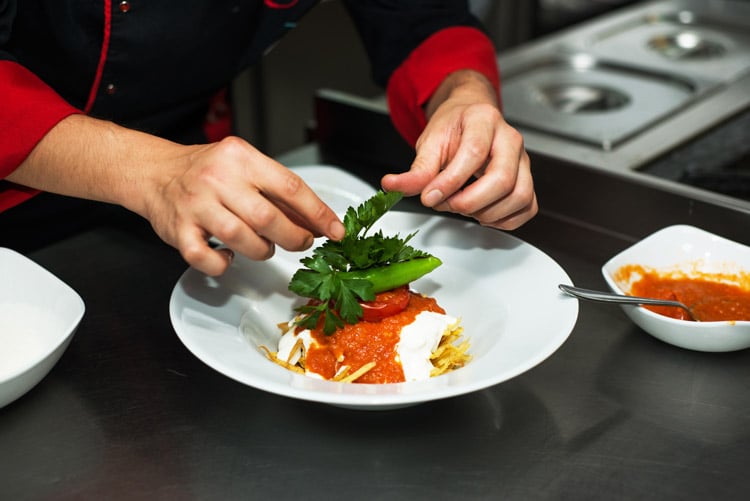 Cokertme Kebab Recipe
To prepare Bodrum Cokertme kebab, use beef meat, sirloin is a delicious option. 200 grams of meat is enough for a portion.
Use frying potatoes for the shoestring potato that you will place at the bottom of the dish and make sure it is crispy. After slicing the potato thinly, place in a bowl of water for a while. The chefs that we have spoken to suggest that this will remove the starch in the potato and increase flavour. If you have a large grater, you can grate the potatoes to obtain thin shoestring potato. If you don't have a grater, slice the potato in thin rounds and cut them as thin as matchsticks. This will take some time, but we have also tried it and it worked out great!
Restaurants use a special equipment to prepare the potatoes. Using strained yoghurt instead of normal to pour over the potatoes will increase flavour. We have come across a few different recipes where in some they suggest adding a small amount of water to strained yogurt to give liquidity while in others strained yogurt is mixed with normal yoghurt to make it runnier and more flavourful. The choice is up to you. At Havan'dan Bodrum, they don't apply anything to strained yogurt and place on the potatoes as it is.
Some places add the garlic to yoghurt while at the others it's added to butter while cooking the beef or to their tomato sauce. It is entirely up to you.
After slicing the 200 g sirloin in julienne strips, sauté in lots of butter and add salt, black pepper, thyme and chili powder. The chefs that we have spoken to say that the meat doesn't need to be marinated as sirloin is a tender meat but at Otantik Ocakbasi, they marinade the meat in their special sauce for a day.
You can prepare a tomato sauce to pour over the strips of meat when serving. If not, add some tomato sauce to the meat when sautéing. Otantik Ocakbasi adds julienne sliced red peppers and green pepper when sautéing the meat.
The service of the dish is important as well! Place your service plate in the oven with the shoestring potatoes. This way, your dish will remain warm as you are eating it. Add the yoghurt on top of the potatoes and the meat on top of the yoghurt. You can serve it with cherry tomatoes or rocket if you wish so…
---
Cokertme Kebab with Chicken
Though original Bodrum Cokertme Kebab is made from beef, most places also make it with chicken too. The preparation of the chicken version is no different. They just use chicken breast instead of sirloin. Not all restaurants make the chicken version but when we asked to the restaurants that do, they said the chicken version is also highly preferred. You can try chicken Cokertme Kebab at Sunger Pizza and Otantik Ocakbasi.
---
What to eat and drink with Cokertme Kebab?
You don't really have to eat something else with Bodrum Cokertme Kebab. The dish is very filling on its own but if you want to eat it with something you could have seasonal salad. A few pieces of cherry tomato and some rocket would also be enough. On what to drink, the restaurant owners we have talked to all suggest wine, the second option is beer. If you don't consume alcohol you could have coke, but we highly suggest you write off coke. Instead of coke, spring water with lemon is an ideal option.
You can be sure to eat delicious food on your holiday in Bodrum. Don't get back from Bodrum without eating fish. Bodrum Fish Restaurants article should give you an idea on restaurant choices. If you haven't tried Bodrum's doner before, give it a try for sure. You should have a look at our article 'What to Eat in Bodrum?' and put away the question for good.
We wish for a lovely holiday with your loved ones. We are looking forward for your restaurant reviews on our comment section.