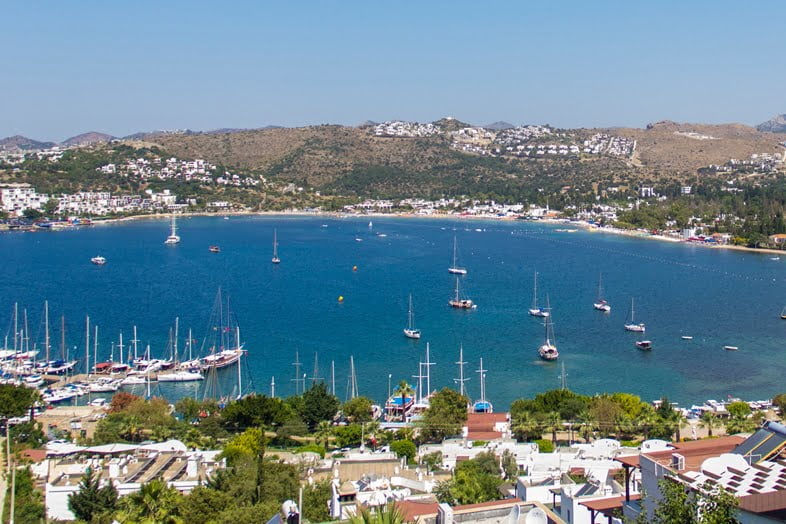 Where is Bitez? Places to See in Bodrum Bitez
Bitez is one of the most known neighborhoods of Bodrum, how could it not be? The fact that its name is mentioned in the famous Cokertme folk song, of course, makes people who come to Bodrum wonder about this special and beautiful neighborhood. Of course this is true for the Turkish tourists, but in summer it is flooded not only by domestic but also foreign tourists. In fact, many local and foreign tourists go directly to Bitez when they come to Bodrum and do not leave during their holiday in Bodrum.
With its magnificent beach, Bitez offers the opportunity to do everything expected from a holiday, without actually leaving here. With its hotels, restaurants and bars lined up along the beach, water sports centers, and beach clubs, Bodrum Bitez has everything you could wish for to have a great holiday experience. Bitez, which started to develop rapidly with the moving of the Bodrum Courthouse to this neighbothood a few years ago, somehow managed to maintain its rural atmosphere and truly deserves this popularity.
---
Where is Bitez?
It's 7 kilometers from the centre of the town and there are public buses departing to Bitez from Bodrum bus station. It can take about 20 minutes to get from Bodrum to Bitez during the busy summer period. The buses are frequent and run until later in the summer evenings while they are less frequent and stop running earlier in the winter months. If you are driving with your own car, you will need to leave Bodrum main road, turn left from the Bitez junction and follow the road to bitez.
---
Where to Stay in Bitez?
Bodrum Bitez is one of the peninsula's most popular locations in terms of accommodation. There are hotels, pensions, boutique hotels and even camping areas. The fact that accommodation alternatives are so wide plays an important role in people who have different expectations from vacation. Hakan Hotel, which we describe in detail in our Bodrum Boutique Hotel Recommendations article, is one of the very nice boutique hotels located here. Hakan Hotel, which is open all year and is appreciated for its breakfast, is ideal for a quiet holiday.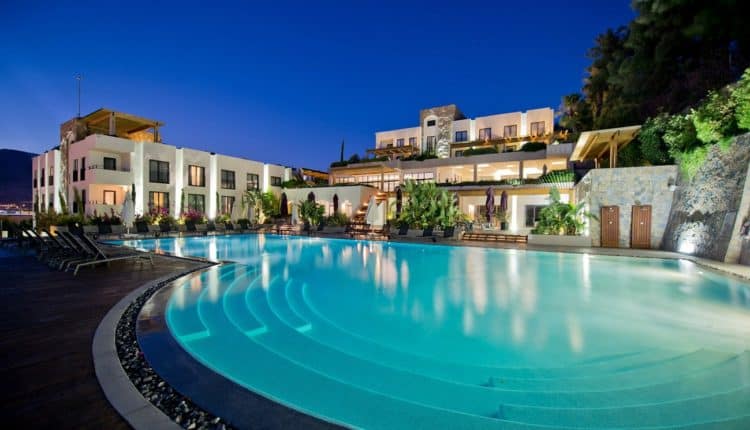 The 3-star Blue Bay Hotel on the seafront is a place we can recommend to stay with its beachfront location, swimming pool, comfortable rooms, and they accepts pets. For families with children, we can recommend Garden Life Hotel. With 1 + 1 and 2 + 1 family rooms and many facilities for children, the hotel can be preferred for a great holiday with children.
Ramada Resort Bodrum is also one of the most beautiful hotels of Bitez. Altough not located by the sea, Ramada Resort Bitez is a reasonable option for those who want to have a comfortable accommodation experience in with its modern designed comfortable rooms, view and high quality service Camping enthusiasts can choose Cinar Tent Caravan Camp in Bitez or Bodrum Bitez Camping – Caravan. Both camps have all the facilities to make campers feel comfortable. Of course, these are just a few examples, you can see other featured Bitez hotels from this link.
---
Where to Go for Breakfast in Bitez?
Having breakfast on the beach here is really incredibly enjoyable. It is an indispensable activity for those living in Bodrum to have breakfast on the beach, especially on weekends. Tourists who go to Bitez once and enjoy having breakfast on the beach, of course, do not leave without experiencing this pleasure every time they come.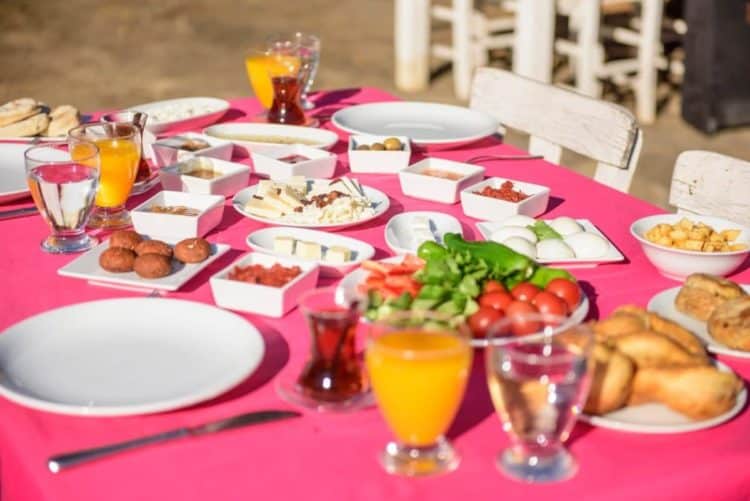 So here is the answer to the question of where to go for breakfast. Limonota Cafe is one of the most famous breakfast places in Bitez. Limonatta Cafe, which is praised by everybody, is an excellent alternative for those who want to have a pleasant start to the day with its local flavours, pastries such as gozleme, bazlama (pastries with various fillings, cooked in a hot plate) and many other products. Lemon Tree on the beach is among the places where you can have a delicious breakfast by the sea. In Lemon Tree, you can start the day with breakfast and then swim and sunbathe, so you can actually spend the whole day at this place.
Kuytu Bahçe is another place you can go for breakfast. Kuytu Bahçe, which is a place surrounded by trees befitting its name, is an ideal address for enjoying village breakfast with its homemade jams, boreks (pastries with various fillings), friendly and natural environment. There is also a playground for children, so if you are looking for a place to have breakfast with children, you can choose Kuytu Bahçe. Or you can read our article about Bodrum Breakfast Places and take a look at the prominent breakfast places.
---
What to Eat in Bitez?
In fact, almost all the places by the boach continue to serve as a restaurant in the evening, like Lemon Tree, which we mentioned among the breakfast places above. But if you are looking for the most ambitious flavours, our recommendation is Beybaba Meyhanesi. Beybaba Meyhanesi, which has a wide range of appetizers due to being a taverna, is also ambitious with its warm appetizers and main dishes. We reccommend Beybaba Meyhanesi to those wishing to combine a couple of glasses of raki with a delicious taverna meal.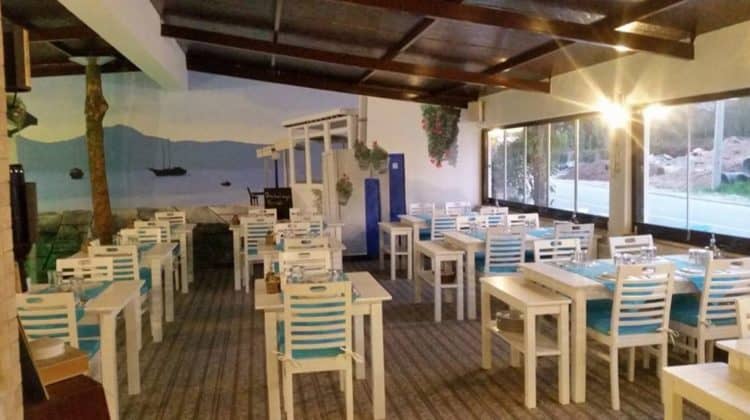 Another suggestion is Büber Restaurant. The place, which is ambitious in traditional flavors such as shish kebabs on skewers and fried liver, is one of the popular restaurants. If you are visiting Bodrum for the first time, we recommend you to read our article What to Eat in Bodrum. There is another flavourful spot that we recommend you stop by; Bitez Dondurmacisi. Altough its name has only became popular in recent years, Bitez Dondurmacisi has actually opened in 1995 and spread to different cities in Turkey. They make fabulous ice creams that even those who doesn't like ice cream will love. You'd regret leaving Bitez without popping into Bitez Dondurmacisi.
---
Bitez Beach Clubs
At the beginning of our article, we said that there are all kinds of facilities and places to enjoy your holiday without leaving Bitez, beach clubs are among these places. It would be hard to imagine that there is no beach club on a long and wonderful beach like this. The oldest, most beautiful and top quality beach club is Sarnic. Sarnic Beach Club, which opened in 1993, is a great place to swim and sunbathe, eat delicious food, listen to pleasant music, and do water sports including surfing.
What more can be expected from a beach club anyway? Our second suggestion is Sebastian Beach, which is quite a mediatic venue. The only negative aspect of this place, which stands out with its clean and shallow sea, is the prices. Although the place is beautiful, it is a fact that the prices are steep for most people.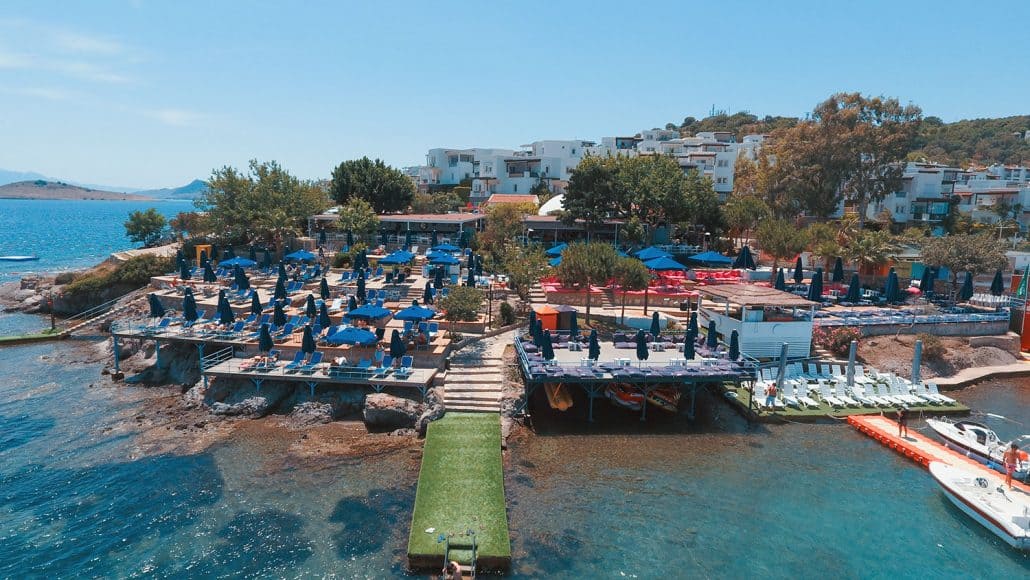 There is also a branch of the famous Buddha Bars, Buddha Bar&Beach. As you can imagine, this beach club, opened with a bang last summer. The entrance to the venue, which makes the Buddha Bar concept live on its magnificent beach, is high but you may still want to go to Buddha Bar & Beach to enjoy the entertainment while enjoying the sea in its unique atmosphere. There are beach clubs waiting to be discovered in our Top 12 Bodrum Beach Clubs article!
---
Night Life in Bitez
Bitez is close to centre of Bodrum and Gumbet, which are the hotspots for night life. You can spend time in dozens of night clubs, bars and tavernas by going to Gumbet Bar Street or centre of Bodrum. But if you'd rather stay in Bitez in the evenings, there are, of course, alternatives here. Some places on the beach continue to serve as bars at night and night life is mostly experienced in bar-style places.
Bar HumBug on the beach is a place where you can have a pleasant time with its comfortable environment. Alough they do not serve food, it is a place where you can go just for a drink and chat. Another address you can go to spend the night is Temple Bar. The venue, which offers the opportunity to listen to the music of different countries with live performances every night, is actually one of the most unique places of Bodrum, not only Bitez. We'd reccomend you to at least stop by at Temple Bar.
---
Bodrum Bitez Markets
Bitez is one of the most crowded neighborhoods of Bodrum both in the summer and winter and of course has its own market. At the beginning of our article, we mentioned that Bodrum Courthouse was moved here, and the market is being set up next to the courthouse. The market, where you can find almost any food you can think of, especially local products, is set up on Thursdays. If you visit Bitez market and buy Bodrum-specific products such as cokelek (cheese made of milk curd) and olive oil, you can continue to enjoy the place when you return home.
There is also a flea market. The flea market, set up on Sundays in the area opposite the municipality, is very festive and, more importantly, very cheap. We say it is festive because in the colorful market, you can come across pieces that may surprise you. Even if you do not shop, we assure that you will enjoy this experience even if you don't buy anything. Once you see the cheap prices and beautiful items, you will not be able to refrain yourself from shopping.
We hope that we have covered Bitez from A to Z. Of course it impossible to include all of the hotels, restaurants, in short, all places, so we shared the places that stand out. We would be glad if you share your experiences and ideas about the places we could not include in our article.
Before finishing our article, we would like to invite you to our Facebook group called; Bodrum Travel Tips. This community's purpose is to share your Bodrum holiday experiences or ask other users for recommendations about Bodrum. Help the guests coming to Bodrum from both, abroad and domestically, by giving advices, suggesting places, sharing and providing information about places to visit.
We wish you an unforgettable holiday…