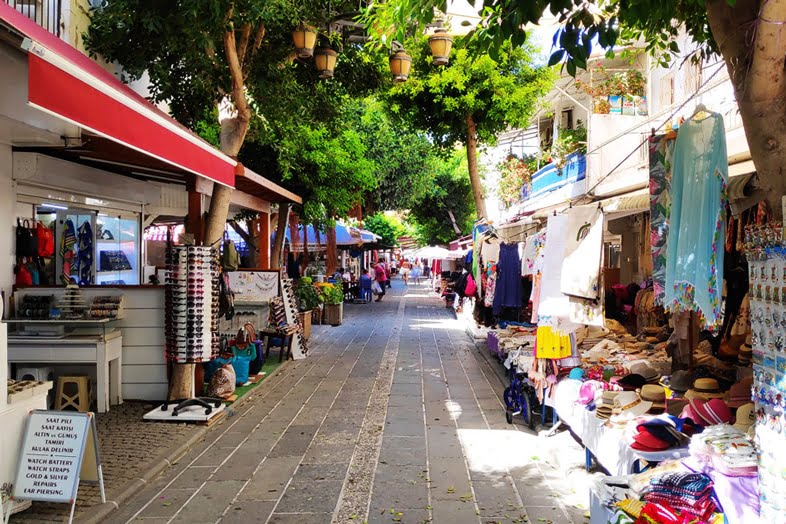 YALIKAVAK GUIDE
One of Bodrum's most desired holiday resorts, Yalikavak is also amongst the most developed towns of Bodrum. The town, which is very popular thanks to Yalikavak Marina, one of Turkey's most luxurious and popular marinas, attracts thousands of people each year with its beaches, luxurious hotels, venues, clear blue sea and its famous windmills. If you plan on spending your holiday in Yalikavak, you can find all there is to know about the town in this Yalikavak Guide article.
Bodrum Yalikavak Guide
Add a header block to begin generating the table of contents. This block will automatically update. Alternatively manually add items using the + button below. Once you have added at least one item this message will disappear.
---
How to Get to Yalikavak?
Yalikavak is 52 kilometres away from Bodrum Milas Airport, which takes about an hour by road. You can take a transfer bus from the airport to Bodrum bus station and take another bus from there to Yalikavak. Your time of arrival is significant as the bus stop running early in the winter. In the summer, you can get a bus even late at night. Yalikavak is 18 kilometres away from the town centre. You can get there in 30 minutes with a private vehicle, but a bus will take a bit longer as they stop to take in passengers.
There are also buses from Gumusluk and Turgutreis which are nearby towns. You can find detailed information on our Bodrum Transportation Guide.
---
Yalikavak Hotels
As mentioned before, Yalikavak is one of the most popular holiday resorts of Bodrum. Consequently, the town is home to hotels that appeals to the rich.
The Bodrum EDITION is 3 kilometres away from Yalikavak Marina which is located on the west side of the peninsula. There are a total of 180 rooms, suites and villas with Aegean Sea view, private pool and garden. There is an infinity pool, a vast garden, a SPA with high-tech Turkish bath and fitness centre, and a Beach Club with a jetty.
There are two bars, a gourmet grill restaurant with a view of the Aegean Sea, a nightclub and a dining area with service throughout the day. Totalling a 1200 square meter interior and exterior area, the hotel's meeting and organization venues include meeting rooms, a ball room and a meeting hall. You can find reservation options for The Bodrum EDITION at this link.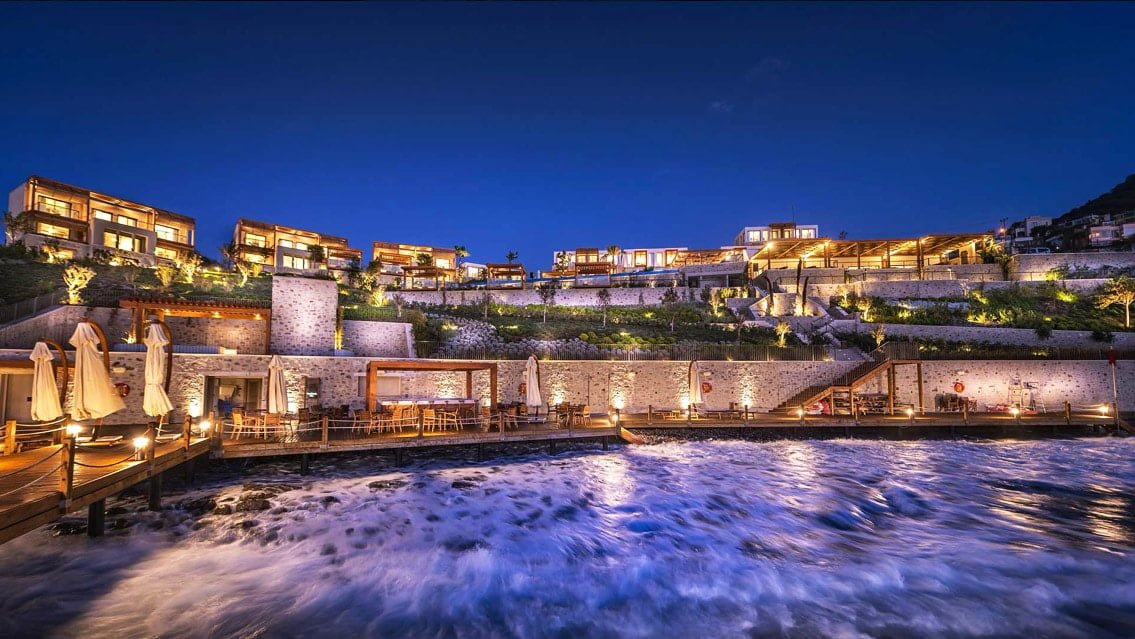 Allium Villas is a luxurious resort less than 1.5 kilometres away from Yalikavak Marina. Composed of 9 villas, each housing between 4 and 8 rooms, and totalling 36 rooms and suites, the resort is built on a slope of the coastline overlooking the Aegean Sea, with its island studded horizon. All rooms are equipped with a minibar, central air conditioning, safety box, LCD TV, satellite, internet connection and telephone. You can see reservation options for this beautiful resort at this link.
---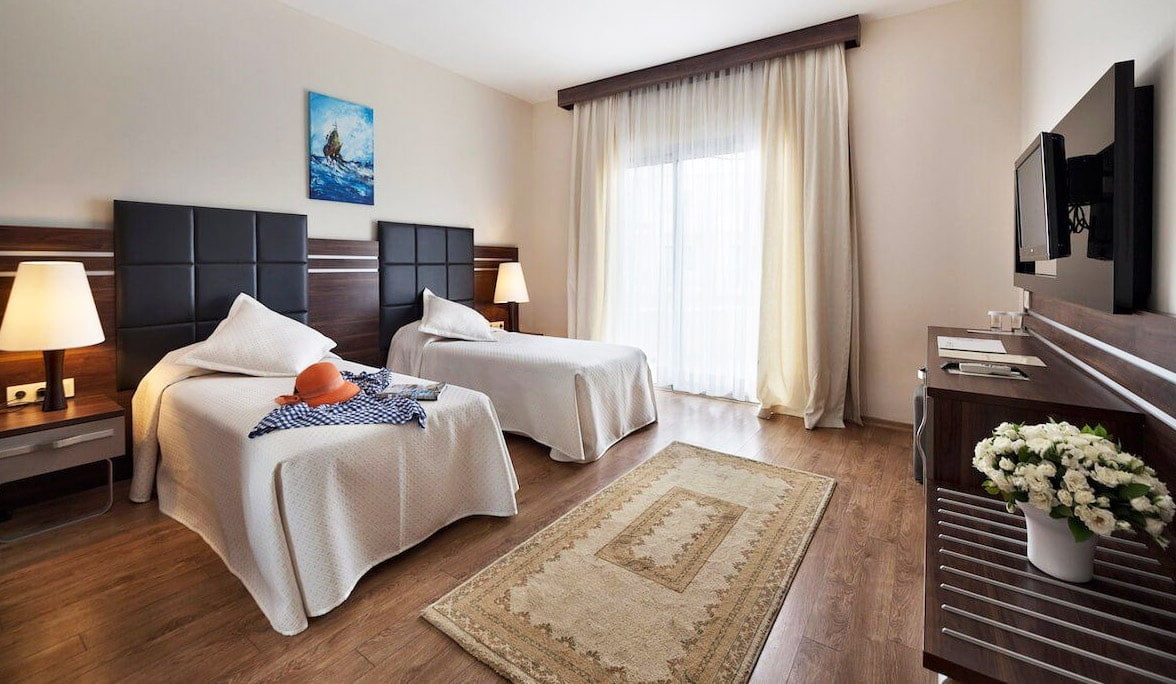 Golden Age Hotel which we mentioned in detail in our article 'All Inclusive Bodrum Hotels', is an all-inclusive hotel in Yalikavak. The hotel is right by the sea and has its private beach where you can use the sunbeds, umbrellas and cushions. There is an indoor, outdoor and a kid's pool. There is an open buffet for breakfast and the all-inclusive concept includes tea and snacks service throughout the day. Most importantly, there is an Aqua Park at the hotel. You can find reservation options for Golden Age Hotel at this link.
---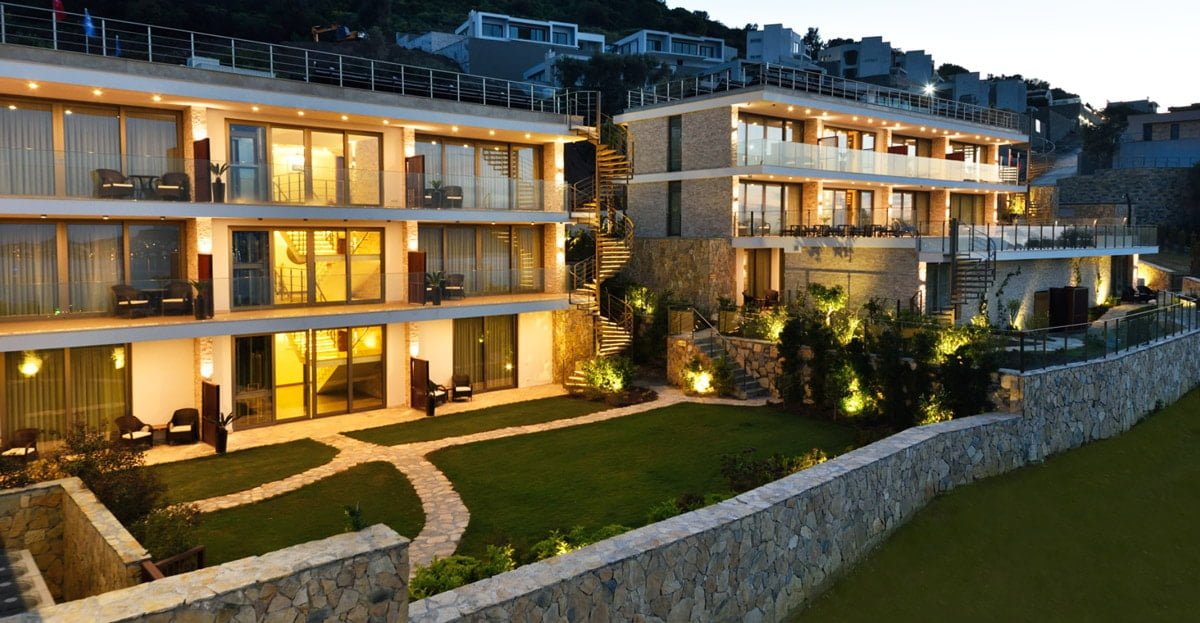 Spektr Hotel is another popular accommodation option in Yalikavak. The hotel is 400-500 meters away from the sea but has its own private beach there. There is also an outdoor swimming pool. Serving with a bed and breakfast concept, Spektr Hotel is one of the most popular boutique hotels with its comfort and view of its rooms. If you are planning for a comfortable and peaceful holiday, you can find reservation options at this link.
We have suggested three hotels that stand out but there are many other nice hotels, you can find more Yalikavak hotel options at this link. If you are also looking for information on Bodrum's boutique hotels, we suggest you have a look at our Bodrum Boutique Hotel Recommendations.
---
Places to Visit in Yalikavak
Windmills
Windmills are the first place that come to mind when visiting the town. Built on windy hills, these windmills are considered to be the symbol of Yalikavak. Only one of the historic windmills work today. Built in 1850 by Karaibrahimoglu Mehmet Efendi, this windmill has been renovated and is used as a restaurant today. We will give the details of this restaurant that is located on Bodrum – Yalikavak road later on in this article. The other windmills don't function but the hills are cool even in the hottest days of summer as it is always breezy. So, you could go up there, take a closer look at the windmills and enjoy the amazing view.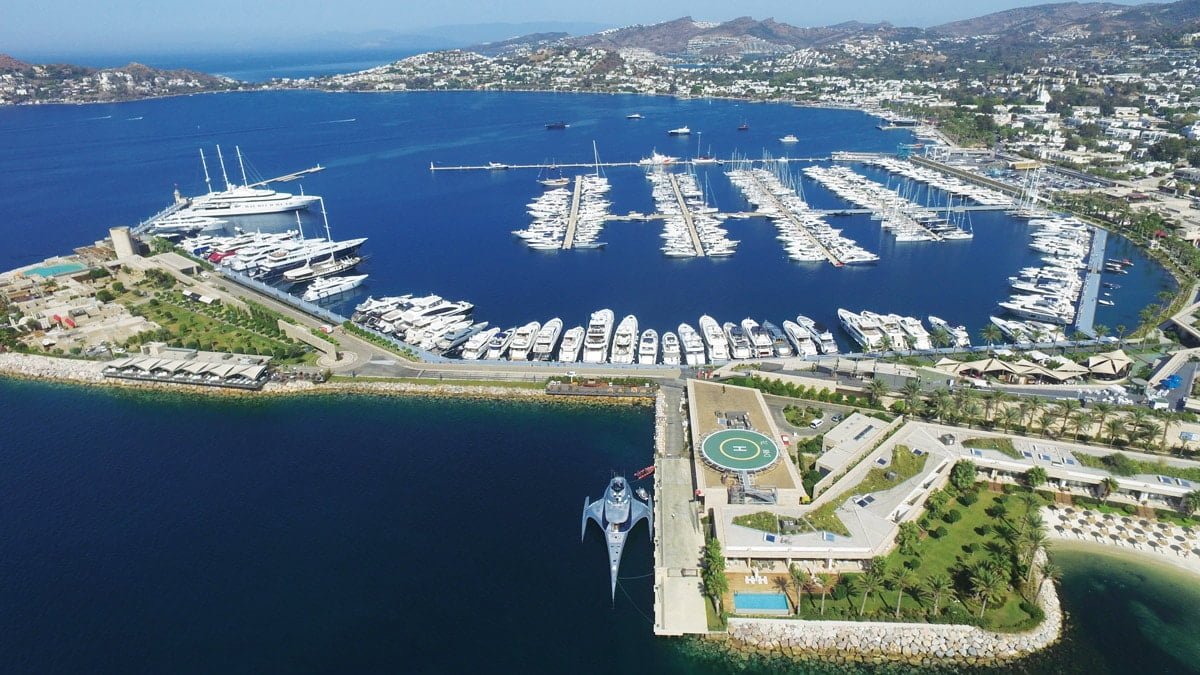 As we mentioned before, the town is home to one of the most important marinas of the country; Yalikavak Marina. Home to luxurious yachts from around the world, the marina is also a nice place to wander around. There are restaurants, cafes, and venues where you can listen to live music. It would be a shame not to visit the marina if you are in Yalikavak.
There are two hotels in Yalikavak Marina; Marina Boutique Hotel and Marina Beach Hotel. You should have a look at these lovely hotels.
There are also many events held at the marina, most important one being the Bodrum Cup. Popular stars from around the world and Turkey have concerts at the marina. Ajda Pekkan, Kenan Dogulu, Gloria Gaynor have had concerts here. We suggest our readers to follow our Event Guide page.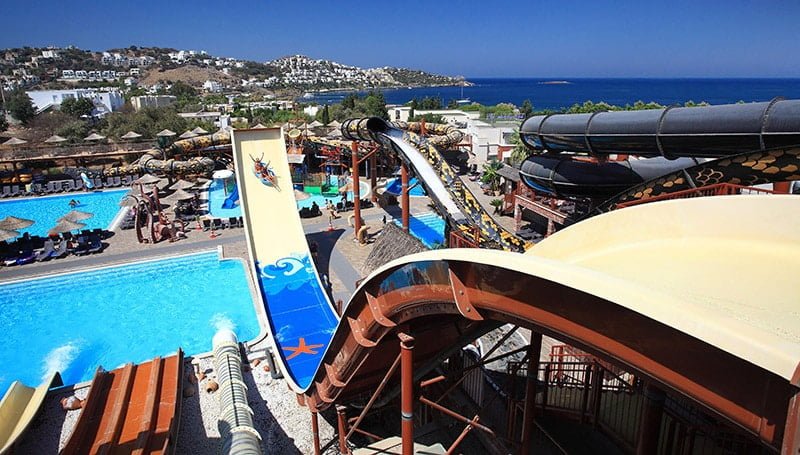 Pirates Inn Cactus Aqua Park is another place to visit in Yalikavak. Located at the Yalikavak Branch of Cactus Inn Hotels group, it is a huge aqua park in Tilkicik bay built over a 4500 square meter area. The total length of the waterslides is 534 meters. The aqua park with 9 waterslides also has a safe kid's pool. Pirates Inn Cactus is a great alternative for a fun time both for kids and adults.
Yalikavak Souvenir Stores
Going down from the bus station to the seafront, there is a street, Carsi Caddesi, with many souvenir stores. You must visit this street which has some lovely souvenir stores. Here you can find handmade bracelets, necklaces, bibelots and local clothes. Don't break the custom! Buy a souvenir to take back to a loved one.
İskele Cafe
If you want to take a rest from wandering around, Iskele Café, run by the municipality, is on the right side of the marina. You can take a break with a beer or a coffee at the self-service café. It is a popular spot both for tourists and locals as it is right by the sea. The café's prices are reasonable too.
---
Breakfast Spots in Yalikavak
We had previously put together a list of the best breakfast spots of Bodrum in our Bodrum Breakfast Places article, Asmali Cardak Breakfast House in Yalikavak is one of those spots. You could enjoy a nice breakfast made with natural products here under a pergola covered with vine. Asmali Cardak is famous with its tangerine jam, a famous delicacy in Bodrum. If you are having breakfast here don't forget to try it.
We had mentioned earlier the famous windmills and the one that had been turned into a café. MMK Yeldegirmeni is a great alternative to enjoy a nice breakfast with a view of Yalikavak. The café on Bodrum-Yalikavak road serves a nice breakfast. Their 'Degirmen' breakfast plate includes Ezine and Tulum cheese, crispy pumpkin or quince jam and breakfast sauces. Turkish pancake, toasts, Turkish scrambled eggs, omelette with cheese, different styles of eggs and pastries are also available on the menu. You should visit here for a breakfast at a windmill with an amazing view.
Nar Cicegi Breakfast House is another popular breakfast spot. Under the tangerine trees, this is an ideal place for families with children. With three different pastries and stuffed wine leaves, the breakfast turns into a feast. You should also try their lemon jam and watermelon peel jam.
Most hotels in Yalikavak have restaurants but we suggest our readers to dine out so they can explore the town and enjoy delicious food at one of the many nice restaurants. There are many fish restaurants at the seafront where you can enjoy seafood. For steak lovers, Nusr-et Steakhouse in Yalikavak Marina is open all year. Here are a few suggestions we think you must try.
---
Recommended Places in Yalikavak
If you like meatballs, Yalikavak has one of the best meatball restaurants in Turkey. Established in 1991, the meatballs of Kavakli Koftecisi are as popular as Yalikavak. The meatballs are served with buttered bread at the restaurant where we think all meatball lovers will enjoy. Once you have meatballs here, you might not enjoy any other meatball, their cop sis, shish kebab made with small pieces of meat on wooden skewers, is also very delicious. Kavakli Koftecisi doesn't serve alcohol.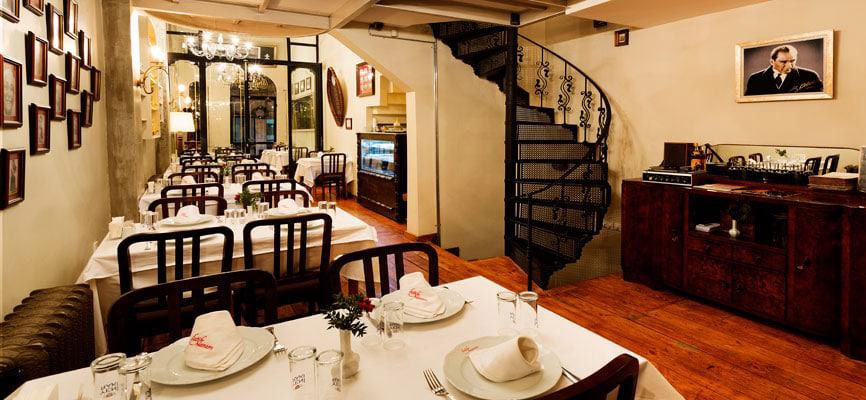 Latife Hanim Meyhanesi has a charming atmosphere with a unique decoration from the early republican period. Sea bass 'simit', shrimp wrapped in shredded phyllo dough, sea bass in vine leaves, grilled calamari with halloumi are a few dishes that stand out. They don't have live music at the tavern, they play Turkish classical music. The tavern is a nice alternative to have a few drinks and chat with friends in a nostalgic atmosphere.
Kokorec, which is charcoal grilled, seasoned sheep's intestines served in bread like a sandwich, is a popular street food in Turkey. Kokorec lovers must visit Mertcan Kokorec in Yalikavak. Other than Kokorec, they have meatballs, Turkish fermented sausage and mussels. The restaurant is open until 04:00 in the summer and 02:00 in the winter. We suggest our readers to try 'Atom Kokorec' here. They start serving Atom Kokorec after 9 and there is a limited number of portions.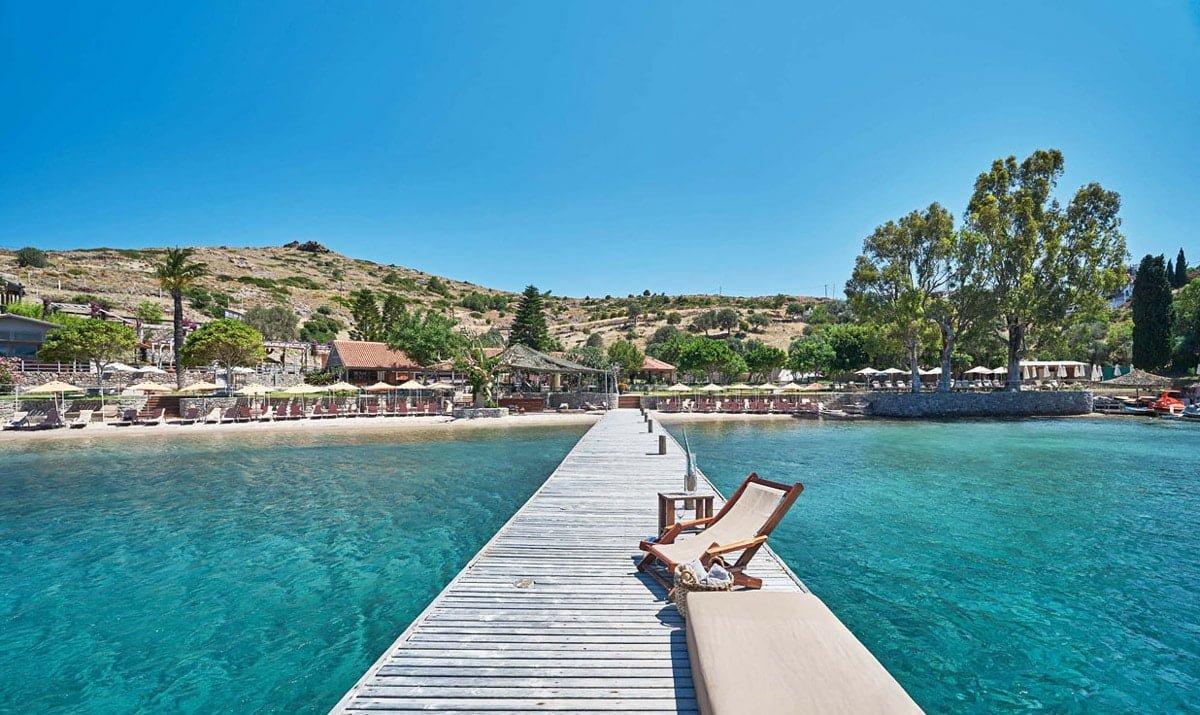 Xuma Village offers service as a beach club, restaurant and bar. It is one of the most popular places in Yalikavak and even in Bodrum. The venue where you can go for its beach club also hosts many events and festivals in the summer. You can find detailed information on Xuma Village's official website. We must warn you; you should buy your tickets as soon as they are out or they can be sold out!
---
Where to Swim in Yalikavak?
The clear blue sea of Yalikavak is one of the main attractions for visitors. The town has a long seafront and many venues where you can swim. Let's mention a few places where you could enjoy the sea, sand and the sun.
Xuma Village, which we have mentioned above, is another alternative with its beach club. You could go there in the day to swim and enjoy the events at night. Xuma Beach has a car park but the park with vale service is paid.
Magi Beach is another beach option. Magi Beach is ideal to rest under the shade of eucalyptus trees, swim in the clear Blue Flagged sea, and enjoy delicious food and good music. The venue has water sports as well as a jetty and a playground for kids.
For more on beach clubs, you could have a look at our article, Bodrum's Best Beach Clubs. For those who find beach clubs expensive, Yalikavak Public Beach is our suggestion. There isn't an entrance fee for the 200 meter-long beach. The beach is run by the city hall and they don't charge for sun sheds or sunbeds. This beach is usually windy, so it is a popular spot for windsurfers. There is a lifeguard at the beach as the sea gets quite deep.
---
Yalikavak Markets
There are many markets set up over Bodrum peninsula and there are several ones in Yalikavak. On Tuesdays, there is a food market. Local producers sell vegetables, fruits, olive, olive oil, cheese etc. at the market set over a wide area. On Tuesdays, there is a clothing market, but it is not as large as the food market.
The 3rd and most exciting one is Yalikavak Jet Set Flea Market. The market opens at 08:00 and shuts at 18:00. You can find anything you can imagine from clothes to bibelot here. You will regret not visiting this exciting flea market.
Our article on Bodrum's favoured holiday resort Yalikavak has now come to an end. Of course, we weren't able to mention each and every venue, if there are ones you think we should have mentioned, you can share your thoughts with us on the comments section.
Before finishing our article, we would like to invite you to our Facebook group called; Bodrum Travel Tips. This community's purpose is to share your Bodrum holiday experiences or ask other users for recommendations about Bodrum. Help the guests coming to Bodrum from both, abroad and domestically, by giving advices, suggesting places, sharing and providing information about places to visit.