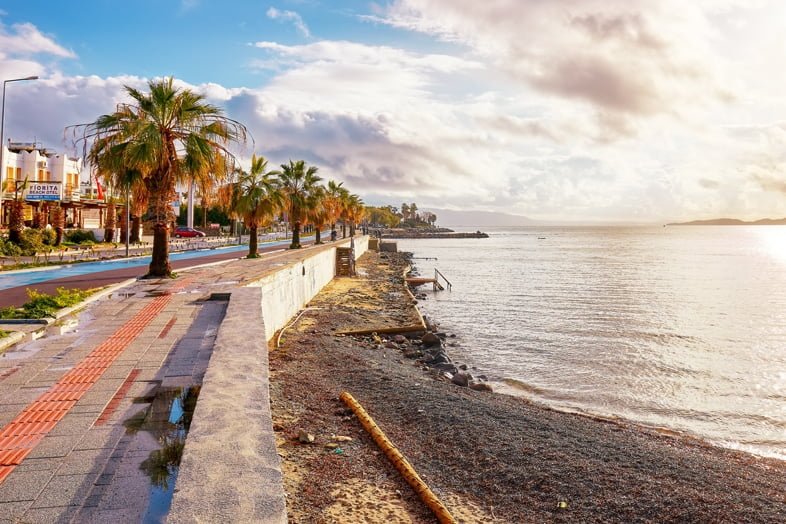 Turgutreis Guide
Developed as much as Bodrum's town centre and maybe even more, Turgutreis is a spot that is also busy in the winter. The town that attracted tourists in the summer became even more popular when one of the most modern marinas in the country was built here. ıf you are planning a holiday at this popular destination; you can find all there is to know in this article. Here is the Turgutreis Guide…
---
How to Get to Turgutreis?
People mostly prefer to fly to Bodrum. Turgutreis is 54 kilometres away from the airport which is around an hour's drive. You could take the transfer buses to Bodrum bus station and get a bus from here to Turgutreis. The bus hours change from winter to summer, so be sure to check their current hours. You could also take a taxi from the airport, but this would be expensive. You can find more detailed information on our article Bodrum Transportation Guide.
The town is also busy in the winter and is considered the second centre of the city. Turgutreis is 20 kilometres away from Bodrum. There are buses that leave from nearby towns such as Gumusluk and Yalikavak to Turgutreis. Most intercity buses stop at Turgutreis bus station so you could get off here if you are travelling by bus. There is also a ferry dock where the ferries run to some of the Greek Islands such as Kos, Kalymnos and Leros.
---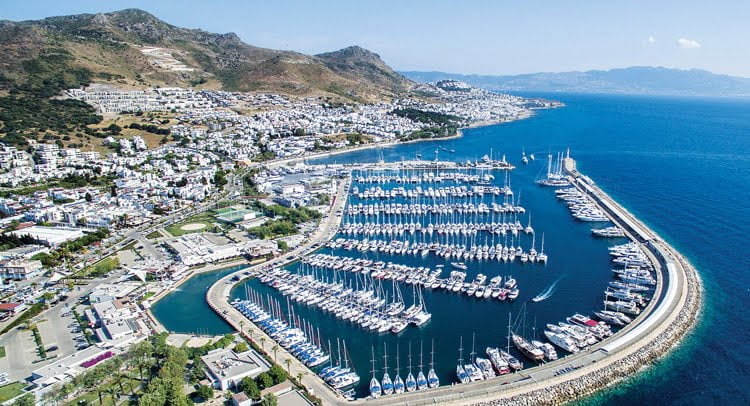 D-Marin Turgutreis
With a capacity of 550 boats on water and 150 on the hard, D-Marin Turgutreis is one of the most modern marinas in Turkey. There are many cafes, restaurants and shops that sell world-famous brands.
Yacht Club is enough reason to love this marina. With an a la carte restaurant, snack buffet, fitness centre, swimming pool, and kid's pool, Yacht Club is open to outside guests. The Yacht Club also hosts events such as weddings and engagements.
There is also a beach club at D-Marin Turgutreis. The Blue Point Beach Club is on the outer breakwater of the marina. A beach club in the middle of the sea is the place for a fun time. The beach club also has a bar where they serve snacks.
Other than the shops, there is a coffee shop with delicious cakes and pastries, Kahve Dunyasi, and two bars that are open throughout the year, Barcelona and Boom. As Turgutreis doesn't have many bars or entertainment venues, you could enjoy a night out at these bars.
The marina also hosts a music festival, Bodrum Music Festival. The festival that started out as D-Marin Classical Music Festival had its name changed to Borum Music Festival on its 13th year. The festival where you can listen to orchestras, soloist and choir performances by artists from all around the world is going to take place on 22-25 August this year (2020). You can find the festival program from the festival's official website and buy tickets on online platforms. Since we are mentioning festivals, don't forget to have a look at our article, Bodrum Festivals.
---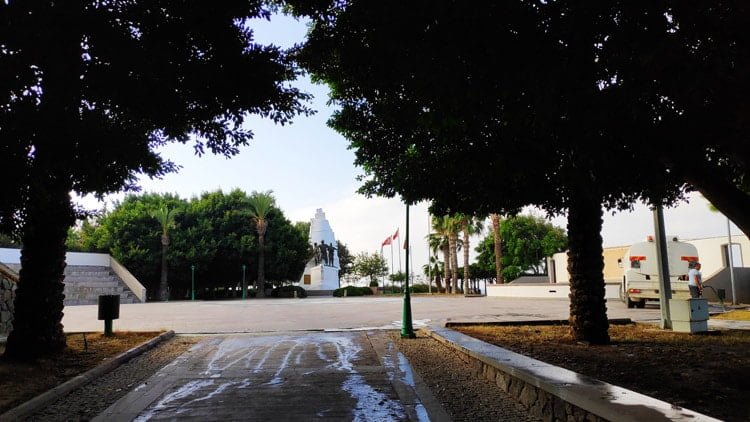 Turgutreis Sevket Sabanci Park
Though there aren't many places to tour in Turgutreis, the town is home to one of the most beautiful parks in the peninsula and even in Turkey. Surrounded by greens, the park is by the sea and there is also a walking track. An ideal spot both for a morning and an evening walk, the park is also one of the best places in Turgutreis to watch the sunset. You could walk among beautiful flowers to the sound of the waves, take photos and enjoy the sunset. We could even say that it would be a big mistake not to visit this park when in Turgutreis. There is also a restaurant in the park; Mavi Park Restaurant. We will mention the restaurant that is one of the best in town in detail later in the article.
---
Turgutreis Hotels
As Turgutreis is one of the towns that attracts the most tourists in Bodrum, there are many accommodation options. Especially the hotels by the beach are full in the summer. The town has a very long and well-organized sea front and there are many hotels here.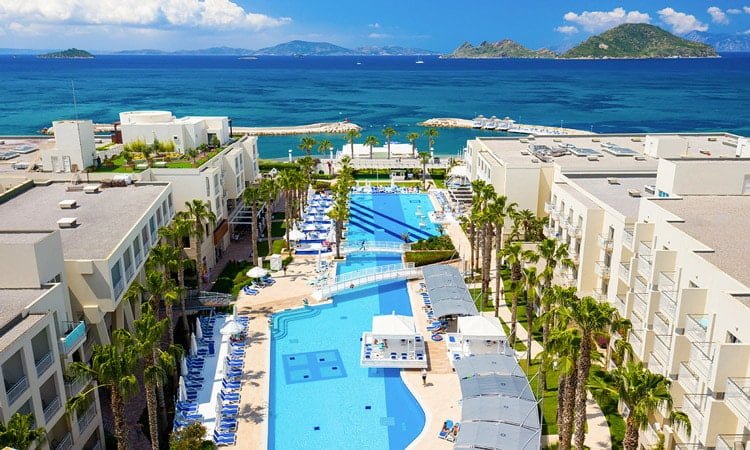 La Blanche Resort & Spa is one of the best hotels in Turgutreis. The hotel with an ultra-all-inclusive concept has its private beach. There are four types of rooms; standard rooms, standard rooms, disabled rooms and deluxe rooms with views of the land, sea and pool. The room prices change accordingly to its view. You could have a massage from expert masseuses at the hotel that also has a SPA center.
The hotel has four restaurants with different cuisines. You could choose La Merla Restaurant that is over the sea to enjoy delicious Aegean cuisine with a view of the sunset. The other restaurants serve food from Asian, Turkish and Ottoman cuisines. There is a kid's club and a mini disco for kids at the hotel, so the hotel is ideal for families with kids. You can find the best reservation options for La Blanche Resort & Spa at this link.
---
Located right by the sea, Kairaba Bodrum Princess & Spa is a great alternative especially for families with kids. The hotel with 255 rooms has a free kids club, kid's pool and an open buffet breakfast. With a private beach and three pools, Kairaba Hotel has a night club too. The three restaurants in the hotel serve Turkish, Mexican and Italian food with sea food options. You will have to make a reservation to dine at the a la carte restaurants. Other than the restaurants, there is an open buffet service all day long. There is an open buffet breakfast, brunch and lunch service and snack bar service at the beach and the pool. You can find the best reservation options for Kairaba Bodrum Princess & Spa at this link.
We should make an apart hotel suggestion as well; Caglar My House Apart Hotel. 100 meters away from the sea, this hotel is a good choice to accommodate at a friendly atmosphere. The hotel has a pool and a private beach and is nicely decorated. The hotel has a breakfast service at the garden. Caglar My House Apart Hotel is not as luxurious as the other hotel suggestions but is ideal to have a nice stay on a budget. The hotel has a café/bar where they serve delicious snacks. You can find best reservation options for Caglar My House Apart Hotel at this link.
---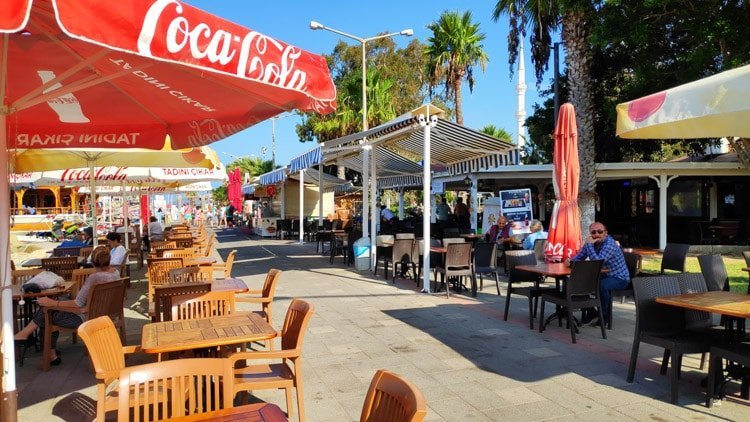 Breakfast Spots in Turgutreis
Amiral Café
All the hotel suggestions above have breakfast service, but we would like to make a few suggestions for those who would want to eat somewhere else. Turgutreis Municipality has a café named Amiral Café where you could enjoy breakfast at their tables by the sea. The café has delicious breakfast plates and toasts. Since the café is run by the municipality, the prices are very reasonable.
Sakli Bahce
If you prefer mixed Turkish breakfast, Sakli Bahce is the right address for you. You could enjoy a delicious breakfast in a garden surrounded by greens. Sakli Bahce is also a restaurant, you could come here for dinner too.
---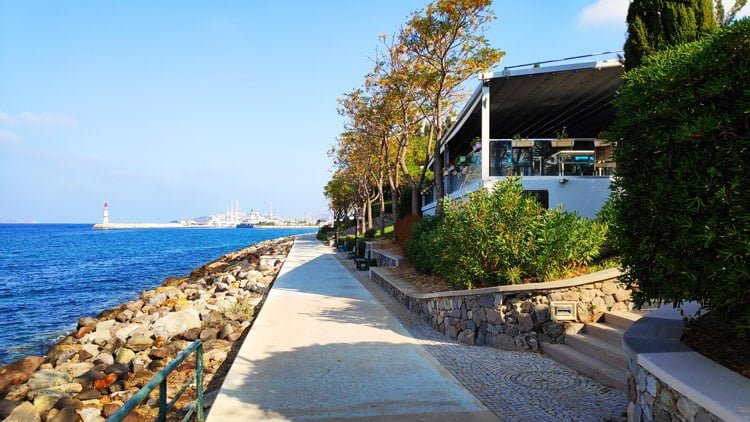 Where to Eat in Turgutreis?
Located inside Sevket Sabancı Park, Mavi Park Restaurant is one of the most famous restaurants in Turgutreis. The wrapped aubergine, kebabs and mezzes are the most favoured dishes. The restaurant with alcohol service has reasonable prices. Mavi Park Restaurant also has breakfast service. You could choose Mavi Park Restaurant for a breakfast with an amazing sea view.
Those who like home cooked meals must go to Ana Ogul Lokantasi. The family-run restaurant is right behind Migros. The most popular dish is a favourite from the Aegean cuisine, artichoke, at the restaurant where you can find delicious home cooked meals of all sort. Stuffed squash blossoms, okra stew and meatballs in a sour yogurt sauce are some of the favourites. We should mention that their prices are high for most people, don't forget to check the prices when you order.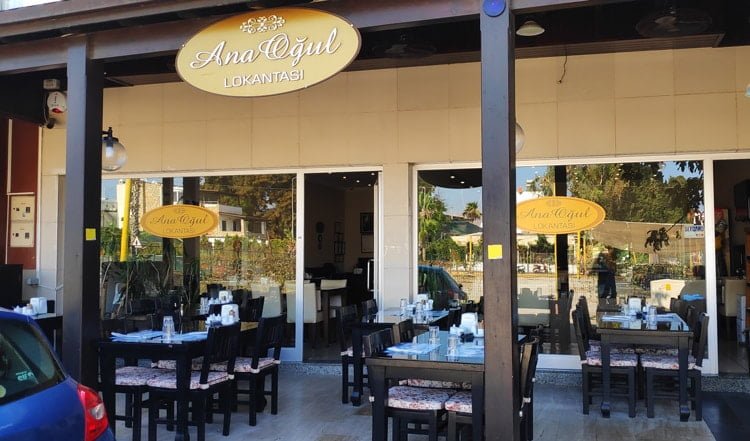 Tarihi Merkez Efendi Koftecisi
Meatball is a favourite for many people and there is a great meatball restaurant in Turgutreis; Tarihi Merkez Efendi Koftecisi. The delicious grilled meatballs prepared with their secret recipe is served with a haricot bean salad and homemade pickles at this branch of the famous meatball restaurant chain. You will leave the restaurant happy for sure if you like meatballs.
What about a desert after dinner? The first desert that comes to mind in the Aegean is Turkish donuts and the best address for it is Saray Lokma in Turgutreis.
---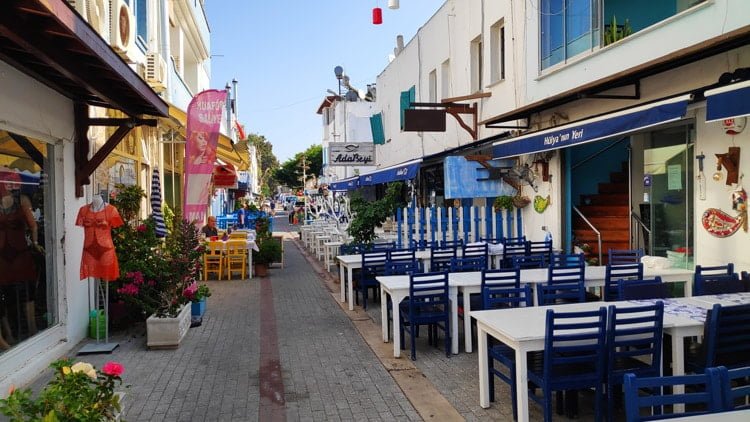 Turgutreis Fish Restaurants
Like in the rest of the peninsula, there are many restaurants in Turgutreis to enjoy fish with raki. In fact, without having fish with raki at one these restaurants, you wouldn't have enjoyed Turgutreis fully.
Hulya'nin Yeri is one of the best fish restaurants in Turgutreis. Located at the town centre, having its own fish market, the restaurant has a variety of fresh fish. The most favoured dishes at the restaurant we previously mentioned in detail at our Bodrum Fish Restaurants article are steamed scorpion fish and angler fish. They also have delicious mezzes. You could enjoy a nice meal with local mezzes and fresh fish accompanied with raki at this modest restaurant. Hulya'nin Yeri is also open in the winter.
Our second suggestion is Kadir Reis'in Yeri. If you go here before the sunset, you could enjoy you fish and raki with an amazing view of the sunset. You could have fresh daily fish, local mezzes and seafood like octopus and calamari here. You might not be able to get a table on the beach in the summer, especially around sunset so should book a table in advance. The prices are reasonable for a restaurant by the sea with an amazing view and delicious food.
Our last suggestion is a small family-run restaurant, Adabeyi Balik Restaurant. They offer you the option to buy your choice of fish from the nearby fishermen and have it cooked there. The restaurant is a good alternative with a warm atmosphere and reasonable prices. Mezzes, grilled octopus, calamari are delicious at Adabeyi Balik Restaurant. The restaurant is not by the sea but is decorated nicely, reflecting the atmosphere of Bodrum.
---
Night Life in Turgutreis
If you are looking for a lively night life like in Bodrum Bar Street, Turgutreis might not be the right place for you as the town's nigh life is much calmer. Most of the hotels here have a bar and a disco, other than that there are small, cosy bars some which have live music. You could have a nice time here with drinks and chit chat. We didn't want to suggest bars as every year many venues shut while new ones open like in other towns of Bodrum.
---
Where to Swim in Turgutreis?
The nicely reconstructed long sandy beach in Tugutreis is very crowded in the summer. The public beach that is mostly popular with foreign tourists is wavy, but you could still enjoy the sea there. Even though the sea is a bit wavy for children, they can play with the sand and there is also a small park right behind the beach.
Other than the long public beach on the right side of the marina, there is beach on the left side that is small but quiet. You could prefer this beach that is on the way to Sevket Sabancı Park.
---
Turgutries Market
Turgutreis has a huge market where you can buy all local products that you can think of. You can find vegetables, fruits, local olives, olive oil and local cheeses at the market that is set on Saturdays. If you want to experience touring an Aegean market and take back some of the delicious food of Bodrum, don't miss out on this market.
We also suggest our readers to visit the alleys opposite the market where there are small shops that sell souvenirs, jewelry and authentic clothes. Have a look at these shops if you want to take back souvenirs to loved ones from your trip.
This large town has many more hotels, restaurant and breakfast spots than we mentioned here but it is impossible to write them all down. We would be glad if you shared your experiences and thoughts on these venues with us.
Before finishing our article, we would like to invite you to our Facebook group called; Bodrum Travel Tips. This community's purpose is to share your Bodrum holiday experiences or ask other users for recommendations about Bodrum. Help the guests coming to Bodrum from both, abroad and domestically, by giving advices, suggesting places, sharing and providing information about places to visit.